Year-Round Outdoor Enjoyment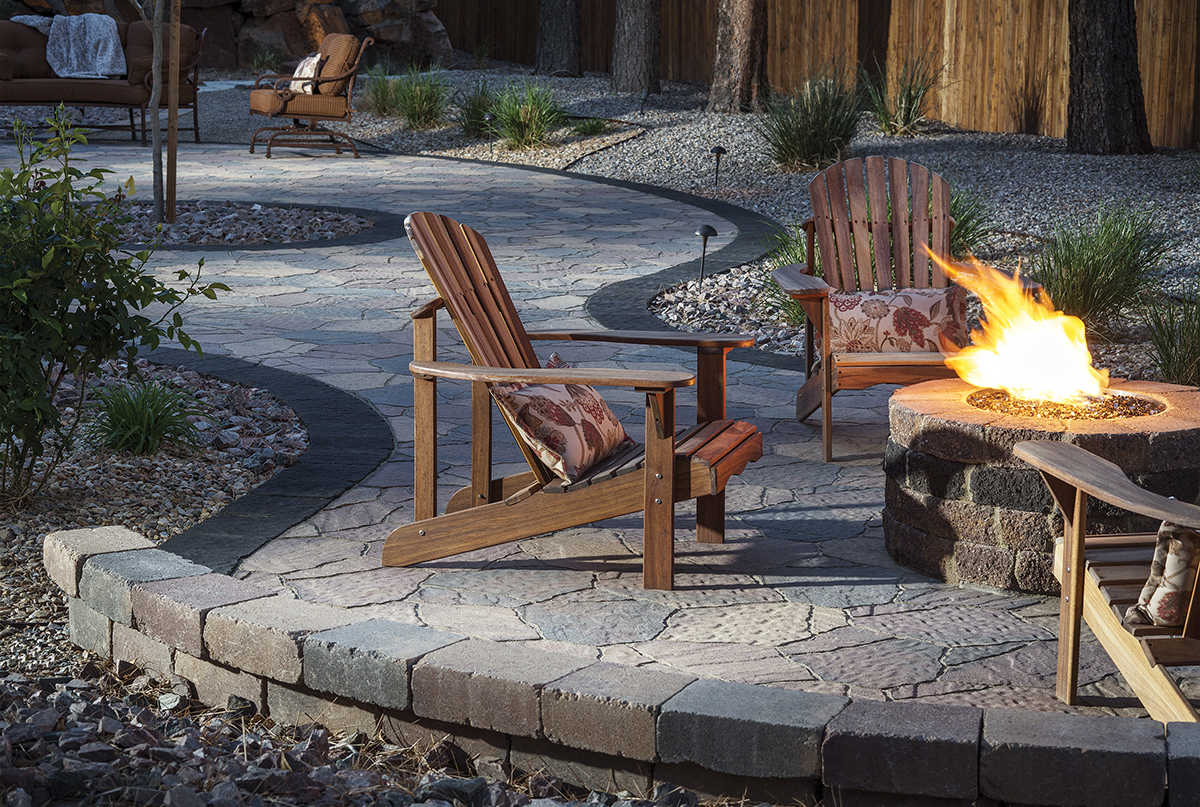 Winter is in full swing with its near freezing temperatures and chilling winds, and with that, last summer's pool parties, backyard barbeques, and late nights out on the patio with friends and family are now distant memories. So, as the holiday season has come to a close and the harsh reality of winter has set in, homeowners start to wonder how they can enjoy their outdoor living space year-round.
With just a few adjustments, you can continue to use your outdoor scape as an extension of your home throughout the cool months. Here are 10 tips to improve your patio or outdoor kitchen to make it a comfortable living space – even when the temperatures drop.
START A FIRE. While outdoor fireplaces and fire pits are great for roasting s'mores during the summer, those flames will feel even better as they keep you warm during the winter. Grab a mug of hot chocolate and enjoy the company of friends and family around a fire pit or outdoor fireplace as temperatures start to drop outside. Fire pits are possibly the most popular outdoor fire feature as they are affordable and easy to use in most cases. Wood-burning fire pits give the traditional campfire smell and feel, but consider ones that are fueled by propane for a green choice that is better for air quality. Check your local laws and neighborhood regulations to see if fire features like outdoor fireplaces and fire pits are allowed in your area.
TURN THE HEAT ON. If you are looking for a quick fix to warm up your outdoor space, then outdoor heaters are a great idea. Consider installing infrared heating lamps in strategic places. Try portable, tall patio heaters if you are tight on space. These heaters are usually fueled by propane and do not take up much space. One heater can keep an area of about 15 to 25 square feet nice and warm.
PUT A ROOF ON IT. Gazebos and pergolas can protect your family from the winter elements while you all enjoy your outdoor living space year-round. Although covering your outdoor space with a
roof or building a cover – such as a pergola – seems like a big project, it extends the use of your outdoor space through the cooler seasons for an increased ROI on the space and project. As an added bonus, patio covers also block out the sun during warmer months to keep you cool and shaded during the summer. A win-win!
ENCLOSE YOUR SPACE. Consider outdoor curtains to keep winter's chilly winds at bay and add privacy to your space. Screens and other enclosures, like glass, create a barrier between your outdoor living space and backyard to protect you from the elements.
KEEP ON GRILLING. Your grill doesn't have to be shut off for the season as temperatures begin to drop. Consider including a warming drawer in your outdoor kitchen design to keep food warm, even when it is cold outside. To continue grilling and cooking past summer, wear an extra shirt or sweater, bring out a heat lamp, and switch up the menu to include warm dishes, so you can cook and dine outside throughout the entire year.
LIGHT IT UP. Lights can make a huge difference in any outdoor space so that it can come alive at night. As the sun goes down earlier during the cool winter months, add additional lights and adjust timers to illuminate your outdoor space. There are many different types of solar and LED lighting features available – path markers, spotlights, and patio light strings. You can try placing lighting underneath a bench for a subtle glow, arrange lanterns throughout your patio, or hang string lights overhead. Consider taking lights beyond your outdoor space into the yard and garden to make the area seem larger and more comfortable in the winter.
USE YOUR EVERGREEN THUMB. Grab your jacket and head outside to plant year-round greens, such as Boxwood hedges, during the cooler months. Seasonal plants, herbs, and vegetables can thrive in pots and containers on your patio, deck, or porch – close to the house. Bring a pop of color to your garden with plants that blossom during the winter months, like Winter Jasmine that blooms yellow in January.
INVEST IN WEATHERPROOF FURNITURE. High quality outdoor furniture is worth the added cost. When shopping for outdoor furniture, ensure that pieces are weather-resistant so that your family can enjoy your outdoor space beyond the summer. A few materials that can withstand the winter elements include powder-coated steel, teak, and polyresin wicker. Be sure to cover and store cushions and pillows during rain and snow storms.
REARRANGE FURNITURE. You can move weatherproof chairs and sofas closely around your fire pit, outdoor fireplace, or heated area on the patio. If you don't have a heating element or patio cover, then consider arranging your outdoor furniture out of the direct flow of winter winds to help temper the climate.
KEEP BLANKETS HANDY. It's as simple as it seems. Keep camp-style and other outdoor blankets near your outdoor space – either inside or outside of your home. Consider colors and patterns that work cohesively with the color palette in your outdoor space. Pass the blankets around to friends and family on chilly winter nights. They will thank you!
Don't let cold weather deter you from your outdoor space this winter. From simple fixes to larger projects, there is no doubt that you can outsmart Mother Nature and enjoy your outdoor space year-round.
Joe Raboine
A residential business manager with Belgard.