Wreaths Across America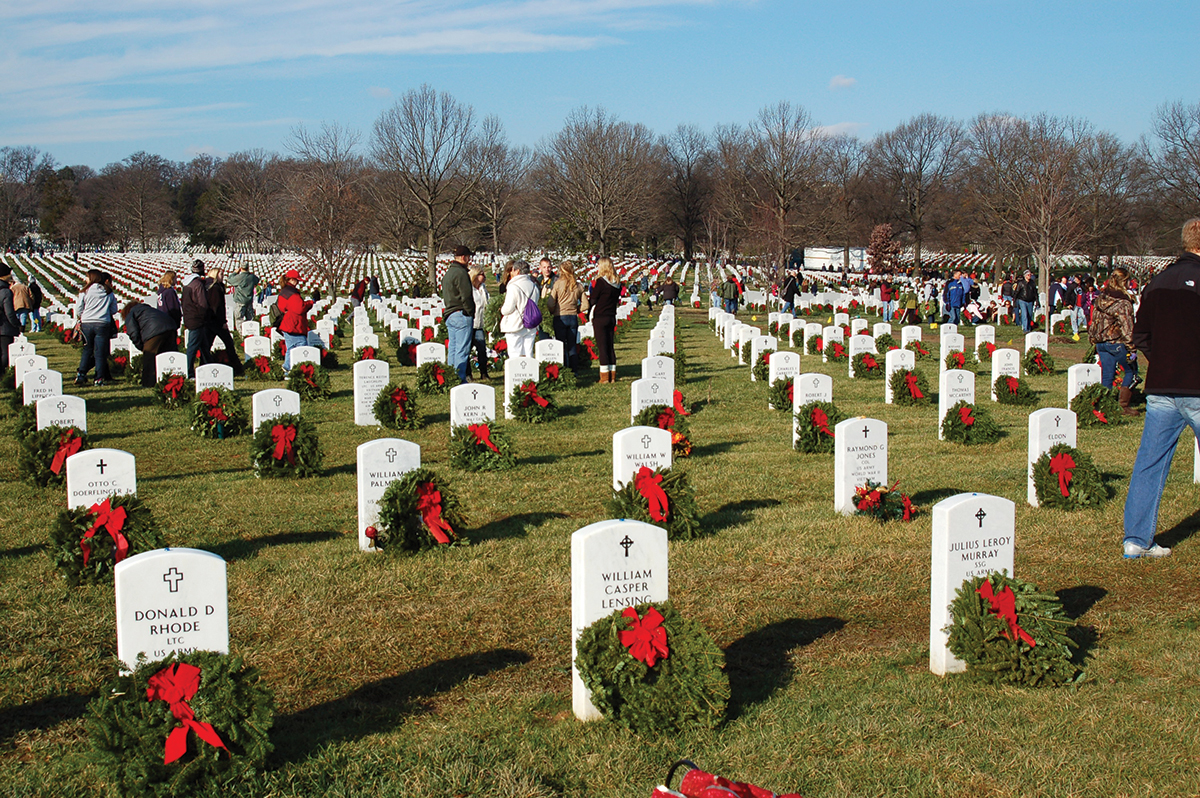 Remember our fallen US Veterans. Honor those who serve. Teach your children the value of freedom. These are the important mission statements for "Wreaths Across America," a non-profit organization that honors deceased veterans every year at noon on the third Saturday of December. Thousands of volunteers gather to place balsam evergreen wreaths (grown in Maine) at over 1,200 veteran cemeteries and memorials throughout the United States, as well as at sea and abroad.
In 1992, Morrill Worcester had over 5,000 extra wreaths at his holiday decorating company. As a child, seeing thousands of veteran's graves at Arlington National Cemetery left an emotional and lasting impression on Morrill, which led him to gather his family and friends, fill his trucks with these extra wreaths, and carry them from Maine to Washington, DC. There, just before Christmas, they quietly and respectfully placed them on veterans' headstones. For the next 15 years, he made, donated, transported, and placed thousands of wreaths at Arlington.
This special and moving tribute grew larger every year. In 2007, the Worcester family business, several veterans organizations, trucking companies, corporate business donors, and a dedicated group of volunteers formed "Wreaths Across America," which continues the efforts of placing memorial wreaths at all state and national cemeteries. These sponsored wreaths are placed by volunteers who are encouraged to pause, say the veterans' names aloud so they are not forgotten, place the wreaths in remembrance of those lives lived, and honor them for their service to our country. These coordinated, cross country ceremonies are a gesture of gratitude and thanks to those who gave the ultimate gift and sacrifice for our freedom.
Escorted by the Patriot Guard Riders, many of these donated trucks full of wreaths make educational visits to schools and communities. Veterans join them to share videos, pictures, and stories that teach the meaning of the freedoms that we have, made possible because of the military heroes of our past, present, and future.
This year's ceremonies will take place at noon on Saturday, December 16, 2017, with the local wreath distribution at the Raleigh National Cemetery located at 501 Rock Quarry Road in Raleigh. There are several ways in which to become involved and support "Wreaths Across America." You can sponsor a $15 wreath (as the owner and publisher of CIRCA's children do, along with their cousins – a proud tradition started by their grandparents several years ago in their grandchildren's names) by filling out a form that can be picked up at the local Veteran's Day Ceremony that will take place November 11 at 11:00 AM at the Veterans Memorial located at the Heritage Golf Club in Wake Forest, or at Bright Funeral Home.
You may also visit www.wreathsacrossamerica.org to sponsor a wreath. Select "Sponsor through a local fundraising group" and enter Group ID NC0079P, making checks payable to our local General James Moore Chapter DAR. Mail the form to: Gina Vitrano, Wake Forest DAR, 106 North Avenue, Wake Forest, NC, 27587. Email questions to gmvitrano@gmail.com.
You can also volunteer to place a wreath at any ceremony location, (as my husband Randy and I do at Arlington National Cemetery each year, specifically for several North Carolina veterans, including Youngsville native D. Lucas Elliot's grave, pictured). Or encourage a club, organization, or business to make a financial contribution. Perhaps organize a ceremony at your town's local cemetery or military memorial if there isn't one already planned. And last year, 172 companies donated almost 360 truckloads of wreaths to be placed at veterans' graves – so consider volunteering in mid-January, especially at Arlington, to pick up these thousands of wreaths.

"Wreaths Across America" provides a simple, family-orientated way to thank, honor, and remember our veterans during the Christmas season, as we should do every day. Please share this mission and its purpose, sponsor a wreath, and most importantly, thank a veteran for their service.
Jill Bright
Bright Funeral Home, located at 405 S. Main St. in Wake Forest. Bright Funeral Home serves the Wake Forest, Rolesville, Youngsville, Franklinton, Falls, Bay Leaf, Louisburg, Raleigh, and surrounding areas.