Wrap Up A Party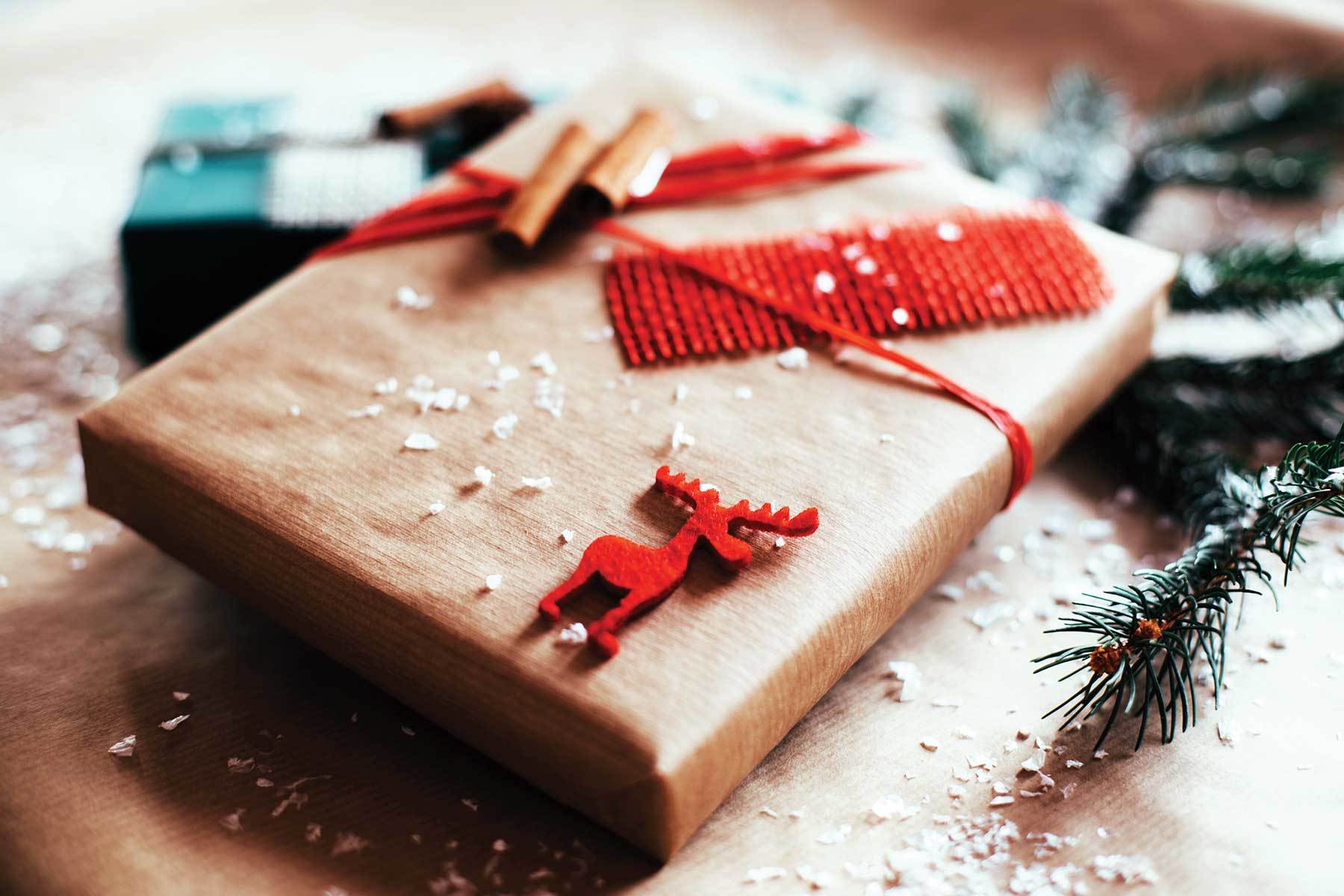 The joy of the season is once again upon us. It's time to revel in the spirit of the holiday season by showering those we love with affection – and a few gifts along the way. This year, why not take the joy of gift giving a step further? Think "party with a purpose." Gather your friends for a festive evening of gift wrapping so you and they can create the perfect packaging for the perfect gifts.
The most important thing for the hostess to do for this party is keep it simple. This is not the time to clean crystal and polish silver – there will be plenty of time for that at later holiday celebrations. No, this should be an easy, non-stressful event to plan and host, so you too can fully enjoy the festivities. Simply invite your guests with an online invitation, email, or phone call. Ask each to bring an appetizer, sweet treat, or beverage that's perfect for holiday entertaining, along with copies of the recipe to share with the other guests. Not only will everyone enjoy the sips and nibbles, they will also appreciate adding some new possibilities to their future holiday fare.
A few quick, easy, and festive options you may want to offer include:
– Bite-sized brownies stacked on a platter in the shape of a Christmas tree and drizzled generously with chocolate and crushed peppermints (just before serving, add a dusting of powdered sugar for a dazzling addition).
– A delicious and pretty holiday bark: swirl together melted dark and white chocolate on a wax paper-lined cookie sheet and top with your favorite toasted chopped nuts or crushed peppermint candies (these should be refrigerated until firm, then broken apart into irregular pieces).
– Hot chocolate served with peppermint sticks or chocolate-coated spoons for stirring.
In addition to the gifts that need wrapping, each attendee should bring wrapping paper, ribbons and bows, gift tags, and boxes. Encourage guests to bring personal touches, such as old ornaments and dried or artificial natural items, like flowers or pine sprigs. Calligraphy and metallic pens in different shades for decorating plain paper or addressing tags are also great additions to the supply table. You should have a central location for all the gift wrap, bows, and decorations, as well as several tables that are set with scissors and tape for wrapping (make sure you have plenty of these on hand).
Once guests arrive, set the festive mood with your favorite holiday music selections and let them savor a few drinks and edible treats, as well as the opportunity to visit with each other. The holidays are a very hectic time of year, to it's important to allow time for guests to reconnect and relax. Then after everyone has enjoyed the holiday treats and had a chance to refill their glasses, it's time to get busy!
There are many creative ways to give beautiful packages that extra special touch. One of my favorites is incorporating part of the present's theme into the packaging. For instance, if you are giving the gift of an appetizer plate or serving dish, why not include a cocktail fork or cheese spreader with the ribbon and bow? Or if your favorite home chef is receiving a monogrammed apron, make the tag out of a new wooden spoon that can easily be attached to the present. Use the handle of the spoon to write the "to and from" and the recipient will always remember your thoughtful and personal gift. Not only is this a fun way to present a gift to someone special, it also gives a clever little hint to what's waiting to be discovered inside.
Take a look at your ornaments. You likely have a few that might not be in keeping with this year's holiday decorating scheme or don't hold the sentimental value that others may, so why not re-cycle them as part of your package? Simply tie one in the center of a pretty bow and now you have a lovely present presentation. New ornaments can be a great reminder to the recipient of your thoughtful gift each year his or her tree is trimmed.
Faux pine sprigs, berries, and pinecones can also add interesting elements to the appearance of your holiday packages. They can be tucked into bows or tied with ribbons easily – but to make it even a little more personal, make a small "arrangement" that your gift recipient can incorporate into his or her home holiday décor.
While colorful papers and ribbons always make pretty packages, don't overlook some of the more simple options that are also available. Plain brown craft paper can provide the perfect canvas for decorating creativity. It can be paired with a woven ribbon and adorned with a handmade or vintage ornament. A cluster of cinnamon sticks or pinecones will give it a natural touch. If the budding artist in you is dying to escape, grab a metallic pen and doodle away.
Handcrafted gift tags allow for additional packaging creativity. A quick visit to the scrapbooking aisle of your favorite local craft store can yield plenty of great accessories, including die-cuts and adhesive decorations, as well as seasonal papers and cardstock options. You can also create some attractive tags with items you can easily find around the house. Cut a small piece of felt into the shape of a present, add a tiny ribbon tied into a bow, and glue it onto a plain white tag. Or take a piece of green cardstock and cut it into the shape of a Christmas tree, adding a little gold star to the top.
One of the most enjoyable parts of celebrating the holidays lies in the preparation. With a little creativity, you can turn a daunting task into a festive gathering. Sharing talents and nurturing friendships is one of the greatest gifts we can give ourselves and those around us. May your holidays be full of warmth and fun!
Stacey Moritz
Owner of The Lemon Tree Cafe, located at 113 S. White St. in Downtown Wake Forest, offering freshly prepared salads, pastas, soups, and take-away fare.