Winter's Colorful Welcome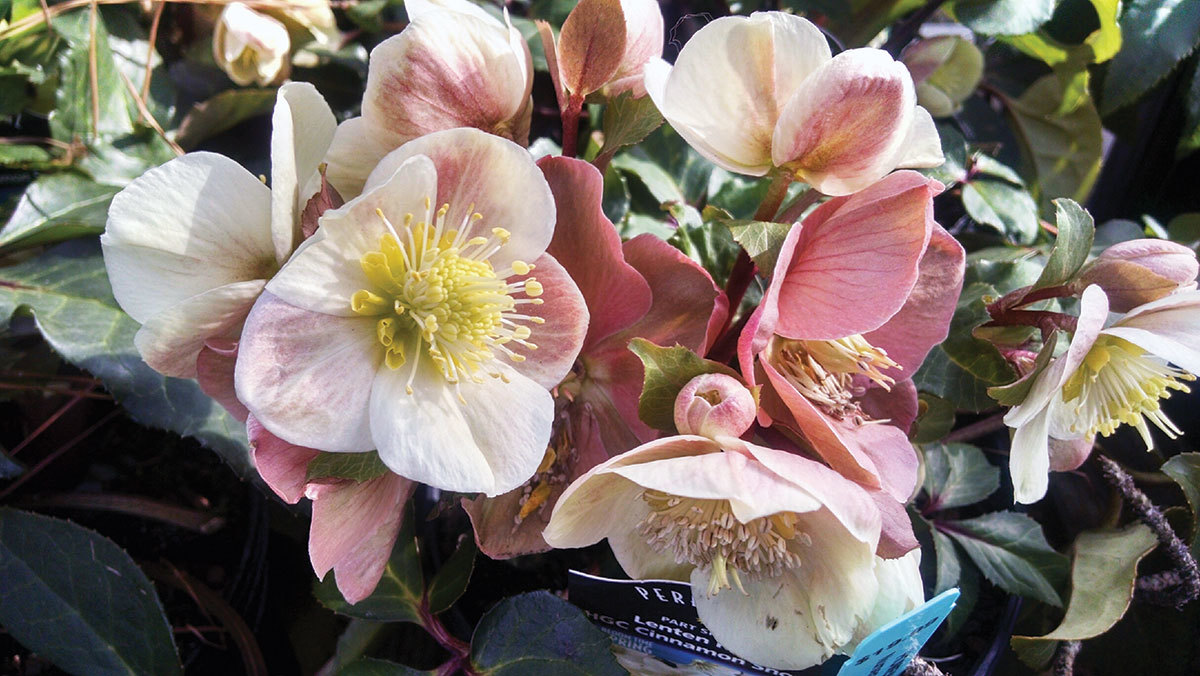 If you are longing for the beauty of a glorious garden full of color during these cold months, don't worry ... it is possible to enjoy beautiful blooms in late winter and early spring. Lenten roses, a must-have fantastic plant for winter interest in any garden, are here to save the day.
If you aren't familiar with Lenten roses, also known as hellebores, then I am here to fix that. Let's run quickly down the list of awesomeness you get when you plant hellebores:
– Dozens of blooms on mature plants (flower power, baby!);
– Drought tolerant;
– Evergreen (leaves all year);
– Deer and rabbit resistant;
– Disease resistant;
– Insect resistant;
– Long bloom time (flower power times two);
– Long-lived (not going to poop out after two years like some other "perennials").
Hellebores are perennials that bloom in winter and spring, and that is a nice thing because they are often in flower when not much else is blooming. Bloom time is long, too – usually late February to early April. Myriad color variations exist with the basic palette of colors such as plum, pink, light apricot, white, cream, light green, near-black burgundy, wine red, and the palest yellow. Some flowers are one color, while some have speckles, blotches, picotee edges with a second color, or prominent nectaries that provide additional color.
There are many hybrids, but it's easiest to think of hellebores in terms of two main groups – the ones that make seedlings and the ones that tend not to. It's an important distinction because it will help you select the right hellebore for your garden. If you want a lovely carpet of green with a kaleidoscope of lovely colors and variations, then choose the group that makes seedlings. When you ask for them at the garden center, ask for the "hybridus" types, formerly called "orientalis" types. There are more colors and variations available in this group, and the seedling plants that grow from them will produce flowers of different colors in your garden. There are also fluffy, double-form flowers, ones with picotee edges, and semi-doubles in this group.
If you want a neat grouping of plants, or don't want a bunch of extra seedlings, look for selections from the Gold Collection, or ask for sterile varieties. These hellebores tend to be smaller, less rounded in habit, and flower colors are mainly ruby pink, white, cream, dark plum, mauve, or cream with mauve. They tend to be one color or start white/cream and age to a pink, plum, or green. Some of these hellebores will bloom as early as December, which can help extend the bloom season if you plant them with later blooming varieties.
Hellebores can be grown both in garden beds and containers. Since they are evergreen, they can be a useful anchor in the garden, allowing you to plant seasonal flowers around them. Site them in shade to part sun since they will get bleached out and unhappy in full sun. They will do better in soil that has been amended with organic matter, but are pretty tolerant of our clay soils.
The best way to enjoy hellebores is to float them in a bowl. This way you can enjoy all the delightful colors and subtle variations. Their often-nodding flowers are harder to see upright in a vase and they don't last as long as cut stems.
Hopefully, I have tempted you to try Lenten roses and make them part of your winter wonderland. They are certainly a cheering sight on a gray winter day and a joy to behold indoors, as well.
Growing Tips at-a-glance
– Light: Shade to part sun.
– Water: Regular water until established (first year). Drought tolerant thereafter.
– Soil: Moist, well-drained with organic matter (pine bark soil conditioner, compost) amended into native clay.
– Companion plants: Hosta, sedge grass, ferns, ajuga, primrose, azalea, pieris, golden paperbush, daphne.
– Pruning: Trim back old leaves in February right before bloom.
Tina Mast
Communications director at Homewood Nursery in Raleigh.