Winter Wines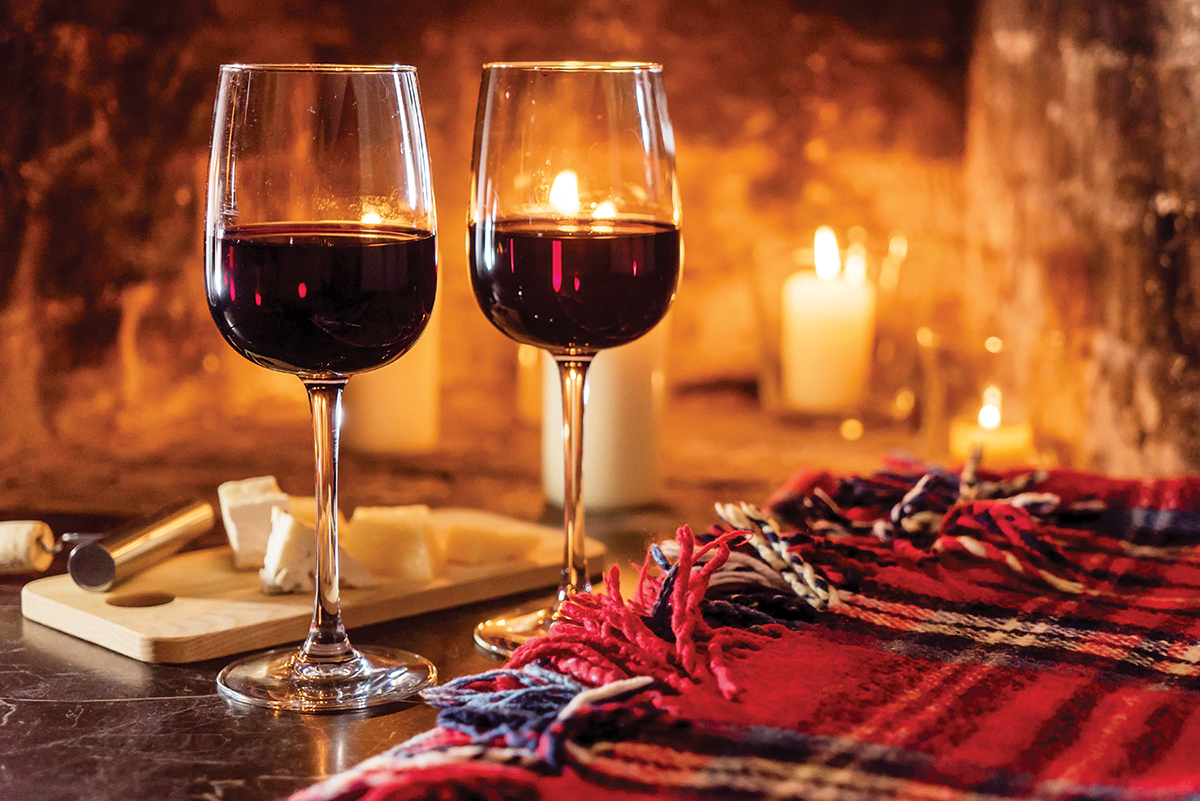 Now that winter has arrived, you may find yourself facing a bit of a problem ... how to pick good winter wines in North Carolina? Well, I'm here to offer a solution. North Carolina is a very interesting place to be a wine lover. We are fortunate to be targeted by worldwide markets, so we have many great options. The tricky part is the weather. It is 75 degrees, then it is 28 degrees, then it is 80 degrees. So to make sure you are covered, I recommend having a flexible wine portfolio on hand.
Whites: There has been a huge trend towards Chardonnay over the past few years. The best values come from South America –
like the winery I visited a few years ago, Apaltagua – and Washington State. While Washington is known for great Merlot and Cabernet wines, they also make exceptional Chardonnay for under $20.
Rosé: This is a tricky category, because the previous year, 2019, which is standard for a current vintage, is starting to run out. I try to stick to Syrah/Grenache blends, but have also found a great value in a Sangiovese Rosé from Italy. It's all obviously personal preference, but when pairing food and trying to play whack-a-mole with the weather, Rosés are the way to go.
Red Blends: This category is how I have built and sustained my business over the past 12 years. Starting with Foxy Red 2005 to today's work horses of Ca Momi Rosso, Brick Mason Red, and the J Dusi Model M, the blends are great. Red blends give you flexibility with food and allow you to satisfy multiple palates at the dinner table or in a tasting setting. There is great value in the red blends as well – anything not ending in "ernet" tends to be cheaper!
Cabernets: While I just took a shot at Cabernet's cost, there are some great values to be had in the $14.99 and under range. Since March of 2020, our bestseller has been the Athena Cabernet Sauvignon. We have also found great value in the Paso Robles region at that price point (Poppy), as well as Washington State Cabernets. For a wine to be labeled Cabernet Sauvignon, it must be at least 70% Cabernet, or Merlot, or Zinfandel. You get the idea ... most wines are blends!
South America: Many folks associate Malbec with Argentina, and that is correct. What you may not know is that Malbec is one of the original five Bordeaux varietals. Cuttings from all five – Cabernet, Cabernet Franc, Merlot, Petit Verdot, and Malbec – made their way to Argentina and Chile via Bordeaux over 400 years ago. As a matter of fact, when the European vineyards were wiped out by infestations, they re-planted with North American counterparts. If you want to know what Bordeaux wines used to taste like, buy South American reds – Cabernet, Malbec, Syrah, and their version of Charbono, Bonarda. Talk about value? You can get great winter reds from $10 and up from this part of the world, including the lost varietal, Carmenere, which has an amazing stronghold in the Chilean wine industry.
Old World: Some of the best winter food wine options are in-expensive Bordeauxs. They tend to be Merlot-dominant so they don't overpower food. Another growing category is Beaujolais ... not just the Noveau, but also the vintage Beaujolais which is made by a grape called Gamay. This wine is perfect for the person who likes Pinot Noir but is looking for more jam and less spice. Our bestseller in this category runs about $12.99 per bottle.
Bubbles: Have we ever needed to find ways to celebrate more than we have over the past year? You can go multiple routes here as well, starting with Prosecco from Italy. Cava is made in the Champagne-style, but with bigger and creamier bubbles. Then you can, of course, opt for traditional Champagne. Keep in mind, though, when you go this route to ask for the grower Champagnes as they are $20 to $30 less per bottle than the big guys. However, nothing beats a good bottle of Veuve Clicquot. Did you know that the current Veuve has wine in it from 1988 through 2015? Their weather is so awful that they have to save each year's harvest and mix and match to make decent Champagne. But we pay the rent!
I hope everyone has a rocking and healthy 2021. Cheers!
Joe O'Keefe
Owner of Wine and Beer 101, offering deliveries throughout Wake Forest, virtual tastings, and socially-distanced live music. Stop by anytime for a drink or to chat.