Winter Ice Cream
Warm Your Insides This Season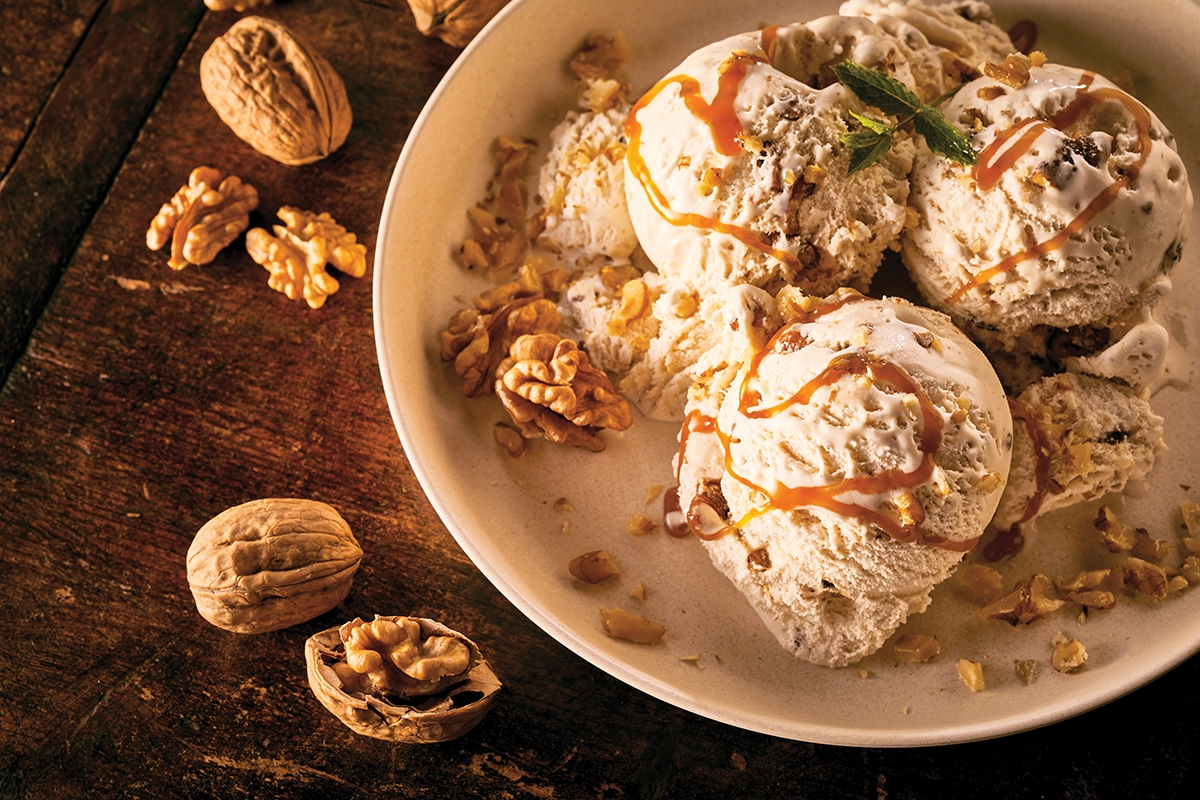 Here in the south, ice cream is traditionally a summer treat – enjoying a scoop after the ball game, following a trip to the lake, or during a concert in the park. But why, oh why, do we have to pack away the ice cream maker in the middle of October? Science suggests (or ancient alien theorists point to) that ice cream eating fires the metabolism and warms you from the inside – sounds like a pretty good way to kickstart your New Year's weight loss resolution! With the recent upswing in "artisanal" ice creams, winter flavors – designed to illicit warm fuzzy feelings of yesteryear – are gaining popularity. Chilly season flavors like pumpkin pie, apple pie, pecan pie, gingerbread (see recipe), and apple cider are some of the flavors designed to mimic desserts we enjoyed in years past (and who says these flavors can't still be savored this winter, even though Thanksgiving and Christmas are behind us?).
For some of us, just a scoop won't satisfy our craving for winter treats. No, we want a sundae! The combination of a scoop and hot fudge, caramel, wet walnuts, and a dollop of fresh whipped cream gets the motor running in a way that warms the soul like nothing else. So, put another log on the fire, wrap yourself in a good blanket, turn on Netflix, and grab a scoop!
Gingerbread Ice Cream
– 1 pint heavy cream
– 1 pint whole milk
– 1 cup brown sugar
– 1 teaspoon ground ginger
– 3 teaspoons vanilla extract
– ½ teaspoon ground cloves
Mix dry ingredients; set aside. Mix wet ingredients (KitchenAid makes a great attachment); place in your ice cream freezer. Begin to freeze. When almost to a soft serve consistency, add your dry ingredients (to taste).
Wet Walnut Topping
– 2 cups walnuts
– Maple syrup
Pour walnuts into a small dish. Cover with maple syrup. Cover and refrigerate until serving time. (Wet nuts will stay good for at least a month and are best served after two days of soaking.)
Whipped Cream
– 1 cup heavy cream
– 1 teaspoon vanilla extract
– 2 tablespoons powdered sugar
In a cold steel bowl, whip cream until soft peaks, then add the rest of the ingredients and whip until hard peaks are achieved
Buck Buchanan
Owner of Lumpy's Ice Cream. Lumpy's uses the finest local ingredients and crafts them into ice cream without any preservatives, additives, or synthetic hormones.