Winter Gardening
From Color To Care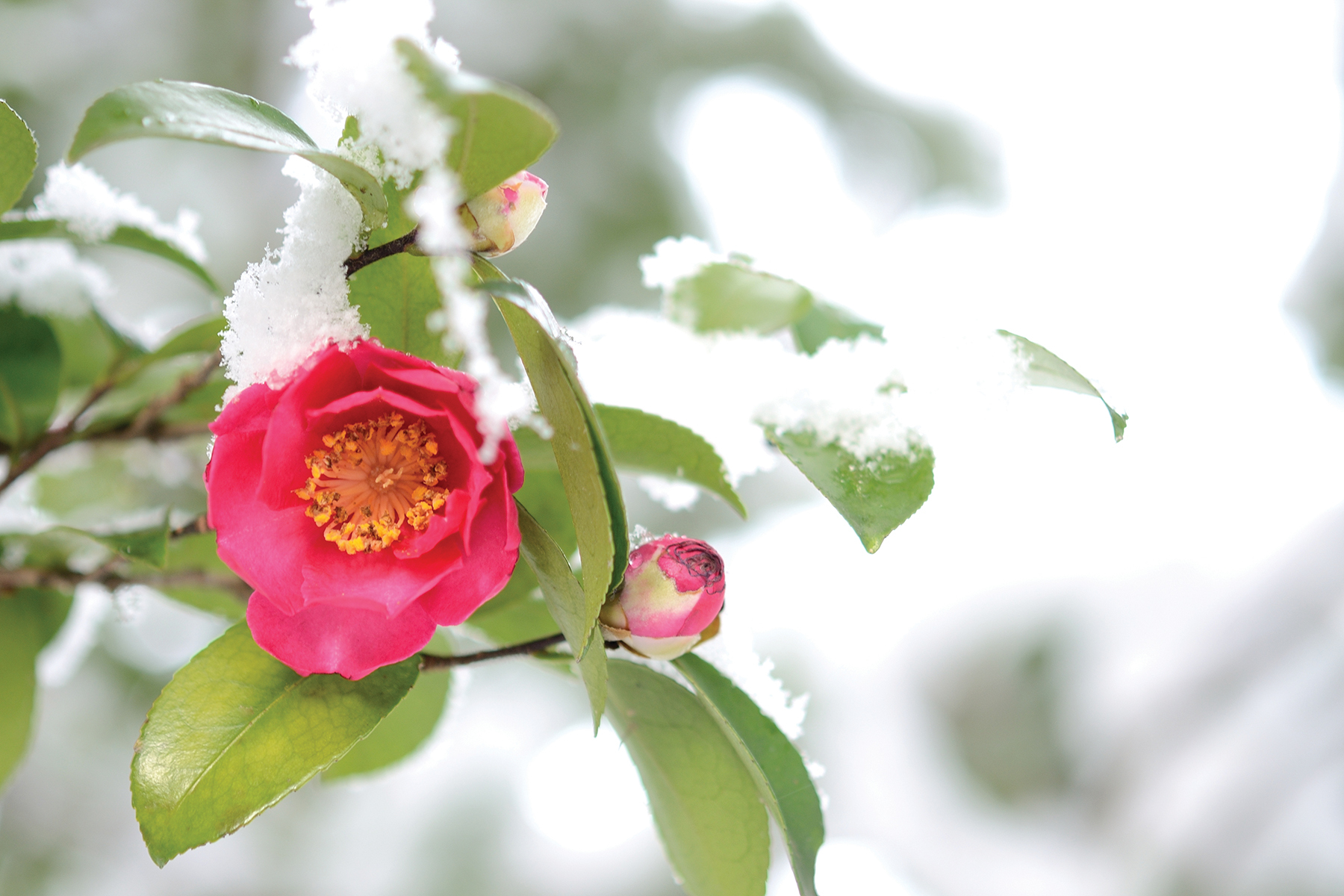 Winter in North Carolina can be a wonderful and beautiful time of year. But for our gardens and landscapes, it can also be a dull and colorless time of year. The leaves have all fallen off the trees. The grass has gone dormant and is no longer a lush, vibrant green. And even the flowers are no longer blooming. But it doesn't have to be this way – there are hardy plants that can withstand colder weather and help add color to your winter garden. And just because the temperatures have dropped, that doesn't mean you can drop your gardening chores right now. Now is the perfect time to prep your garden so that you can enjoy healthy plants come spring.
THE BEST PLANTS FOR WINTER COLOR
Winter Jasmine: If you don't have a strong green thumb, but you want color, the winter jasmine is an especially forgiving plant. Actually considered a shrub that can form broad, mounding, or vining growths, it features delicate, yellow, five-petal flowers. Best of all, it's low maintenance and typically blooms in mid-winter, right when you'll probably be craving color the most.
Camellias: Camellias (pictured) come in a wide variety of shapes, sizes, and colors. The actual plant is a small tree or shrub with glossy green leaves. The flowers can range from deep red in color to white and everything in between. Some flowers tend to look like roses, while other varieties resemble a fully bloomed peony. There are many options from which to choose that will allow you to enjoy beautiful flowers and color during the winter months.
Japanese Maples: These trees are often found in decorative gardens because they offer beautiful trunks that look like artistic carvings and richly covered leaves. While they can grow up to 30 feet, they also tend to spread out horizontally for a truly unique look that can serve as a focal point in any winter garden.
Red and Yellow-Stemmed Dogwood: Even when the leaves of the red and yellow-stemmed dogwood have fallen off, its colorful branches continue to add to any landscape. The bright red and yellow hues provide the perfect winter compliment to the evergreens.Holly Bush: Add color to your garden with this resilient bush. Keep in mind that certain varieties can grow over 50 feet tall, so if you are looking for a more manageable addition to your garden, be sure to go with one of the smaller versions.
Ornamental Cabbage and Kale: Not only do these unique plants provide a nice pop of color, they also offer an interesting texture. They don't get very tall, but they do tend to spread out, so they provide plenty of coverage and are perfect in front of taller plantings.
WINTER GARDEN CHORES
Remove rotting and dead plants: Rotting plants provide the perfect breeding ground for fungus and offer a nice home to pests. Be sure to clean up dead plants and bury them in the soil where they can pass nutrients back to the earth.
Get rid of invasive weeds: If you spent last summer cutting back weeds, now is the time to literally get to the root of the problem and dig them up. This will help eliminate the problem and result in less maintenance once spring arrives.
Prepare your soil: Don't wait until spring to start preparing your soil. Add nutrients like manure, bone meal, compost, and other additives during the winter months to give these supplements plenty of time to go to work so that you start the spring with fertile soil.
Empty your compost: Now that the weather has gotten colder, the microbes that work to breakdown organic matter and create rich compost have gone dormant. Instead of leaving leftover compost sitting in the bin, use it to top off garden beds and make sure that you start spring with an empty bin ready to create more compost.
Empty outdoor containers: If your garden contains potted plants, empty them and make sure they are stored upside down, if you haven't already done so. This will help prevent cracking and keep them from collecting dirt, water, and debris until they are ready to be filled again come spring.
Add mulch: The great thing about perennials is that they are low maintenance. However, you can give them a helping hand by covering the bulbs in a layer of mulch. This is a simple way to protect them and create an even temperature during winter.
Jimmy Tompkins
Owner of JT's Landscaping and Lawn Care.