What's Happening?
FUN AND FESTIVITIES AROUND TOWN THIS SPRING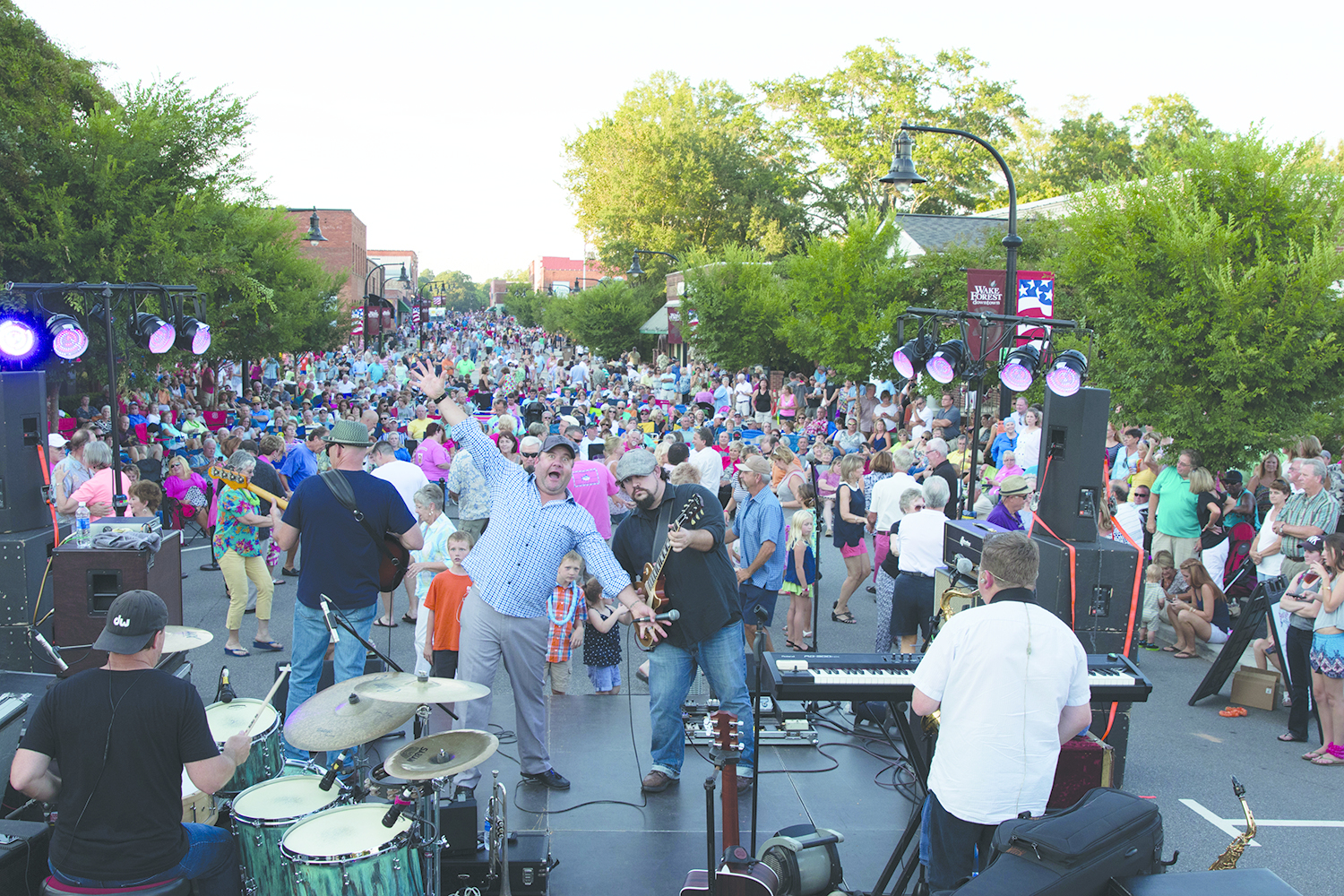 The Town of Wake Forest is offering several new and exciting events and activities throughout the spring season. Craving a concert? The town is adding three new live music series this season, along with an already impressive lineup of musical entertainment. They've even created a "Wake Forest LIVE" webpage and Facebook page, so you can easily keep track of all the live music events happening around town. But that's not all! The town also has a growing lineup of "Wake Forest Outdoors" events, plus a slew of Wake Forest Renaissance Centre performances. From the new Friday Night on White and the Charity Car Show to Pirate School! and Lawn & Disorder, Wake Forest is providing an incredible array of first class entertainment this spring.
FRIDAY NIGHT ON WHITE
Presented by White Street Brewing Company, Friday Night on White will take place along S. White Street at 6:00 PM on the second Friday of each month from April through September. All concerts are free and will feature a variety of premier local bands. While you're enjoying the music, be sure to visit the outstanding dining establishments in Downtown or enjoy delicious fare from several food trucks that will be onsite. Thank you to these local business sponsors: White Street Brewing Company, Back Alley Coffee Roasters, Gladwell Orthodontics, McPherson Family Eye Care, Mitchell Heating & Cooling, North Raleigh News, The Wake Forest Weekly, Carillon Assisted Living, Chick-fil-A, CIRCA Magazine, Coastal Federal Credit Union, Dirty Dogs Spa, Edward Jones, Lowes Foods, Raleigh Radiology, Tuscan Ridge Animal Hospital, Wake Audiology, Ads 'n Art, Candlewood Suites, Esthetics by Caris, Heritage Urgent & Primary Care, Page 158 Books, and The Rolesville Buzz. For more information, visit www.wakeforestnc.gov/friday-night-on-white.aspx.
PIRATE SCHOOL! FOLLOW YOUR COMPASS
Argh matey! Get ready for a mischievous blend of zany antics, clever magic, and eye-popping puppetry at the Wake Forest Renaissance Centre located at 405 S. Brooks Street. Featuring rich special effects and full audience participation, Pirate School! is a fun, family-friendly program that promotes compassion and courageous behavior. A misbehaving cannon and the world's coolest wearable pirate ship are just a few of the adventures in store. Tickets are $7 plus tax. Show times are Thursday, April 14, at 10:00 AM, and Friday, April 15, at 10:00 AM and 7:00 PM. For more information, visit wakeforestrencen.org.
NCRPA RECRE8 5K
The Wake Forest Parks, Recreation & Cultural Resources (PRCR) Department and the Recreation Advisory Board will join with 13 other parks and recreation departments across our state to host a NC Recreation & Park Association (NCRPA) Recre8 5k race on Saturday, April 16. This family-friendly event will start and finish at E. Carroll Joyner Park, 701 Harris Road. For more information, visit www.wakeforestnc.gov/ncrpa-5k.aspx.
ARBOR DAY CELEBRATION
Wake Forest's Arbor Day Celebration, featuring an Expo and Tree Seedling Giveaway, is scheduled for Saturday, April 23, at E. Carroll Joyner Park, 701 Harris Road. The Expo and Tree Seedling Giveaway begin at 11:00 AM, and the Arbor Day ceremony gets underway at 12:30 PM. Volunteers will distribute 1,000 free tree seedlings to area residents and local organizations will offer special activities, treats, and information on trees, gardening, and related topics. Thank you to Modern Woodmen of America for helping sponsor the event. For more information, visit www.wakeforestnc.gov/arbor-day.aspx.
SIX SUNDAYS IN SPRING
Grab your lawn chair and head to Joyner Park for the 2016 Six Sundays in Spring concert series. Offered on consecutive Sundays from April 24 through May 29, these free concerts get underway at 5:00 PM in the E. Carroll Joyner Park Amphitheater. Food and refreshments will be available for purchase or you are welcome to bring your own picnic. The concert series is sponsored by Wake Forest ARTS. For more information, visit www.wakeforestnc.gov/six-sundays-in-spring.aspx.
MIDDAY MUSIC AT MILLER
The Wake Forest PRCR is excited to announce a new lunchtime concert series in downtown Wake Forest. Midday Music at Miller will take place every Thursday in May from 12:15 – 1:15 PM. A food truck will be onsite for each performance. For more information, visit www.wakeforestnc.gov/wake-forest-live.aspx.
MEET IN THE STREET
The 36th Annual Meet in the Street arts and crafts festival will take place on Saturday, May 7, from 10:00 AM – 5:00 PM in Downtown Wake Forest. Presented by the Wake Forest Area Chamber of Commerce, Meet in the Street offers a day filled with food, fun, and entertainment, including live music and children's activities. Admission is free. For more information, visit www.wakeforestnc.gov/meet-in-the-street.aspx.
LAWN & DISORDER COMEDY
Join us at the Renaissance Centre on Saturday, May 14, at 7:00 PM for an evening of good times and side-splitting laughter. Comedians Karen Morgan and Jim Colliton join together in this hilarious show about life as we know it in the suburbs of America. Through stand-up comedy, storytelling, and audience participation, they will take you on a zany trip through their funny neighborhoods. Tickets are $15 in advance and $18 on the day of the concert. For more information and to purchase tickets, visit www.wakeforestrencen.org.
CEMETERY WALKING TOUR
The 2016 Historic Wake Forest Cemetery Walking Tour will offer unique insight into the lives of town residents from generations past. The tour will take place on Saturday, May 14, from 9:30 AM – 12:30 PM at the Wake Forest Cemetery (400 N. White Street). This event is free and parking is available within the cemetery grounds. In the event of rain, the tour will be rescheduled for May 21. For more information, visit www.wakeforestnc.gov/cemeterytour.aspx.
NATIONAL TRAILS DAY
The Town of Wake Forest will celebrate National Trails Day on Saturday, June 4, from 9:00 AM – 1:00 PM at Joyner Park. The free event will include an Environmental Education Expo featuring interactive education stations. Set up throughout the park, the stations will offer a unique opportunity to experience the wonders of nature while learning about the environment. As part of the Expo, attendees will have the opportunity to get an up-close look at some of the living things you might encounter on the trails. For more information, visit www.wakeforestnc.gov/national-trails-day.aspx.
WAKE FOREST CHARITY CAR SHOW
The Wake Forest Charity Car Show is Saturday, June 11, from 9:00 AM – 3:00 PM. Benefitting several area charities, the event will showcase vehicles of all makes and models, including muscle cars, sports cars, pony cars, classic and antique autos, street rods, and trucks. The car show will also feature a "Take-Apart-T" Model T assembly demonstration and the Leith Kia Monster Truck on display, along with a variety of music and food vendors. Admission is free and open to the public. In the event of rain, the exhibit will be rescheduled for June 18. For more information, visit www.wakeforestnc.gov/wake-forest-charity-car-show.aspx.
STAY CONNECTED!
Always be the first to know about Town of Wake Forest programs, services, and special events by signing up for E-Notifier at www.wakeforest-nc.gov/enotifier.aspx, downloading the Town of Wake Forest app at www.wakeforestnc.gov/app.aspx, or visiting www.wakeforestnc.gov.
Anna Bolton
Communication Specialist with the Town of Wake Forest. To learn more about town events, sponsorship opportunities, and how you can be involved, contact Anna.