Veggies Rule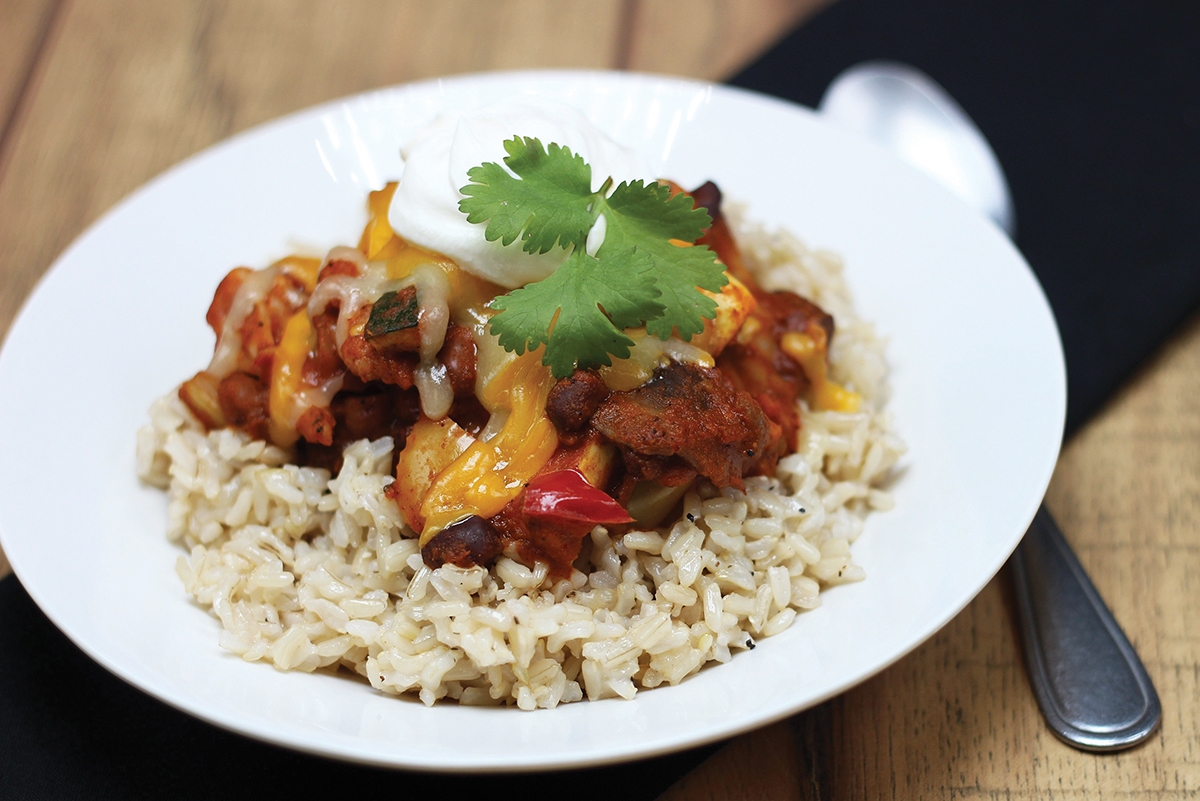 Remember growing up, when a standard dinner at home consisted of and centered on the meat: chicken, ground beef, pork, etc.? The protein was the star and the veggies and starch were merely the extras to fill up the plate. But, the times, they are a-changing, and minds are swaying. Meatless Mondays are in practice with many people; veggies have been turned into meat-like substitutes for burgers that actually "bleed" when you bite into them; restaurants have expanded their vegetarian and vegan menu selections; varieties of protein-loaded meat substitutes are plentiful; and recipes abound on the Internet, just waiting for you to try.
Yes, vegetarianism has come a long way. I flirted with embracing the vegetarian lifestyle 20 or so years ago and most definitely enjoy plenty of vegetarian dishes these days. In fact, some of my current favorite dishes are vegetarian – heck, a few are even vegan! So, vegetarianism isn't scary or bland or boring or hard. It can be delicious and enjoyable.
And I have a recommendation for you. You don't have to go cold turkey (pardon the pun …) into the world of vegetarianism. Instead, think of a transition to a "veggie forward" menu. Simply swap the spotlight on the meal by making your veggies the star and utilize the meat in more of a supporting role. There are a few ways to accomplish this feat. The easiest way is to simply increase the veggie portioning on your plate. Pick the veggies that everyone enjoys the most to fill up more of the plate, then make your burgers smaller or cut down on the amount of chicken you prepare to go with it. You could also make lasagna with a smaller portion of ground beef and more diced veggies in the layers. You can always put together a giant salad with tons of veggies and hard-boiled eggs in place of meat. Soup is another great option for keeping your veggies on the forefront.
A warm bowl of chili is the perfect way to warm up on a cold day. This simple but delicious chili recipe will satisfy even the meatiest eater – it contains just a small portion of meat, but lots more veggies, diced to any size you like. I prefer to keep them big and chunky, but a small dice works just as well. For a bit of a twist, leave out some of the diced tomatoes from the recipe, and cook the chili a little longer to let some of the liquid evaporate ... now you've got a great burrito filling! With this versatile dish, there are so many options just waiting for you to give it a try.
Veggie-Forward Chili
Makes 8-10 servings
– 1 tablespoon olive oil
– ½ pound ground turkey or beef
– 1 small onion, chopped
– 3 cloves garlic, finely minced
– 2 teaspoons ground cumin
– 2 tablespoons dried oregano
– ¼ cup chili powder
– 1 tablespoon salt
– 1 tablespoon ground black pepper
– 2 stalks celery, chopped
– 2 green bell peppers, chopped
– 2 jalapeño peppers, minced (remove pith and seeds to reduce the spice, if needed)
– 2 (4-ounce) cans chopped green chile peppers, drained
– 3 (28-ounce) cans whole peeled tomatoes, crushed
– 1 (15-ounce) can black beans or garbanzo beans, drained and rinsed
Heat the olive oil in a large pot over medium heat. Add the meat and cook until brown. Remove some of the oil if needed before adding the veggies. Stir in the onion and garlic. Then season with cumin, oregano, chili powder, pepper, and salt. Cook and stir until onion is tender, then mix in the celery, green bell peppers, jalapeño peppers, garlic, and green chili peppers. Add the diced veggies and cook for 3-5 minutes, or until the veggies start to soften. Add the tomatoes to the pot and stir in your black beans and corn. Bring to a boil. Stir and reduce to a simmer, cover, and simmer for another 15-20 minutes. Taste and adjust seasonings to your liking: add hot sauce or chipotle powder for more heat. Garnish with shredded cheese, scallions, sour cream, and enjoy. This is great served over rice or barley for a change of pace.
For a completely vegan recipe that packs a flavor punch and is sure to heat up your insides on a chilly, wintery evening, give this next option a try. One taste of this delicious veggie dish, and you'll quickly find you don't even miss the meat!
Bombay Curry Veggies
Makes 8 servings
– 1 tablespoon olive oil
– ½ cup minced shallots
– 1 tablespoon curry powder
– 3 cups diced peppers
– 2 cups medium diced zucchini
– 2 cups medium diced summer squash
– 1 (14-ounce) can coconut milk
– 2 cups diced fresh tomato
– 1 apple, peeled and diced small
– 1 mango, peeled and diced small
– 2 tablespoons julienned basil leaves
– 1 tablespoon lemon juice
– 1 teaspoon salt (or to taste)
– 1 cup veggie broth or water
Heat oil in a large pot over medium heat, add shallots, and sauté for a minute or two. Add curry powder, then sauté for 1 minute. Add peppers, zucchini, and squash; sauté for 3 minutes, just until vegetables start to soften. Add coconut milk, tomato, apple, mango, basil, lemon juice, sugar, salt, and veggie broth. Bring to a boil, reduce to a simmer. Cook 5 minutes. Serve over basmati rice.
Holly Hopkins
Holly has spent many years working with food, starting off at her Grandma's elbow, making wedding cakes and cookies galore. Since then, she has been a manager and business owner and is thrilled to be combining her passions for high quality food and superior customer service at Chef Mario's.