Ultimate Outdoor Kitchens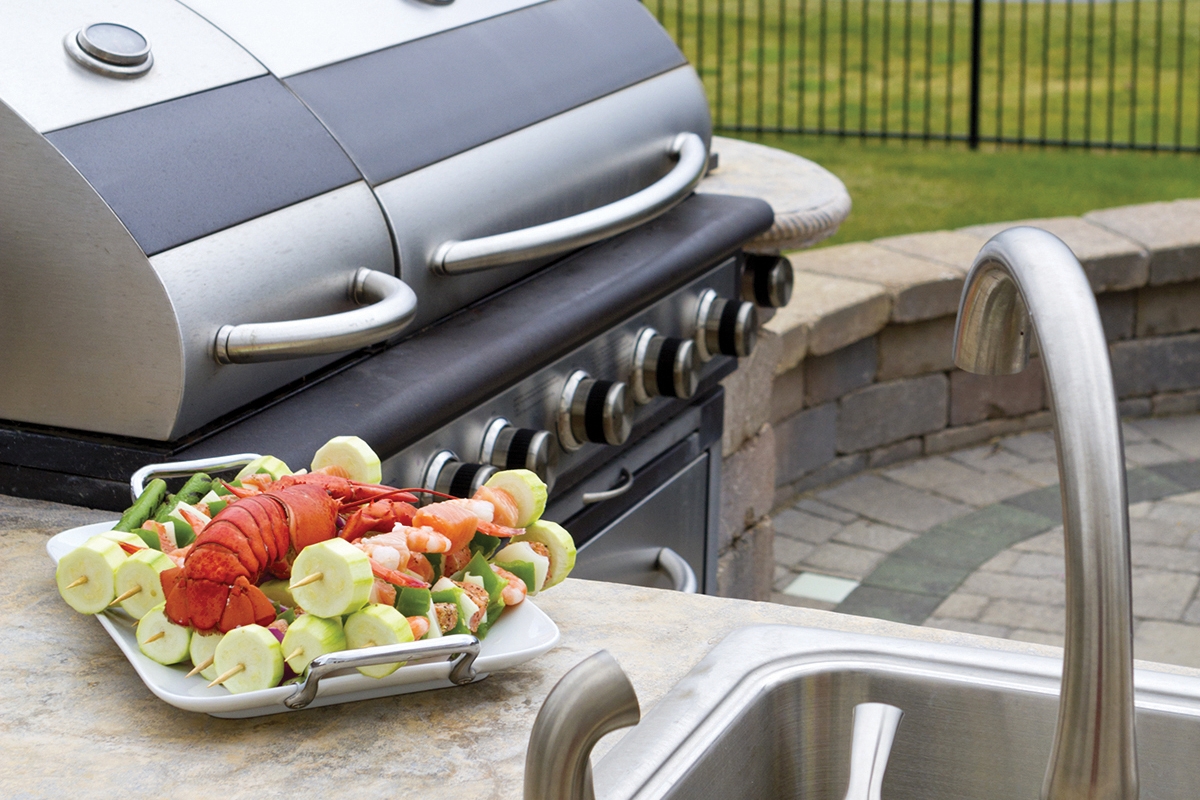 Have you always dreamed of an outstanding outdoor kitchen where you and your family can create lovely memories? Since many of us are spending more time at home this summer than we may have ever imagined, now is the perfect time to make the most of the situation and turn our backyards into the oases we've craved.
An outdoor kitchen is a great space for entertaining many months out of the year, not just on sweet summer nights. And nothing says summer in North Carolina like grilled hamburgers, hot dogs, and corn on the cob; or delicious seafood skewers and grilled pineapple; or scrumptious s'mores roasted with friends and family. In the fall, imagine firing up the grill on a crisp autumn evening and smelling the scent of savory chicken wings before you watch your favorite football team on TV.
Whether you decide to hire a professional to create the outdoor kitchen of your dreams, or roll up your sleeves, add a little elbow grease, and tackle this one on your own, an outdoor kitchen is sure to deliver wonderful memories (and delicious food, of course!). With that in mind, I'm here to recommend a few key components of a prime outdoor kitchen to help you get started.
Grill: There are tons of different grills from which to choose when it comes to your outdoor kitchen, ranging from gas grills, to charcoal grills, to pellet grills. If you have the space and budget, a built-in grill that will work for "everyday grilling" for your family or is appropriate for the typical gatherings you host is crucial when making your selection. Just like with standalone grills, you can purchase side burner options for built-in grills. Side burners are great for making things like sauces for chicken wings, for example.
Kegerator: Outdoor kegerators are great additions to outdoor kitchens. Single tap, double tap, and triple tap kegerators are easy to find and can spruce up any backyard event. However, kegerators aren't just for grown-ups anymore. In addition to beer, many of today's kegerators are able to dispense your favorite wine, cider, soda, and coffee, or really anything you can put in a keg.
Outdoor Refrigeration: To make your outdoor experience more convenient, install outdoor refrigeration to ensure that food, ingredients, and drinks stay cool (especially during hot and humid North Carolina summers). Options include refrigerators with full doors or drawers, refrigerator/freezer combos, icemakers, and wine reserves. Be sure to think about access to electricity when choosing your refrigerator location.
Pizza Oven: Something you may not have considered, an outdoor pizza oven is a spunky way to spice up your outdoor kitchen. Pizza ovens are growing in popularity and can actually be used to prepare recipes beyond pizza, such as seafood, meat, bread, and calzones. Although permanent wood-fired pizza ovens may be out of the picture if you are limited in space or budget, you can look for portable or countertop ovens to enjoy the benefits without the bulk.
Outdoor Fireplace: While not technically part of an outdoor kitchen, a fireplace or firepit is a beautiful statement piece to add to an outdoor living area. It is great for cooler summer nights and can be used well into the fall. Many outdoor fireplaces can be customized with gas inserts, or you can opt for a true wood-burning fireplace/firepit. Grab some marshmallows, chocolate, graham crackers, and a stick, and get ready to put your s'more-makin' skills to the test!
Seating: While also not technically in the kitchen, outdoor seating is essential for hosting family or friends on a summer evening or unwinding by the firepit after a long day. Adding outdoor furniture such as chairs, stools, benches, couches, or rocking chairs can create a relaxing environment while adding flair to your design. Be sure to check that the furniture you plan to purchase is outdoor-friendly in order to prevent damage from the elements.
Other aspects of an outdoor kitchen to consider include water access, sinks, drawers/cabinets, lighting, and countertops.
Once you have the outdoor kitchen of your dreams, try out this recipe for grilled chicken wings for a tasty toast to summer fun!
Grilled Chicken Wings
– ½ cup soy sauce and 1 teaspoon soy sauce, divided
– ¾ cup balsamic vinaigrette dressing
– 3 pounds chicken wings
– ¼ cup butter
– ¼ cup hot pepper sauce, or to taste
Combine ½ cup soy sauce, balsamic vinaigrette dressing, and chicken wings in a large, resealable bag to marinate. Close bag and refrigerate at least 4 hours. Preheat grill for medium heat. In a small saucepan, melt the butter. Stir in the 1 teaspoon soy sauce and the hot pepper sauce. Turn off heat and reserve. Remove the chicken wings from the marinade and pat dry. Cook the wings on the preheated grill, turning occasionally, until the chicken is well-browned and no longer pink (25 to 30 minutes). Place grilled wings in a large bowl. Pour the butter sauce over wings; toss to mix well. Enjoy!
Allison Caudle Abbott
Owner and broker-in-charge of Southern Lux Living, serving buyers and sellers throughout the Triangle.