Transitional Holiday Decor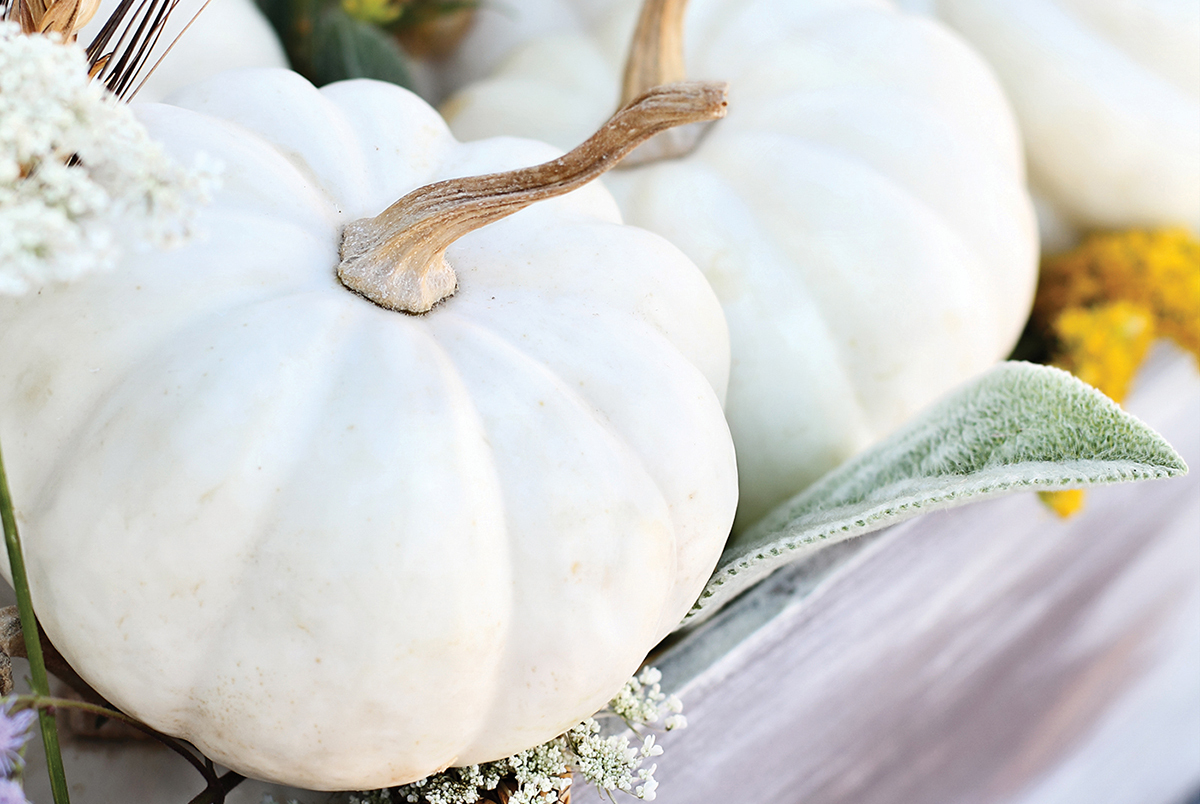 It's that time of year again – the much-anticipated last few months of the year, chock full of spookiness, feelings of gratitude, and holiday cheer. But the closeness of Halloween, Thanksgiving, and Christmas can have even the most savvy home holiday decorator feeling burned out before the turkey is even out of the oven. The daunting task of designing new scenes for each of these holidays may just be a bit too much – but with some simple decorating tips, items, and ideas, bridging the gap between the first of October and the start of the New Year can be much simpler than you think.
We all have that one statement piece that is the perfect holiday decorating backdrop. Maybe it's a chest in your foyer or the sideboard in your dining room. Perhaps it's the mantel in your family room. Whichever focal point you prefer, decorative lanterns of varying heights can be the ideal items to introduce that particular holiday's theme. For Halloween, for instance, place one filled with mini skulls and another with pine cones at one end of your statement piece. On the piece's other side, display varying sizes of pumpkins. For a jack-o-lantern look, simply paint one side. Hang several black frames of standard paper size above the console, sideboard, or fireplace –depending on the size of your statement piece, make sure you have enough frames to fill the wall space adequately. Fill the frames with different Halloween-themed pictures or quotes (you can easily design your own and print on photo paper). For more height, add a glass vase filled with branches that you can find right in your own backyard, draped with artificial spider webs and spiders. Then place some books and fall-scented candles alongside your set up – you have now created the perfect Halloween decoration.
Once the calendar flips from October to November, simply remove the skulls from the lanterns, and replace with acorns or walnuts and fruit like apples and oranges (artificial is fine for this purpose). Leave the pine cones in the other lantern. The pumpkins can stay the same (unless you painted a jack-o-lantern on any of them as described above – if you did, simply turn it around to feature its unpainted side). Replace the Halloween pictures or sayings with Thanksgiving-themed versions. Remove the spiders and webs from the branches displayed in the glass vases and add a few berry stems for almost effortless Thanksgiving décor.
To easily transition to Christmas, take the pine cones from the lanterns and spray paint them either silver or gold – or both. Replace the fruit and acorns with beautiful, colored Christmas ornaments. Paint the pumpkins also silver and gold. Or maybe paint them white and the creases red for a candy cane look. Beautiful Christmas images for the frames will replace those from the holiday before. Paint the vase's branches in the same metallic hues as the pine cones. Keep the berries but throw some holly into the arrangement. Switch the candle scent to cinnamon, cloves, pine, etc. You have now taken your statement piece's featured decorating scheme from Halloween to Thanksgiving to Christmas – with very little effort.
There are many other things you can do to easily transition among the various fall holidays. For instance, for your front door, swap out the ribbon tied around a classic boxwood wreath from an orange and white striped for Halloween to a burlap version for Thanksgiving, to a red and black buffalo plaid for Christmas (or whatever fun and festive patterns and colors you prefer that are relevant to each holiday).
Fill a large dough bowl or antique toolbox with miniature pumpkins and pine cones for a simple but elegant dining table centerpiece that will carry you from the first of October until the Christmas crates make their way out of storage. Then for some Christmas cheer, toss out those mini pumpkins and replace with small glass ball ornaments.
Display a decorative chalkboard that you can personalize with fun, hand-drawn fun and festive scenes or quotes or sayings for each particular holiday. Feature signs around your home to share the spirit of the season – be creative in their placement ... of course, displayed on a decorative shelf or hanging above a doorway is perfect for these, but maybe there's space somewhere you don't typically decorate for a small, horizontal sign; or a tall, vertical one can be propped up in the corner of a room to add a splash of cheer to an otherwise boring, empty space. These items can easily be swapped out from one holiday to the next.
One of the simplest ways to decorate for a particular holiday is with throw pillows – there's no need to buy new pillows for each holiday ... simply invest in removable covers for pillow inserts, and replace with ones for the next holiday for an instant transition. Toss a fall-patterned throw blanket over a chair or place in a basket for a cozy autumnal feel, then replace with a vibrant red or fuzzy plaid when it's time to transition to Christmas.
Who says lights have to be saved for Christmas decorating? The twinkling of strands of lights and the illumination that candles offer have big impact and can easily carry you from an eerie atmosphere for Halloween to a warm and inviting feel for both Thanksgiving and Christmas (battery-operated versions make it so easy to include them in your holiday décor these days). Use the same strand among your mantel decorations that you switch out for each holiday; fill a lantern that can be displayed all season long with a strand for added ambience to any space; place among the aforementioned dough bowl centerpiece for an elegant touch. This is an easy decorating method to help transform your space from Halloween to Thanksgiving to Christmas.
As your creative juices start flowing, you will discover even more ways to transition your décor from one holiday to the next, with just a few simple tweaks. The whole idea is to make it easier to achieve a beautifully decorated home for the holidays without the stress, so make sure you have fun with it. And as an added bonus, using less items means less things to box up and store at the end of the season!
Rhonda Benvie Plummer
The owner of Help Me Rhonda Interiors and Open Door Furniture & Accents, a furniture and accessories store, in Raleigh. Visit www.helpmerhondainteriors.com or www.opendoorfurnitureandaccents.com, or call 919-263-9054.