Top It Off With Granola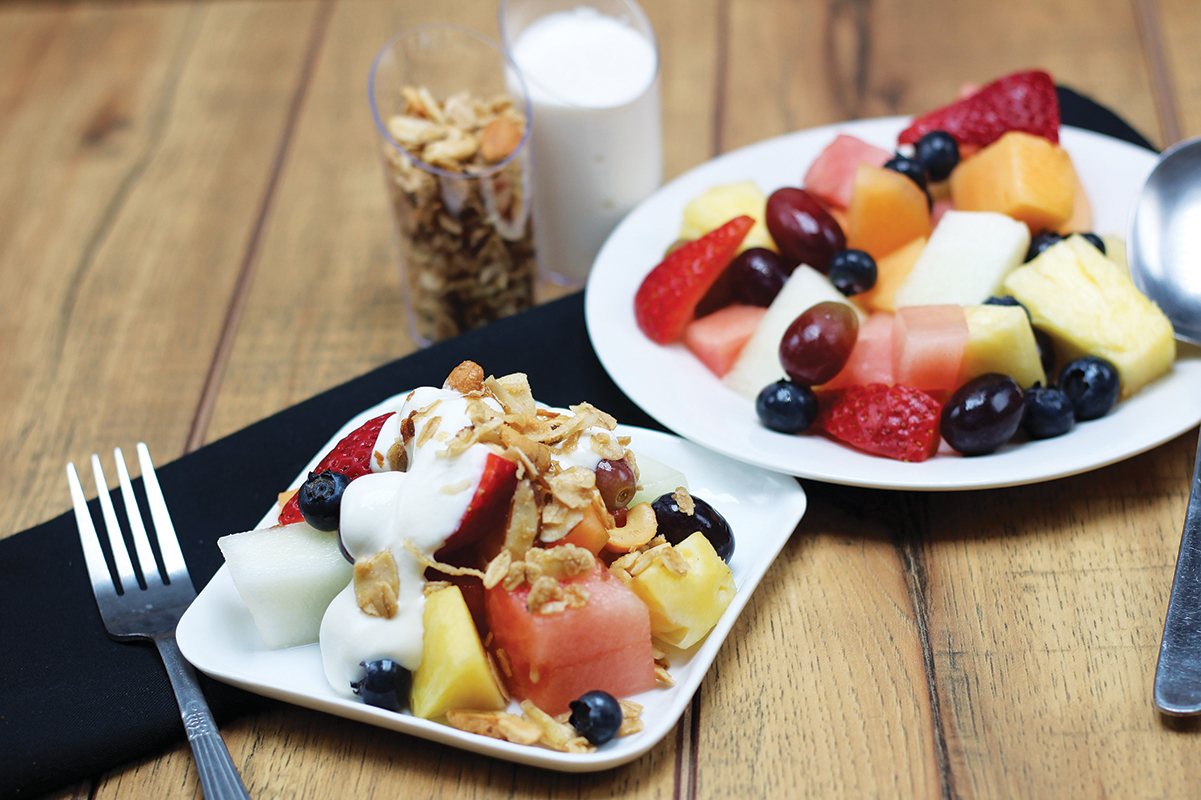 Close your eyes. Picture it – that perfectly ripe, red strawberry delicately balanced in your palm. Imagine how juicy it will be, how biting into it and tasting that one-of-a-kind flavor will make you smile out of sheer happiness. Think of the days of joy to come. Hello spring!
It's just about time for all of those sweet and juicy fruits we look forward to in the warm spring and summer months to become amply available. I don't know about you, but my mouth is watering just waiting for those big, juicy strawberries and blueberries to start showing up at local farmers markets. One of my favorite ways to enjoy fresh berries in the spring, juicy melons in the summer, and even apples and oranges in the winter is to use them in a yogurt parfait. I know, I know … blah, blah, parfaits are ubiquitous – everyone eats parfaits and you can get them anywhere you go. But wait – I have more to say on this matter of parfaits. It isn't just the delicious fruit and creamy yogurt that bring the parfait to perfection.
Close your eyes again. Picture a perfect parfait – what is the best part? Think carefully. Yup, you got it. The best part truly is the granola – the crunchy combination of sweet and toasty nuts and oats that crown the top. What if I told you that you can make your own granola from scratch using ingredients that you likely have in your cupboards at this very moment? And, what if I told you it would taste better than any granola you ever bought from a store? And, then, what if I mentioned that the ingredients you would be using to make this granola wouldn't contain all of the fillers with names you can't pronounce (unlike most of the granola you buy from the store)? Are you sold yet?
If so, I have the most amazing granola recipe to share with you (and even if you aren't sold yet, I think you should still give it a shot – you will be happy you did). It is truly easy to put together; has only a few ingredients; and, as I mentioned earlier, you will likely find most of those ingredients in your cupboards at most times. Winner! Make a big batch of this granola, package it into individual freezer bags, and freeze until you need it. Once removed from the freezer, be sure to keep it in a well-sealed container or freezer bag in your refrigerator, where it should be good for two weeks – but, seriously, it won't last that long. I promise!
There are so many things that are perfect for granola besides putting it on parfaits: – Sprinkle on muffin batter before baking; – Roll cookie dough in it, then bake; – Top ice cream with a nice caramel drizzle and some granola; – Crumble some on top of your bowl of hot oatmeal along with a few chocolate chips; – Use to make a yummy chocolate or vanilla bark; – Use in place of half of the pecans in your favorite pecan pie recipe to make a fun new sweet treat (we make a version of pecan pie bars like this and call them Gooey Wonder Bars).
So many uses for a simple, scratch-made treat. You don't even have to wait for strawberry season to start. Maybe you should make a couple of practice batches first … you know, just to be sure you have it down!
Easy Granola
– 3 cups rolled oats (not quick oats)
– 1 cup slivered almonds
– 1 cup roasted, salted cashews
– ¾ cup shredded sweet coconut
– ¼ cup plus 2 tablespoons dark brown sugar
– ¼ cup plus 2 tablespoons maple syrup
– ¼ cup vegetable oil
– ¾ teaspoon salt
Preheat oven to 250 degrees. In a large bowl, combine the oats, nuts, coconut, and brown sugar. In a separate bowl, combine maple syrup, oil, and salt. Combine both mixtures. Stir to evenly coat all the dry ingredients and pour onto a parchment-lined sheet pan. Cook for 1 hour, stirring every 15 minutes to achieve an even color. You will see the mixture change from a light tan to a nice, dark tan.
Remove from the oven and let cool completely. To store: place in an airtight container or freezer bags. Keep frozen until ready to use. If you store in smaller batches in freezer bags, simply remove them as needed from the freezer and transfer to the refrigerator.
Holly Hopkins
Holly has spent many years working with food, starting off at her Grandma's elbow, making wedding cakes and cookies galore. Since then, she has been a manager and business owner and is thrilled to be combining her passions for high quality food and superior customer service at Chef Mario's.