'Tis The Season
To Be Creative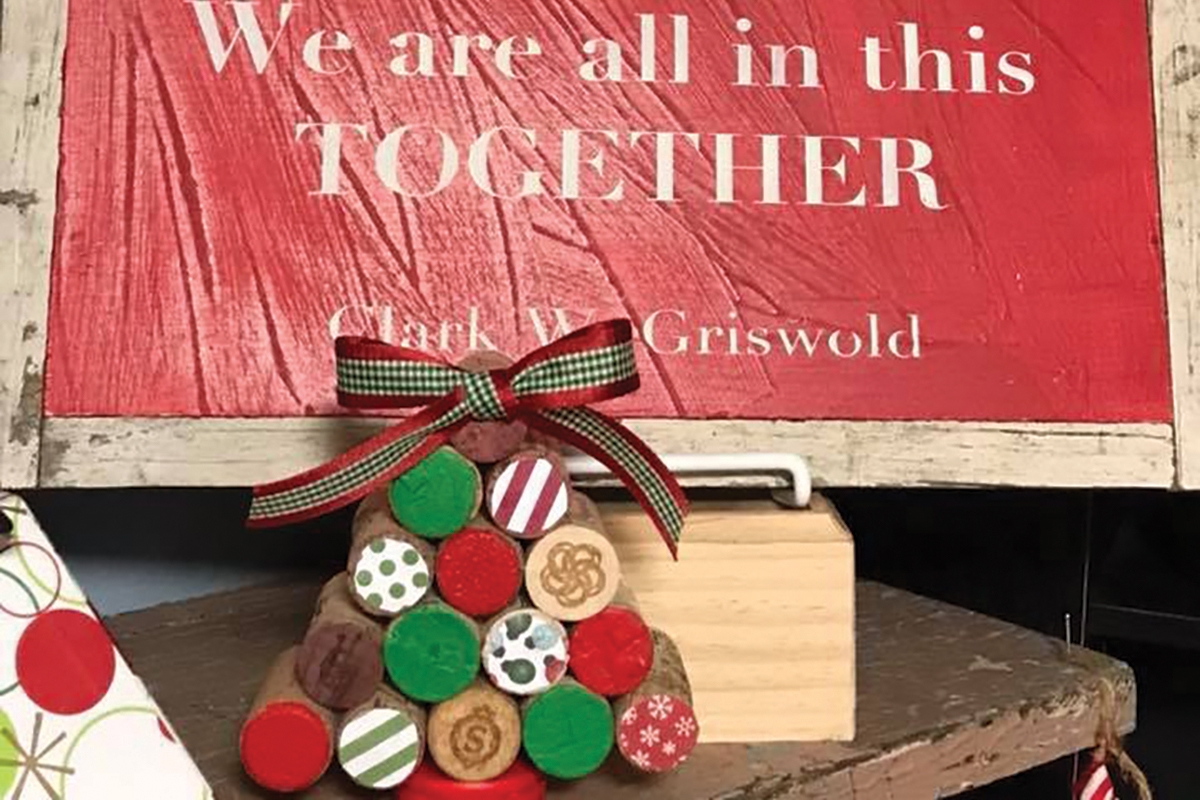 Can you believe that the Christmas season is just around the corner? Soon we will be immersed in the hustle and bustle of shopping, baking, and holiday parties. It's easy to get lost in the holiday rush, so it's important to set aside some time to enjoy the spirit of the season.
Decking the halls can be one of the most fun and festive ways to do just that. We all have those favorite ornaments that bring back sweet memories of holidays past. While those are to be treasured, why not make some new memories this year with simple and creative DIY decorations? There are
many great ideas floating around that incorporate inexpensive items that you probably have laying around your house.
Who doesn't love a nice bottle of wine, especially during the hectic holiday season? But what to do with all those corks? Create little cork Christmas trees, of course! You'll need 15 corks, all about the same size. Paint one end of each in a variety of holiday colors or cut small circles of scrapbook paper to glue on the ends. Next, glue the corks together, starting with five for the bottom, four for the next layer, three for the next, then two, and then one. Glue each row, one on top of the other, starting with the bottom row of five. Add a mini bow and glue the bottom to a little wood slice. Making these tree treats is a great way to spend an afternoon with friends or family – a memory you will carry with you for years to come.
For added DIY decorating inspiration, take a walk outside with your loved ones. Together you can hunt for natural items such as pinecones, magnolia leaves, holly berries, and Fraser fir limbs that you may have cut from your Christmas tree. Spray those magnolia leaves and pinecones with gold paint (a great craft project to tackle with the little ones in your life), and once dry, place upon your mantel among votive candles, the Fraser Fir tree clippings you collected, and perhaps a berry wreath or two that can picked up from your local craft store (or make one yourself if you're feeling extra crafty). Fill a large vase, tied with a pretty red bow, with holly and the tree clippings … not only will you have a beautiful centerpiece you designed yourself, but your house will smell wonderful as well.
Lanterns are a wonderful and easy way to add that little extra something to your home during the holidays. Simply fill them with brightly colored Christmas balls and battery-operated lights, and adorn with a pretty bow tied on top, along with a little holiday greenery. Group several different sizes together and you've crafted a stunning centerpiece for your holiday table or porch decoration. There is so much you can do with lanterns, so be creative!
Let your crafting juices flow by stuffing clear glass tree ornaments with a variety of festive items, such as miniature bells, artificial "snow," or feathers. Or cut thin strips of scrapbook paper, roll them around a pencil, push into the ball, then finish with a pretty little ribbon tied on the loop at the top. Use paint pens or vinyl letters to personalize "snow"-filled ornaments for friends and family. This is a great children's activity for a holiday party.
The holidays are about being together with family and friends – and what better way to spend a cold December afternoon than by stringing popcorn and cranberries to wrap around your tree? This is great for children of all ages. Set out bowls of popcorn (but don't eat it all) and cranberries, gather large embroidery needles and fishing line, and start stringing. While you'll have a beautiful garland to adorn your tree, the memories you make are even better.
DIY holiday decorating can be fun and rewarding. There are many wonderful crafting opportunities for family bonding and memory making. (Where would we be without Google and Pinterest?) So take advantage of this occasion to tap into your inner crafter and let her out. Here's to beautiful decorations, time with family and friends, and wonderful holiday memories to last a lifetime.
Dolores Riggins
Co-owner of Southern Suds & Gifts, featuring over 35 craftsmen and artists.