The Perfect Meal For A "Chili" Night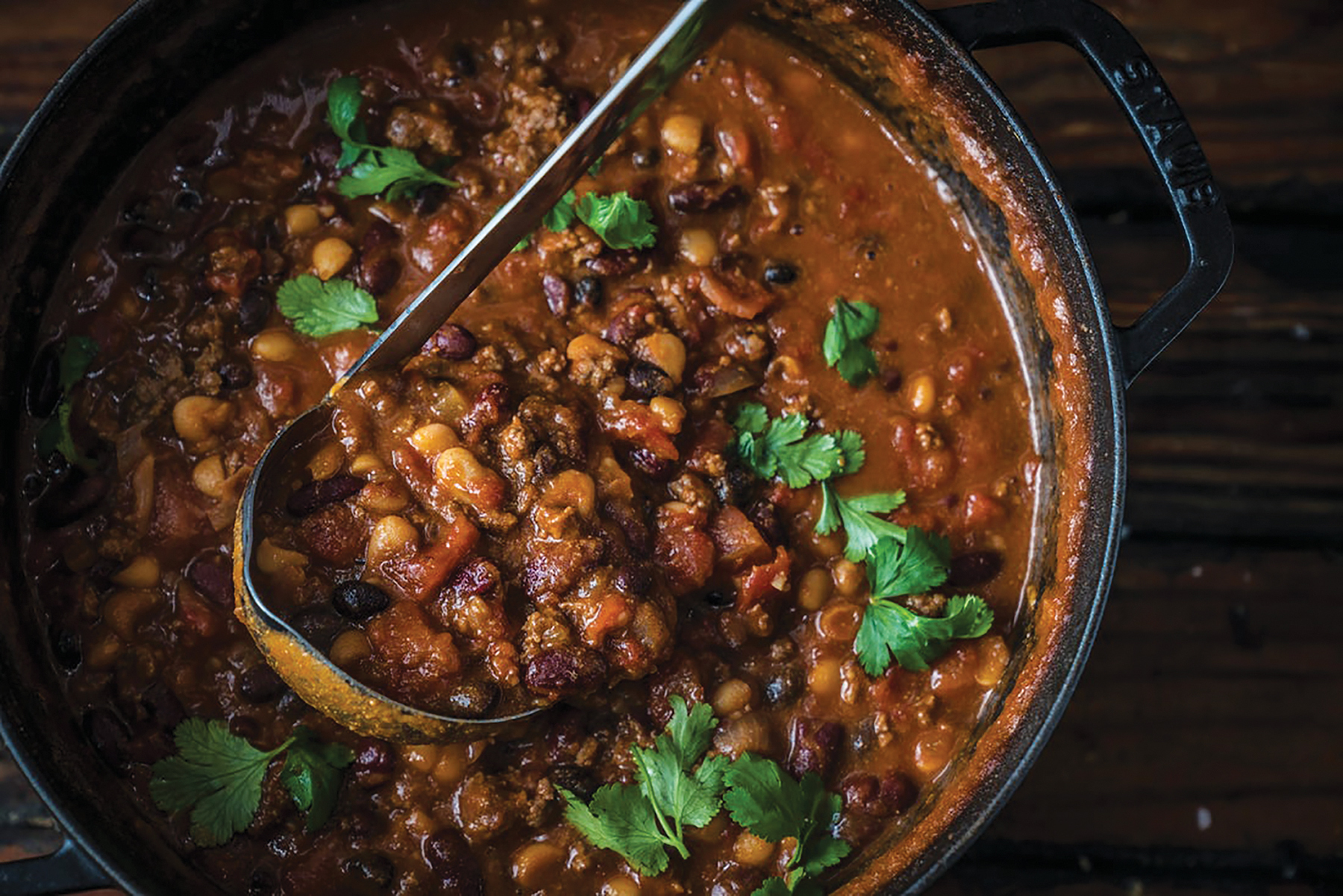 Winter is here! The days are cold, and the nights even colder. For me, that means it's time to break out a cast iron dutch oven and cook up something that will warm not only the soul, but also the body.
This season is great for stews and soups – but for me, winter is all about chili. Meals like these can easily be modified to fit every sort of diet, as well as personal tastes. They are also an easy way to feed a crowd of people gathering around the TV to watch the big game.
Another great thing about recipes in this realm are the many ways that you can prepare them. You can cook on a range, on a smoker, or even over an open wood fire. You can change a lot about the flavor of a dish simply by altering the method with which it is cooked.
CLASSIC BEEF and chorizo CHILI
I use a lot of different chili recipes, but one of my family's most enjoyed ones came into our lives a few years back courtesy of Traeger Grills (traeger.com/recipes/traeger-beef-chili). This version incorporates both chorizo and ground beef, combined in a large dutch oven with veggies and spices for a dish everyone will love.
– 1 pound ground chorizo sausage
– 1 pound ground beef
– 2 tablespoons butter
– 1 green bell pepper, diced
– 1 red bell pepper, diced
– 1 yellow onion, diced
– 2 cloves garlic, minced
– 2 tablespoons tomato paste
– 2 cans (15 ounces) ranch style beans
– 1 can (15 ounces) tomato sauce
– 1 can (14.5 ounces) stewed tomatoes
– 3 tablespoons Mexican oregano
– 3 tablespoons chili powder
– 3 tablespoons cumin
– 2 bay leaves
– Salt
When ready to cook, set grill temperature to 350 degrees and preheat, lid closed, for 15 minutes.
Brown chorizo and ground beef in a large Dutch oven over medium-high heat. Drain excess fat and set aside. Melt butter in Dutch oven, then add peppers and onion. Sauté for 10 minutes until onions are lightly browned. Add garlic and sauté two minutes more. Add tomato paste and cook until color changes from bright red to rust. Add beans, tomato sauce, and stewed tomatoes. Bring to a simmer and stir in oregano, chili powder, cumin, and bay leaves. Season with salt to taste.
Place Dutch oven directly on the grill grate and cook 45-60 minutes, adding liquid (ie. stock or water) as needed. Adding liquid to the chili while it is on the grill helps it from getting too dry. Personally, I find that using a can of Kölsch beer gives the chili a great flavor that stock or water can't match!
We cook this chili in our 7-quart cast iron dutch oven directly on the grill grates of our wood pellet grill. This allows for incorporation of the added flavor provided by the smoke of the wood fire in the grill, but doesn't require you to be the one who has to manage the temperature of an outdoor wood fire.
We always put out a buffet of toppings to accompany the chili – sour cream, cheese, jalapeños, scallions, cilantro, hot sauce, etc. – so everyone can personalize their bowls with flavors of their choosing.
CORNBREAD - THE PERFECT PAIRING
Now, in our family, no chili meal is complete without a great cornbread with which it can be paired. Cornbread helps to cut the heat from a spicy chili, and also helps to make it a heartier meal overall.
My family's go-to cornbread recipe is a modification we make to a true southern classic. We take a box of Jiffy Corn Muffin mix and use their recipe for "Green Chile and Cheese Cornbread" (https://site.jiffymix.com/recipe/cheese-and-chili-cornbread/) – but swap out the green chiles for fresh-diced jalapeño peppers. This results in a typical cornbread with a slightly sweet flavor, but also gives a little extra kick.
Since cornmeal is inherently dry, this recipe also incorporates sour cream to help keep it moist. We also use cheddar cheese instead of monterey jack cheese, which adds a rich cheesy flavor to it.
– 1 package "JIFFY" Corn Muffin Mix
– 3 eggs
– 1 can (8¾ ounces) whole kernel corn, drained
– 1 can (4 ounces) green chiles, chopped (again, I prefer to substitute jalapeños)
– 1 teaspoon baking powder
– 1 cup sour cream
– ¼ cup margarine or butter, melted
– 1 cup Monterey Jack cheese, coarsely grated (again, I prefer to substitute cheddar cheese)
Preheat oven to 350 degrees. While the recipe calls for a greased 9" square pan, we prefer to use a 10" cast iron skillet. This keeps the cornbread from getting too thick, but also allows us to cut it into wedges like a pie. Serving it like this way helps make it easier to dip into that delicious bowl of chili!
Lightly beat eggs; add corn and chiles (or jalapeños). Add remaining ingredients. Mix until blended. Pour into pan. Bake 40-45 minutes, or until lightly browned.
One of the best parts about this cornbread recipe is that you can cook it on the grill right beside the chili. Both the chili recipe and the cornbread recipe call for a temperature of 350 degrees, so you're able to grill them at the same time.
I hope that you all stay warm this winter, and take the time to try out these two recipes on those cold winter nights.