The Loading Dock Wake Forest
Building On Our Entrepreneurial Eecosystem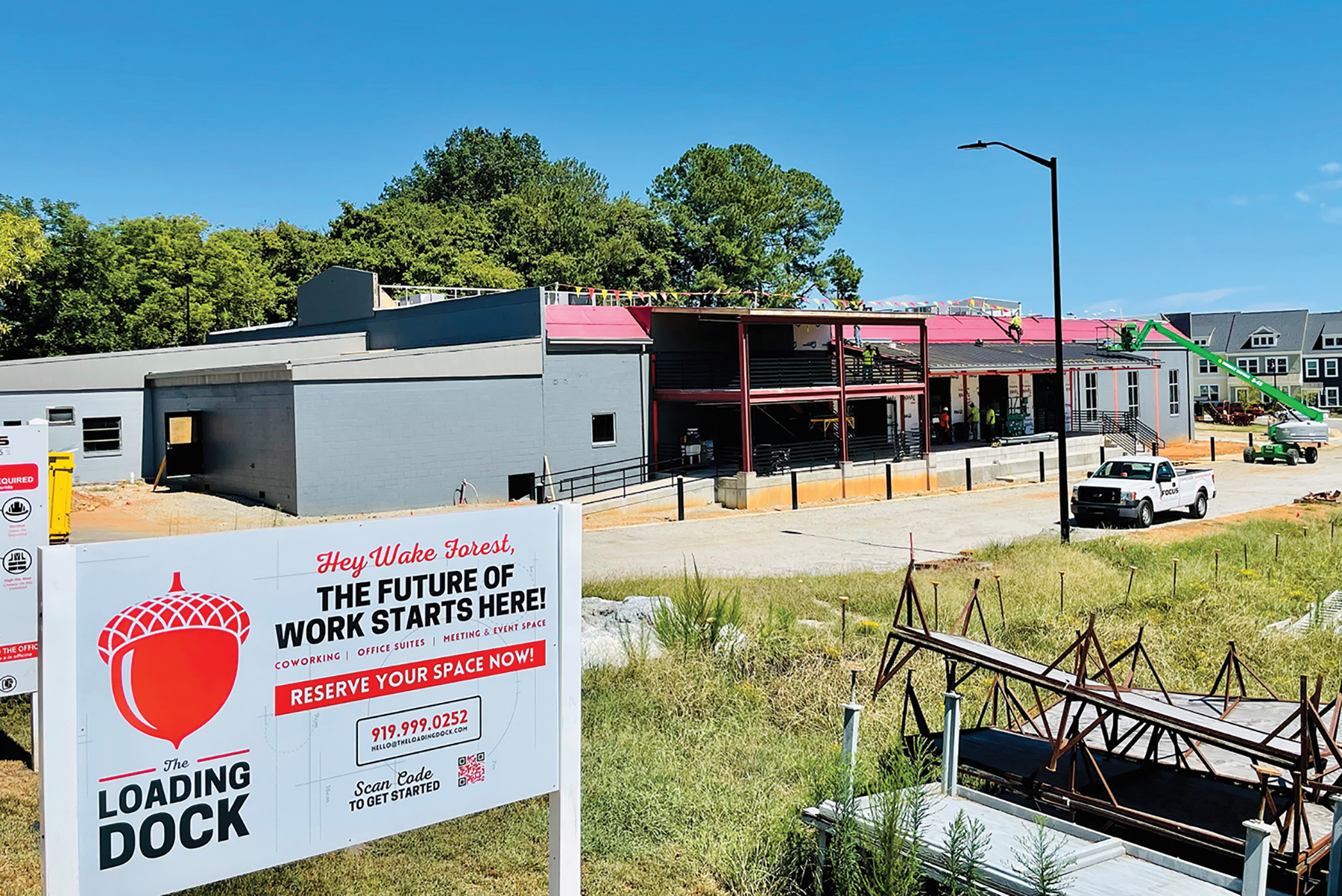 It is undeniable that the way individuals and businesses work, collaborate, and connect has changed forever. There is a Raleigh-based company that is positioned to embrace the future of flexible work and help transform downtown development with their new Wake Forest campus – The Loading Dock, opening this fall.
The Loading Dock was launched in May of 2016 by US Navy Veteran Philip Freeman, the founder of Murphy's Naturals, a natural products outdoor lifestyle brand. Understanding the high-hurdles of starting a company and out of a desire to bring impact-minded leaders and entrepreneurs together, Philip launched a functional workspace for all to collaborate and thrive together. Philip named this new organization for the game-changing element at his first real warehouse, a loading dock, which enabled Murphy's logistics operation to move to the next level.
Operated under the belief that where you work and who you work with is vitally important to the work you do, The Loading Dock designed a workspace where entrepreneurs can learn, grow, and flourish together. By sharing the same work environment, people across a multitude of different industries are given the unique opportunity to learn from one another, unencumbered by the challenges and limitations of traditional office space. Its mission is to cultivate diverse and collaborative work communities, promote entrepreneurialism, and inspire a culture of doing good. This mission helps attract a diverse community of members, including non-profits, entrepreneurs, tech-focused businesses, marketers, and consulting firms.
As described on the Wake Forest Business & Industry Partnership (WFBIP) website, "Loading Dock Wake Forest is the most significant addition to Wake Forest's entrepreneurial ecosystem to date … Built for entrepreneurs by entrepreneurs, this community focused opportunity is set to transform the future of small business and entrepreneurial development in our booming town for years to come."
"I haven't quite found a way to adequately express what The Loading Dock means for downtown Wake Forest, the future of work in Wake Forest, or the powerful message that it sends to the rest of the region about the progressive, innovative, wildly pro-business culture of our community," says Jason Cannon, president of WFBIP. He continues, "This project is a success story for downtown growth and further downtown development. Not only is it a major win for the heart of Wake Forest, but it is a testament to the power of innovative regional partnerships."
Brian Fuhs, director of business development, is excited about the impact The Loading Dock will be making in Wake Forest. "Our family has proudly called Wake Forest home for six years now. To be given an opportunity to play a role in helping shape a bright future for downtown development and the greater Wake Forest ecosystem is pretty special. I'm excited to see all the different businesses and organizations thriving together within the social fabric of our growing community, and how this transformative campus will be a catalyst for positive change."
Located at 525 S. White Street, The Loading Dock Wake Forest will feature 23,000 square feet of activated space, large classrooms for training, conference rooms, 48 private offices, shared coworking space, dedicated desks, and bookable indoor/outdoor event space. Most importantly, it will curate a vibrant community for both people and businesses to cross-pollinate in a location that provides a dynamic work atmosphere.
As people demand more flexibility in how and where they do their work, the traditional stagnant office is being reimagined as a creative space, a collaboration hub, and a hybrid workplace. While a remote working world can provide freedom and flexibility to individuals, you can't replace the ideation, creative thinking, or networking that happens while in-person.
Wake Forest will be the fourth location for The Loading Dock, providing members with flexible month-to-month agreements and complimentary access to any of their campuses. For more information about The Loading Dock Wake Forest, and to take advantage of Wake Forest Founding Member Specials and review their membership plans, please visit theloadingdock.com/wake-forest or scan the QR code on their ad on page 25.