The Great American Superfruit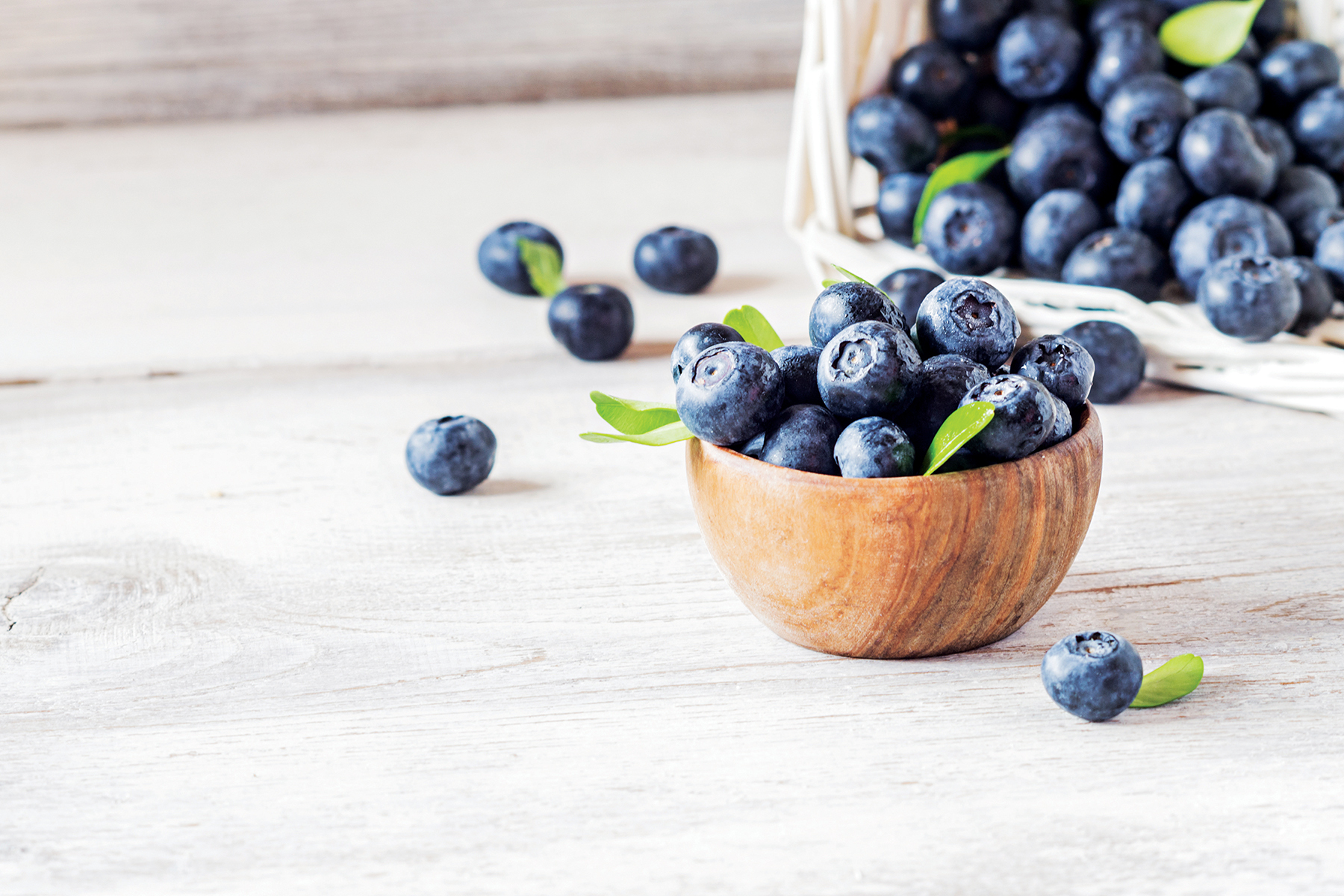 That's right – America has it's very own superfruit – a nutrient-rich crop considered to be especially beneficial for health and well-being. It helps protect against aging, cancer, is rich in antioxidants, and is a good source of vitamin C and K, as well as manganese. It is high in soluble fiber, which helps manage cholesterol. It's lower in sugar compared to other fruits so it can potentially help manage blood sugar, and it aids in reducing blood pressure. A tea concocted from it is said to be beneficial for your blood, while its juice is great for relieving coughs.
And in Steven King's blockbuster movie, Stand By Me, this national superfruit had its own starring role. In the pie-eating contest, it was front and center … and I do mean all over the front row and all down the center of everything! Do you yet know to which fruit I am referring? Yes, I'm talking about the blueberry. The beautiful and delicious blueberry, with its long history, took its starring role in stride and has continued to be the nation's second favorite berry, following the strawberry. In recent interviews, the humble blueberry, when asked about playing second fiddle to the strawberry, answered, saying, and I quote "The strawberry has a great agent and does a lot of good in the world for all of us – but has it ever been in a Steven King movie?"
With nearly one billion pounds grown in the United States annually, the blueberry is definitely a big hit nationwide. And our own North Carolina is among the top producers of it. In fact, more than 2.8 million pounds are cultivated every year in our state, making it the sixth largest producer in America. However, even though blueberries have been around for thousands of years – Native Americans were the first to recognize their versatility and health benefits, using them for medicinal purposes and as natural flavoring – they weren't grown in our state until less than 100 years ago. In 1936, a fella from New Jersey, Mr. Harold Graham Huntington, purchased a portion of the Corbett Plantation in Pender County, about 1640 acres, and began growing what would eventually become one of the state's top crops. Mr. Huntington is known for the mass root cutting methods that he used for plant reproduction. His love for the berries helped him become one of the top growers and originator of many varieties, including the Wolcott and Murphy.
This bright and delicious berry isn't just a hit here in America, though – other big blueberry-producing countries include New Zealand, Mexico, Colombia, and Canada (in fact, our northern neighbors rank second in production). There are a number of varieties of this superfruit grown worldwide, including some of the funny-named Bilberry, Cowberry, Cranberry, Crowberry, Farkleberry, Partridgeberry, Huckleberry (although true huckleberries are not blueberries at all), Whortleberry, and Sparkleberry.
Here in our region of North Carolina, blueberry season kicks off in May for the Rabbiteye variety, which is perfect for canning and freezing, and runs through August. Highbush, the berries that are so tasty you can eat them right off the bush, are available for picking in June and July.
If you are looking for a homegrown superfruit to lower your cholesterol, up your fiber intake, boost your vitamin C and K levels, or increase the antioxidants in your diet – or if you simply crave fresh, sweet juiciness on a warm sunny day, look no further than the lovely, healthy North Carolina-grown blueberry.
Here are a couple of springtime recipes to help you celebrate this delicious superfruit.
Blueberry Crisp
– 2 pints of blueberries
– 3 tablespoons flour
– 2 tablespoons sugar
– 1 teaspoon cinnamon
– 6 tablespoons butter
– 1 cup rolled oats
– ½ cup flour
– ½ cup brown sugar
– 1 teaspoon cinnamon
Preheat your oven to 425 degrees. Combine the first four ingredients in a mixing bowl and mix roughly (you'll want to break some berries). Then mix the next five ingredients together in a mixer or food processor until well blended.
Pour the berry mixture into a 9x7 greased baking dish, and distribute the oat mixture on top, (don't press it down). Bake in the preheated oven for 35-45 minutes or until the blueberry mixture is bubbly and the oats are toasted brown.
No-Bake Blueberry Cheesecake
For the cheesecake:
– 18 graham crackers
– ½ cup butter, melted
– 8 ounces cream cheese (room temp)
– 1 cup heavy cream
– 1 cup powdered sugar
– 1 teaspoon vanilla
Crush graham crackers in food processor then add the butter. Bake at 350 degrees for 5-10 minutes or until golden brown and refrigerate for 10 minutes. Combine the rest of the ingredients in an electric mixer until creamy and stiff. Pour over the crust and spread evenly. Refrigerate for 24 hours.
For the blueberry sauce:
– 2 cups blueberries
– 1/3 cup sugar
– 2 teaspoons lemon juice
– ½ cup water
– 4 teaspoons cornstarch
Combine all ingredients in a saucepan and bring to a boil. Reduce heat and simmer for 3-5 minutes, then remove and cool. Pour over top of the cheesecake, slice, and serve.
Note: If the sauce is too thick, thin it with 1 teaspoon of water and stir. Add 1 teaspoon of water until desired thickness is achieved.
Buck Buchanan
Owner of Lumpy's Ice Cream. Lumpy's uses the finest local ingredients and crafts them into ice cream without any preservatives, additives, or synthetic hormones.