Surface Selection
Choosing The Right Countertop For Your Home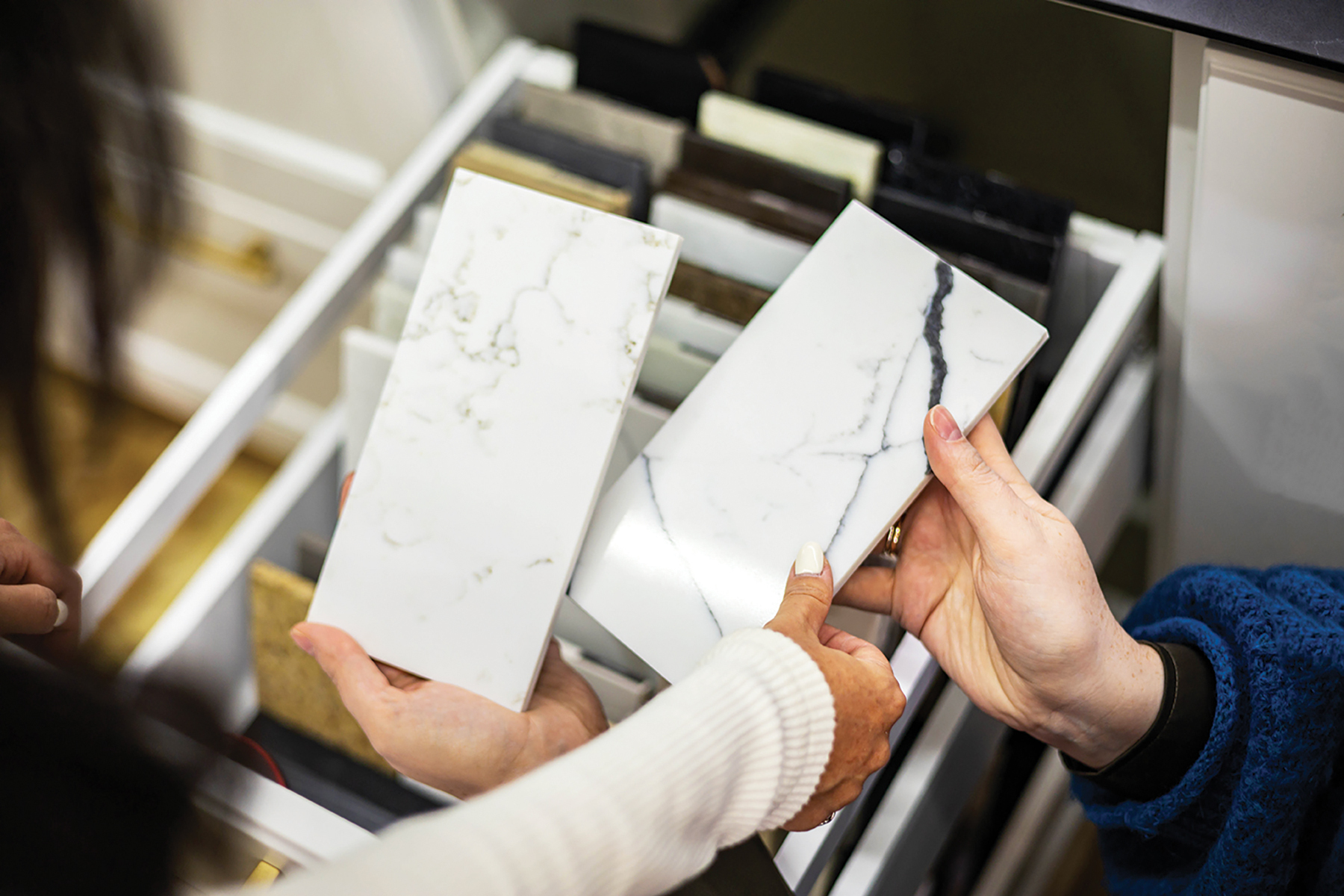 Designing a new kitchen or bathroom can be a fun and exciting project. One of the many reasons I get a kick out of helping buyers with custom-built homes is this right here – the design process.
If you are building a new home or thinking 2023 is your year to renovate your own kitchen or bathroom, it's important to determine your needs when choosing your countertops. Start by assessing your specific needs, as well as your design preferences. How do you plan to use the space? Do you entertain frequently? What is your style? Modern? Traditional? Eclectic? Do you enjoy cooking elaborate meals? Consider your lifestyle and how your kitchen can best serve your requirements and wishes. There are many types of countertops available, each with its own unique advantages and disadvantages. Following are some of the most popular options available to homeowners today.
1. Granite: Granite is a natural stone that is durable and heat-resistant, making it a popular choice for kitchen countertops. Available in a wide variety of colors and patterns, granite adds a luxurious look to any kitchen. This countertop option does require you to seal it at least once a year – the process is inexpensive, easy, and will preserve the life of this natural stone. The colors and patterns vary widely, so keep in mind when looking at samples that what you see in a small square may not fully showcase what you will see on an actual large-scale counter, so always ask the builder or sales associate what colors are truly in that stone. Pro tip: ask to see several samples of the same stone to ensure you will be happy with the finished product.
2. Quartz: Quartz countertops are man-made and engineered from ground quartz, resins, and pigments. Durable and stain-resistant, they are ideal for busy kitchens. Probably the most popular and higher-end choice in most big-name new construction homes, quartz is an excellent option for resale value. Get creative and opt for a light color against a dark cabinet, or vice versa. My favorite brand is Cambria, offering a wide variety of color options – even countertops with gold!
3. Marble: Marble is a natural stone that is elegant and timeless. It's softer than granite and can scratch and stain easily, so it's important to use coasters atop marble countertops, and quickly clean up any spills. You may walk into a showroom or custom-built homes and see shiny marble materials as well as dull marble ones (usually in bathrooms). Unpolished marble is a nice choice; however, I urge you to steer clear if you are cautious of staining – and do not leave a hot curling iron on a marble surface like I did (insert awkward face emoji here).
4. Solid Surface: Solid surface countertops are made from a blend of acrylic and polyester materials, making them quite durable and extremely affordable. Available in a range of colors and patterns, they can be seamlessly integrated with sinks and backsplashes and allow for you to get really creative when designing your space.
5. Butcher Block: Butcher block countertops are made from wood and add warmth and character to any kitchen. They require regular maintenance as they can be easily scratched or stained. Personally, I think butcher block countertops look gorgeous when paired with black cabinets. No matter which cabinet color you choose, a butcher block countertop will provide a natural look and enable you to welcome an earthy nature into your home. If you don't mind the upkeep, they are a beautifully natural choice.
6. Concrete: Concrete countertops are a modern and versatile option. They can be customized with colors, textures, and inlays and are extremely durable. This one is a fun material to put in your kitchen. Let your imagination go wild for a truly eclectic look or go with a more sleek, modern one. The sky's the limit when it comes to concrete.
7. Stainless Steel: Stainless steel countertops create a sleek and hygienic aesthetic. While heat-resistant and easy to clean, stainless steel can scratch and dent easily. So although they are very durable when it comes to heat (think professional kitchens), if you're a heavy hitter in the kitchen, this may be the wrong choice for you.
8. Laminate: Laminate countertops are an affordable option and are available in a wide range of hues and patterns. They are easy to clean, but can chip or scratch over time. Even so, they are interchangeable and affordable. This is a great choice for those hard-to-decide kitchen designers on a budget.
Another thing to consider when determining which countertop best fits your needs is the weight. Some materials can be extremely heavy, so when adding square footage to a counter, it's imperative to be mindful of what your builder or contractor recommends. Depending on the floor of the room you are changing, the size and weight of materials can hinder what you choose. For example, a large bathroom counter on the second floor may not support a granite or quartz countertop. Large kitchens with two islands may need some extra support to hold the same.
Once you have decided on which material best fits your wants and needs, choosing the perfect color can be incredibly fun. So enjoy the process, whether building, designing, or renovating. Remember, a well-designed kitchen can add value to your home and make cooking and entertaining more enjoyable. Take the time to plan your design carefully and choose materials and appliances that will serve you well for years to come.
Tracy Dupler
A luxury real estate agent serving the Triangle area, and the owner of Tracy Dupler Realty Group, LLC.