Summer Salads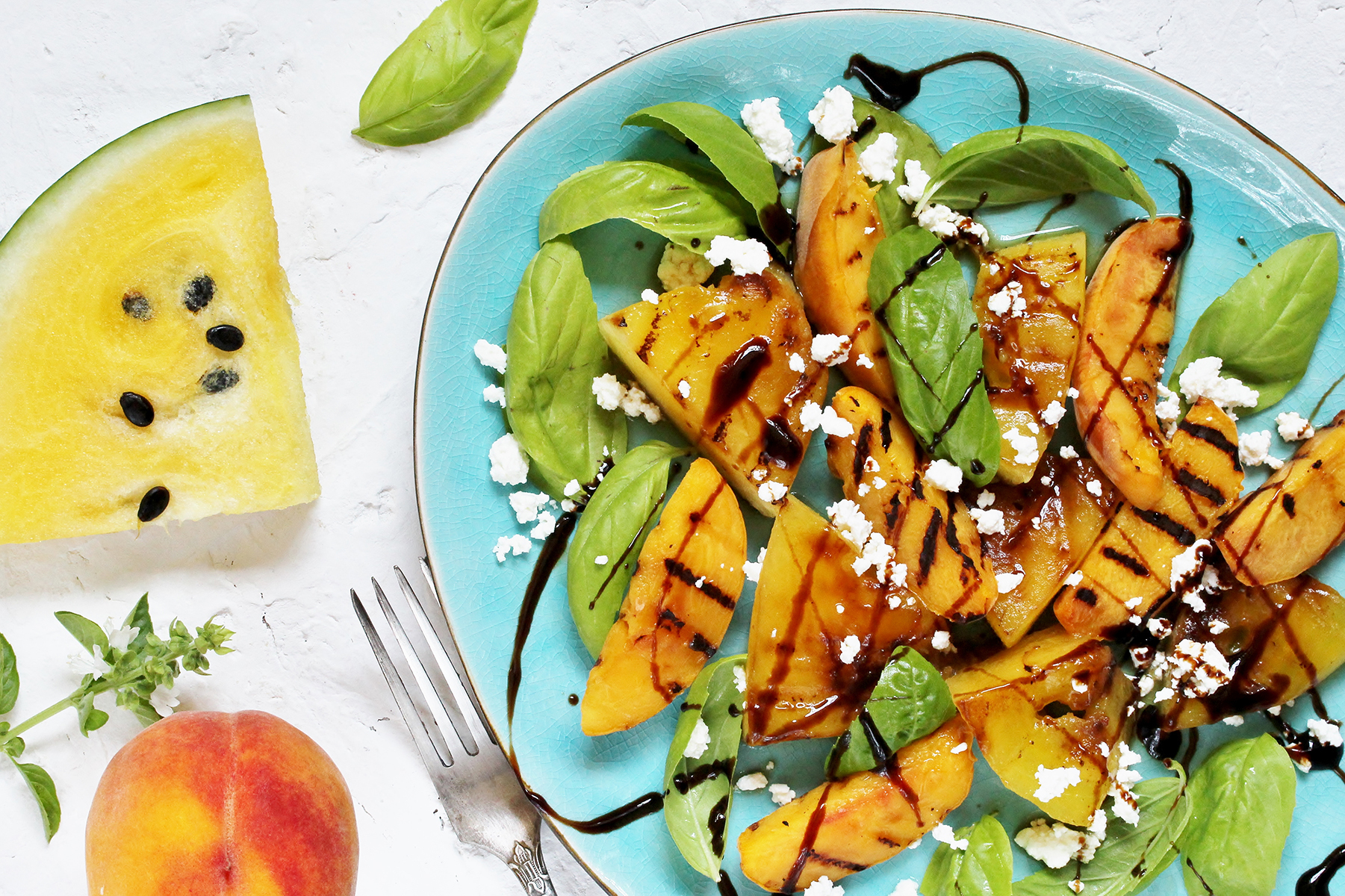 There is no better way to beat the summer heat than with a freshly made salad. I am a huge fan of one-dish meals any time of the year, and chopped salads – quite possibly my favorite summer dinner – definitely fit the bill. Crisp, cool lettuces and fresh fruits and veggies provide the perfect canvas for a delicious entrée salad. With very little effort, you can bring maximum flavor to the dinner table that is sure to satisfy your family's taste buds on a hot summer evening.
The key to successful summer salads is just a little bit of preparation. If you can spare about 30 minutes of prep time, you can have the makings of great salads that will come together in minutes. I like to chop lettuces like romaine or iceberg in advance and store them in a plastic bag or container covered in a barely damp paper towel, ensuring they stay crisp, green, and ready to go when it comes time to create my salad. You can also pre-chop veggies and fruits and store them in airtight containers.
Speaking of fruits, any type is a deliciously vibrant addition to your salad – for a summery twist, I highly recommend tossing some on the grill. Grilling fruit – think fresh watermelon, peaches, pineapple, mango – allows it to caramelize its natural sugars, giving it a smoky sweetness that's a great complement to your salad.
Since you've got the grill already fired up, why not add some grilled protein to your summer salad? Grilled chicken, steak, pork, and seafood make extraordinary additions to just about any salad. When planning your Sunday night grilling, go ahead and cook up some extras for a tasty reward later in the week.
The combination of crisp, fresh lettuces; delectable fruits and veggies; and the kick of a smoky grilled protein, along with a few other ingredients that you may already have on hand in the fridge, ensures a gorgeous, healthy, and satisfying entrée that your family will love. If you need some inspiration, here are a few of my favorites. You can embellish based on your taste, but I encourage you to think outside of the box and create your own sensational summer salad!
Southwest Salad – Chopped romaine lettuce, topped with grilled corn cut from the cob and grilled chicken, steak, pork, or shrimp. Toss with chopped cilantro, tomatoes, onions, jalapeños, avocado, and crispy tortilla strips. Fresh mango or grilled pineapple make a sweet addition. Whip up a cumin lime vinaigrette or a spicy chipotle lime ranch dressing to drizzle on top for a flavorful entrée that will rival any from your favorite Mexican restaurant.
Tropical Salad – Fresh baby spinach with grilled chicken or shrimp, grilled pineapple and mango, feta, bell peppers, and candied almonds, and tossed in a citrus ginger dressing … so refreshing and light. Perfect for nights when the temps hover in the 90s.
Asian Salad – Grilled meat or fish of choice atop chopped romaine, red cabbage and bok choy, chopped snow peas, bell peppers, radishes, cucumbers, shelled edamame, and oranges make a colorful salad. Sprinkle with chopped peanuts or crispy wonton strips, and drizzle with a spicy sesame vinaigrette or ginger soy dressing.
Italian Salad – Chopped romaine and radicchio are lovely when topped with balsamic glazed chicken. Add fresh tomatoes, pepperoncini, capers, and roasted peppers and olives. Toss with a little fresh basil dressing that's super easy to make – simply stir a bit of basil pesto into your favorite vinaigrette.
Summer dining should be fresh and easy, and these yummy salads are just perfect for a lovely al fresco dinner. Add a little crusty bread for a complete meal to end that perfect summer day.
Stacey Moritz
Owner of The Lemon Tree Cafe, located at 113 S. White St. in Downtown Wake Forest, offering freshly prepared salads, pastas, soups, and take-away fare.