Summer Salads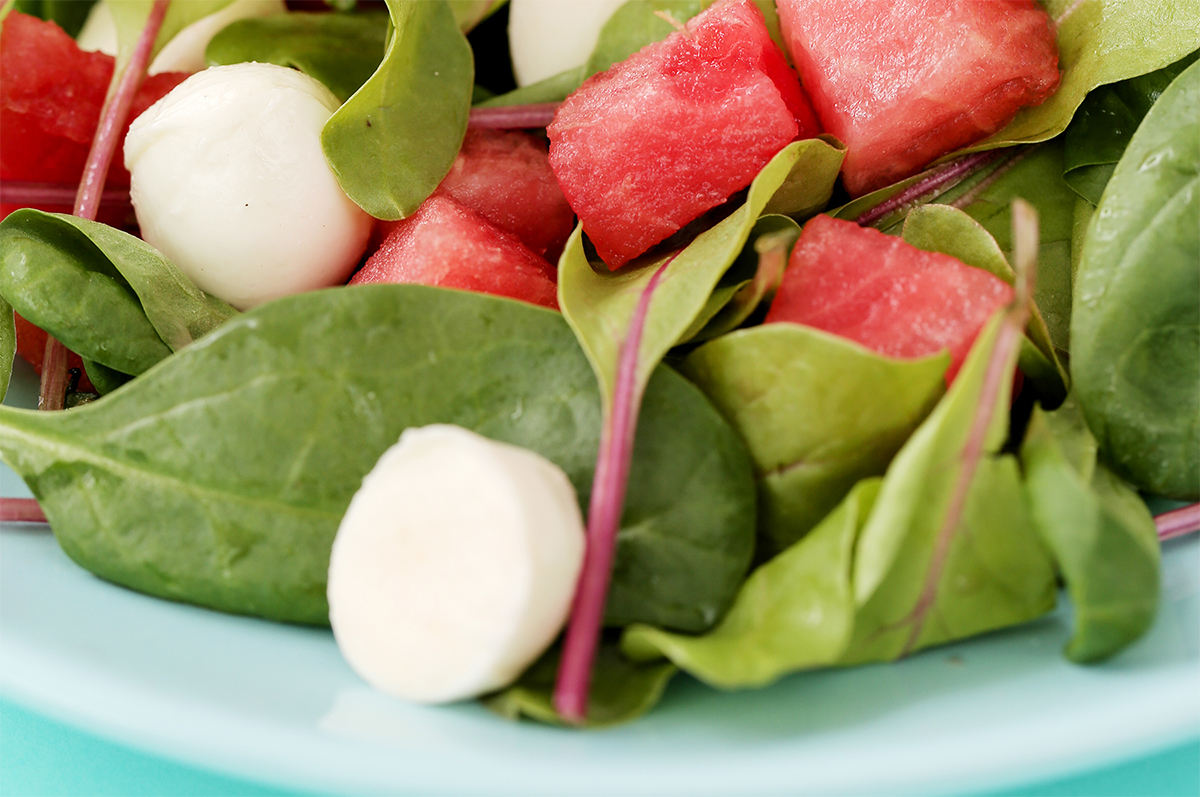 When it comes to finding delicious fare that is perfect for beating the summer heat, bright, cool, and refreshing is what I crave. If you're like me, then look no further than all the gorgeous fruits that are in abundance right now at local farmers markets and your favorite grocery store.
The beauty of summer fruit at its peak is that it is so versatile. You can eat with reckless abandon at every meal and never feel like you are being repetitive. With a little creativity, you can move beyond a fruit salad and enjoy food pairings that are colorful, healthy, and innovative. I love to add fresh fruit to salads and fresh salsas to my favorite grilled meats for dinner on the patio. Experimenting with different flavor combinations is fun and you will be really surprised at how easy it is to turn a simple meal into something extraordinary with just a handful of fruit.
Salads are a summer staple because they are fresh and light and can be easily customized to your taste. Creating the perfect salad can be as painless as tossing fresh berries or sliced fresh fruit with greens and a simple dressing. Or kick it up a bit by experimenting and adding yummy cheeses, nuts, and herbs to baby lettuces, kale, and other leafy greens. The combinations are somewhat endless so you will never get bored with your creations.
Baby arugula pairs beautifully with thinly sliced nectarines, pistachios, and goat cheese. Arugula is also perfect for fresh cubed watermelon, feta cheese, and hazlenuts. Drizzled with a simple balsamic vinaigrette, it makes a lovely luncheon or starter salad.
Kale is perhaps my favorite canvas at the moment, as its hearty texture is easily tamed and complemented by a variety of fruit combinations. My preference is to thinly slice kale, toss it with my favorite fruits, and lightly drizzle it with dressing. Adding nuts and cheeses enhances the melding of flavors, and this nutritional powerhouse green will make you forget all about those boring lettuces. Fresh berries, diced fruit, and avocados can be added, along with your favorite cheese like gorgonzola, goat, or feta. Toasted sunflower seeds, walnuts, or candied almonds give a little extra crunch while adding a healthy dose of good fats and protein.
Baby spinach and field greens never go out of style and provide a great base for any salad. Toss your greens with a combination of fruit along with crumbled cooked bacon, pancetta, or a little prosciutto, and add a sprinkle of goat cheese and raspberry vinaigrette.
Create amazing salsas with fresh fruit and toss them with greens for a savory salad or used atop grilled steak, chicken, or fish for a bright and healthy addition to the dinner plate. Fish tacos take on an entirely new meaning when topped with a fresh mango salsa. Fresh spinach adorned with grilled steak and balsamic-glazed strawberries almost effortlessly makes a gorgeous plate. Wanting to spice up ordinary grilled chicken? Look no further than diced grilled pineapple salsa studded with a little jalapeño pepper for a delicious kickin' chicken dish.
If you are entertaining on a summer evening, add seasonal fruit to your repertoire for great appetizer fare. Simple quesadillas made with a little goat cheese and fresh berries are delightful surprises for your guests. Grilled fruit kabobs lightly drizzled with balsamic honey are beautiful and tasty, and won't spoil anyone's appetite for the main culinary event. Or top a warm brie with a simple topping of fresh berries that were warmed in a touch of honey, and serve with water crackers. And don't forget dessert! A scoop of vanilla ice cream is all you need to accompany fresh baked fruit cobblers, grilled fruit, or homemade fruit syrups ... so easy and just the perfect amount of sweet to finish off your lovely, fruity summer meal.
Stacey Moritz
Owner of The Lemon Tree Cafe, located at 113 S. White St. in Downtown Wake Forest, offering freshly prepared salads, pastas, soups, and take-away fare.