Summer Grilling Made Simple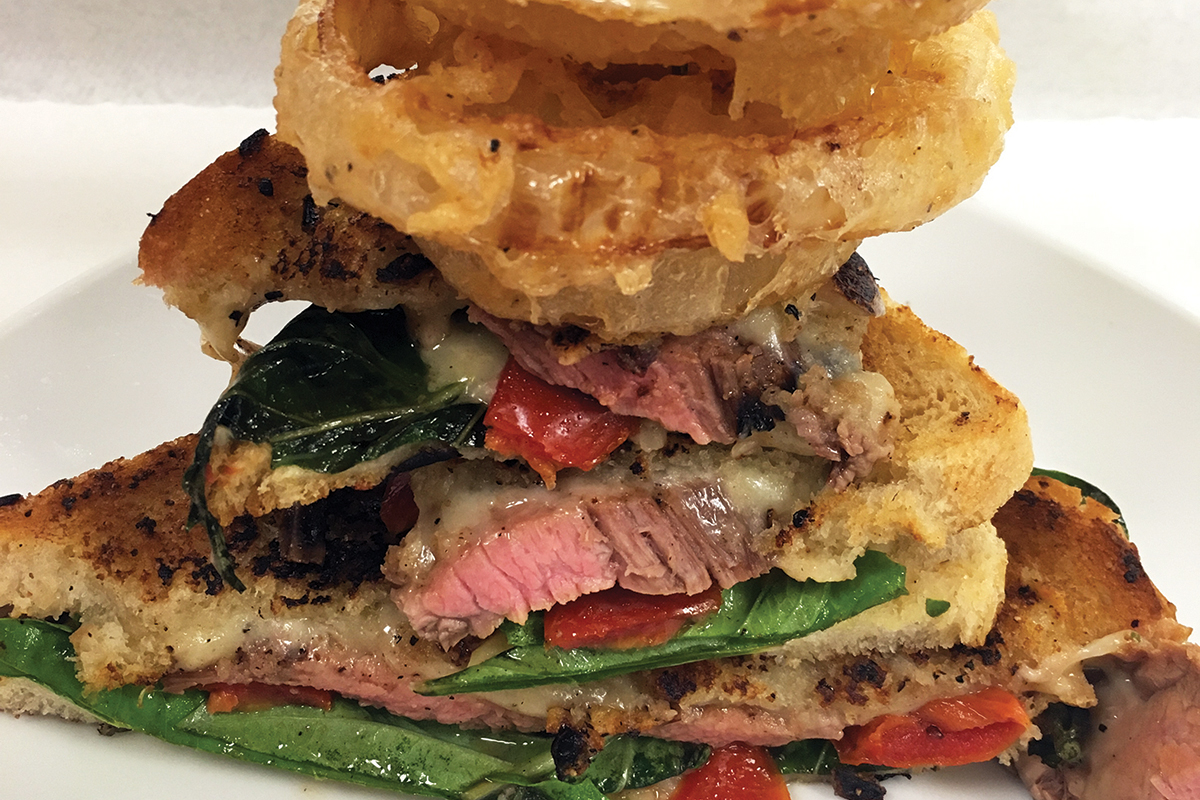 Are you feeling the heat to plan the perfect cookout this summer? With kids out of school and weekends packed with trips to the beach or the local swimming pool, it can be difficult to set aside enough time to find and shop for the perfect grilling recipes that will impress your family and friends.

I have created three easy and flavorful recipes that are sure to please palates of all ages and keep them coming back for more. What's more, you can easily find all of these fresh, inexpensive ingredients conveniently at your local grocery store so that you can get back to catching those poolside rays stress-free.
Flank Steak Grilled Cheese Sandwich
(Makes four sandwiches)
Grilled cheese isn't just for kids anymore! This grown-up twist on a childhood classic will keep your guests feeling full all afternoon.

Flank Steak
– 1 pound flank steak
– 4 ounces sundried tomatoes
– 9 ounces Gruyere cheese, shredded
– 4 ounces fresh basil leaves
– 2 tablespoons Montreal seasoning
– 8 slices sourdough bread
– 3 tablespoons olive oil

Season each side of the flank steak with one tablespoon of Montreal seasoning and coat with olive oil. For medium-rare temperature, grill one side of the steak for four minutes, then turn it over and cook for an additional four minutes. Remove steak from heat and lest rest for five minutes before slicing to keep all juices inside.

Butter Spread
– 1/3 cup unsalted butter, softened
– 1 tablespoon shallots, minced
– Pink sea salt and fresh cracked black pepper to taste

Blend all ingredients in a food processor for 20 seconds. Place the spread in a small bowl.

Put the steak on a cutting board and slice into thin strips against the grain. Set aside.

Lay out two slices of bread per sandwich. Put one and a half ounces of cheese on each side. On one side, put four ounces of meat, one ounce of sundried tomatoes, and four basil leaves. Place other side on top. Using a butter spreader, coat both sides with butter spread. Put a cast iron pan on the grill over medium-high heat. Once the pan is hot, cook the sandwich on each side for two minutes. Re-move from heat, and cut in half. Serve immediately.
Grilled Oysters with Barbecue Rum Sauce
There's no need to feel intimidated by cooking oysters. These delicacies are deceptively simple to cook and packed with flavor that is enhanced in this recipe with an amazing barbecue rum sauce.

– 1 dozen Blue Point oysters
– 6 ounces spiced rum
– 1 medium sweet onion, diced
– 2 ounces molasses
– 12 ounces barbecue sauce
– 1 ounce vegetable oil

Place a sauté pan on the grill over medium-high heat. Once it starts to smoke, add oil and onion. Sauté until the onion turns brown, then remove the pan from the grill. Add rum, then return the pan to the grill and reduce by one-third. Add molasses and barbecue sauce and let it come to a simmer. Remove from the grill and set aside.

Place oysters on the grill over medium-high heat for three minutes. After they crack open, remove the top of the shell and spoon one-half tablespoon of sauce on each oyster. Close the grill's lid and cook for two minutes. Remove the oysters and place on a serving tray.
Lime Grilled Shrimp, Pineapple, and Onion Skewers
(Makes four skewers)
Time to put away those forks and knives. What says summer more than a cool drink in one hand and a shrimp skewer in the other?

– 1 pineapple
– 2 sweet onions
– 1 pound shrimp, shell off (approximately 6 shrimp per skewer)
– 2 tablespoons lime juice
– 2 tablespoons cilantro
– 3 tablespoons olive oil
– 2 tablespoons garlic, minced
– 1 tablespoon ginger paste
– Salt and fresh cracked black pepper to taste
– 4 cooking skewers

Peel and devein the shrimp. Place in a bowl, and add lime juice, cilantro, olive oil, garlic, ginger, and salt and pepper. Cover the bowl and let marinate in the refrigerator for 12 hours.

Remove the pineapple's skin and slice into four quarters. Cut each quarter into six evenly-sized pieces. Peel both onions, and slice in half. Cut each half into four quarters. Place one piece of pineapple, one shrimp, and one piece of onion on a skewer. Repeat six times for each skewer. Spray all skewers with nonstick cooking spray. Over medium heat, place the skewers on the grill for six minutes on each side. Remove from heat and serve.

Ready to get the party started? Now there's no need to feel stressed about firing up the grill to prepare the perfect spread of food that is deliciously satisfying, yet refreshing for the hot summer months.