Summer Entertaining On The DIY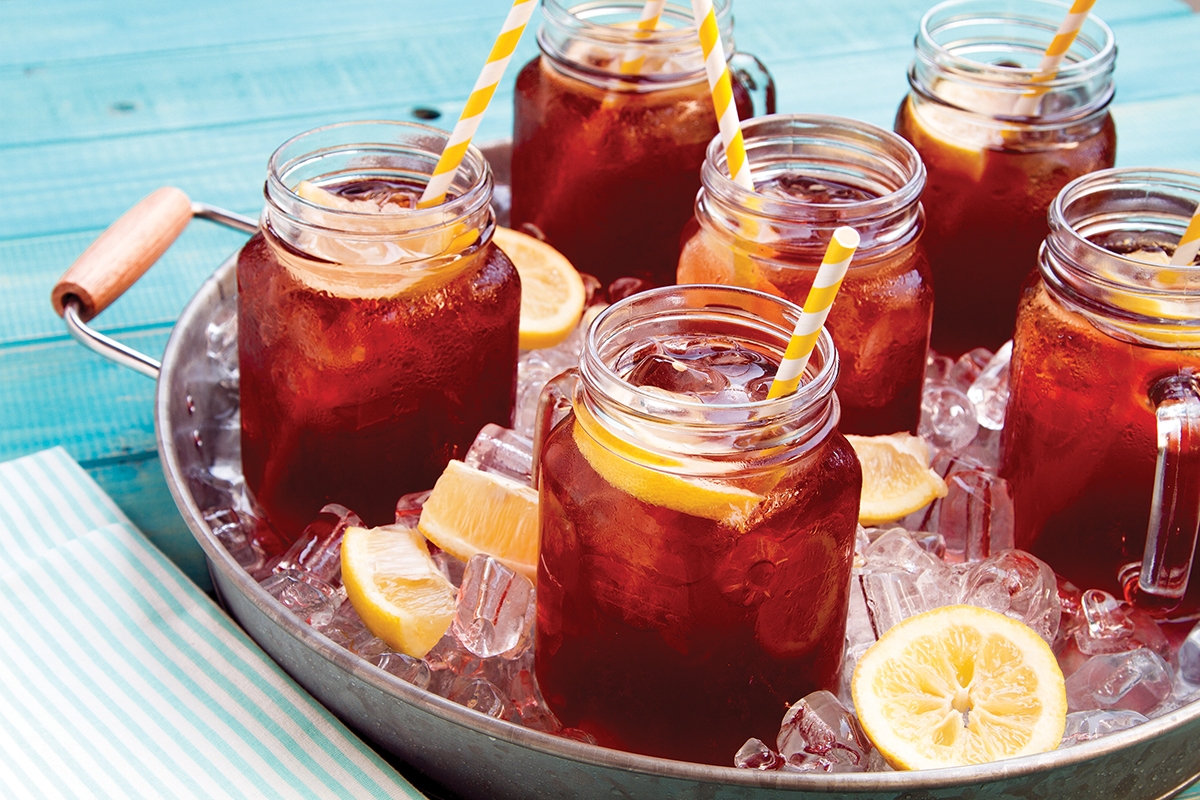 The lazy days of summer mean it's time for backyard barbeques, watching fireflies, and spending time with family and good friends. While we often like to plan for these memorable moments, sometimes they are best when they are impromptu gatherings. Of course, you want these moments to be as stress-free as possible, but you also want them to be festive and special. Mason jars, fresh flowers, bandanas, and metal buckets are just a few items you may have tucked around the house that can add that last-minute special touch to a time you will fondly remember for years to come.
The simple yet charming mason jar is very versatile and can be spruced up at a moment's notice; and if you're like me, you have dozens scattered around your home. I suggest always keeping some jute cording and/or a few pieces of burlap on hand for some quick DIY decorating. Wrap a 2-inch wide piece of burlap around a mason jar, hot glue it, and add a strand of jute tied into a little bow. For a splash of color, add some baker's twine in a vibrant hue, and wrap up this quick-and-easy centerpiece by filling the jar. If you're lucky enough to have a beautiful garden, add water and freshly cut flowers. For a little extra touch, put lemon and lime slices in the water and place them around your back porch, deck, or patio. For a more dramatic look, group several together. No time to decorate your mason jars before your cookout guests show up on your back patio? No worries! You can still use them at your summer cookout – simply fill them up with your favorite summertime refreshments instead of the ordinary plastic cup.
Galvanized buckets have many purposes when it comes to prepping for that last-minute summer gathering – from serving as a beverage station when filled with ice and cold beverages to holding paper plates and plastic utensils to serving as the base for a quick seasonal centerpiece you can create on the fly. Simply add sand to securely hold miniature American flags that can be picked up at your favorite dollar store for those festive Fourth of July and Labor Day cookouts. Or fill with fresh soil and freshly snipped beautiful blooms for an instant table decoration that will help set your party's theme.
Create a magical vibe for your summer soiree by simply hanging bulb or string lights around your deck or patio. String them among the trees and enjoy an evening under the lights. Strands of white Christmas lights are great for this – and you more than likely have them on hand already. You may have to go digging through the Christmas crates this time, but for the future, I recommend that when packing up the decorations after the holiday season is over, leave a couple strands out so you can grab and hang them last minute – chances are they will be used more than a few times before Christmas rolls around again.
Glass candy jars in various sizes make unique serving containers for impromptu get-togethers. Since these containers come with lids, not only do they keep summer staples like tossed salads, fruit salads, and pasta salads fresh and tasty, but they also keep those bothersome bugs out. For a sweet twist, fill one candy jar with chocolate bars, one with marshmallows, and another with graham crackers – an instant and fun S'mores set up! Fire up the fire pit, find some nice long sticks or skewers, and enjoy a sweet evening of summer fun.
With a summer cookout full of juicy burgers, delicious corn on the cob, and fresh fruit, napkins are a must. Why not add a little fun and use red and blue bandanas as napkins? They can be found in craft and dollar stores, so go ahead and buy a handful for that last-minute get-together. Don't want to use the traditional red and blue? You are in luck! Bandanas are available in a rainbow of colors. They have so many other practical uses as well, such as covering food while waiting to serve it, lining the basket holding the hot dog and hamburger buns, or as placemats atop your summer party table.
Back to the multi-purpose mason jars I mentioned earlier … concoct your own bug repellent that is not only effective, but pretty, too. Fill a jar with water and about 10 drops of rosemary essential oil, stirring well. Add four or five slices for lemon and lime, along with a sprig of rosemary. Remove a tea light from its metal holder, place in the water, light the candle, and enjoy. Place several jars around the party area for a fresh summery smell that will help keep those uninvited mosquitoes away.
Summer is a time for fun, friends, and family – not stress, worry, and panic at the mere mention of outdoor entertaining. By having just a few simple items at your fingertips, you'll be able to quickly and easily design some delightful DIY decorations and host the perfect summer party, allowing you to enjoy the season to the fullest.
Dolores Riggins
Co-owner of Southern Suds & Gifts, featuring over 35 craftsmen and artists.