Summer Break Bucket List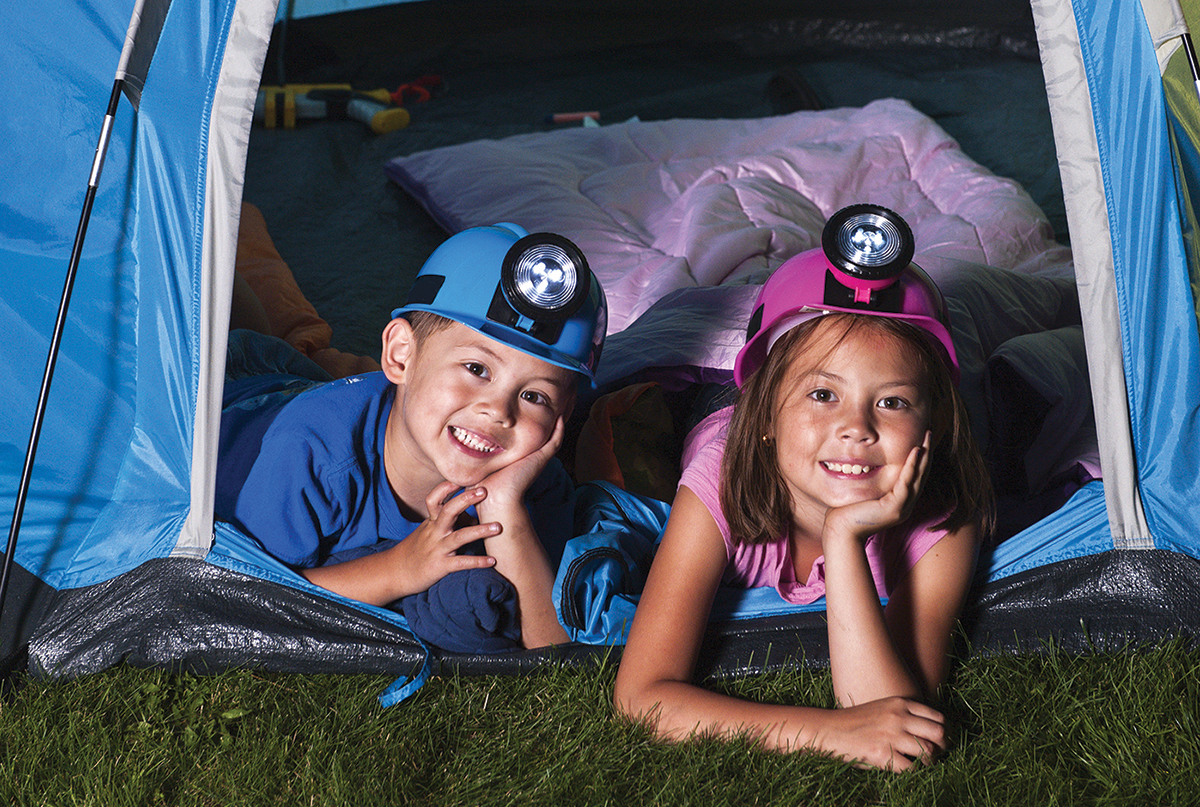 The dog days of summer are here. The sun is shining, you're spending more time outside, and the kids are ecstatic to be done with school for the year. But there is a catch. Without school to occupy them (and wear them out), children need new activities to keep them busy, get them out of the house, and keep you from hearing "I'm so bored!"

If you have read any of my previous CIRCA articles, then you know I spend a lot of time thinking about what families can do outside. After all, "making outside fun again" has become my mission in life. That's why for this summer issue, I thought it would be great to create a "bucket list" of fun ideas designed to get not just them, but the whole family, outside. So check out these suggestions for activities your family can do together to enjoy the outdoors and make the most out of summer.
Start In Your Own Backyard
There's no shortage of super-duper fun things to do in the summer with your kids. Go to the beach, visit the zoo, camp, check out local fairs and festivals – the list goes on. There are also plenty of things you can do somewhere very close to home ... your own backyard! Here are just a few ideas.

– Pitch a tent and camp under the stars. Why not cut out most of the work of a full camping trip and skip straight to the fun? Head out to the backyard, pitch a tent, have a bonfire, and maybe even tell a few spooky ghost stories.

– Organize a scavenger hunt. This is a great option for getting your kids moving and engaging their curious minds. Check out some great scavenger hunt ideas and themes at Care.com for inspiration.

– Throw a neighborhood luau or other themed party. There are plenty of ideas to spice things up and bring all the neighborhood kids together. Ease the party planning stress by making it a potluck and inviting the parents as well.

– Create giant board games in the backyard. There are do-it-yourself solutions for dozens of games, from traditional ones to life-size interactions. Most of these are easy and inexpensive, and perfect for a lazy summer day.

– Host your own summer Olympics. During a year without the Olympics, hold your own backyard version. Aside from having the kids participate in events, you can get them to make country flags, hold opening ceremonies, and have them even make their own medals.

– Have a bonfire and backyard feast. Many of you probably have memories of summer bonfires, hot dogs, S'mores, and firecrackers. This summer is a great opportunity to pass that special memory onto your kids.
Take Advantage Of What Wake County Has To Offer
Did you know that six of the 10 fastest-growing towns in North Carolina are in Wake County? That's what data from the most recent census shows – and the reason for this growth is clear … Wake County is a great place to live.

You don't have to take my word for it – for example, 77% of the local reviewers in Niche's "Places to Live" described Wake Forest as an "excellent" or "very good' place to live … and the website itself gave Wake Forest an A+!

Those sentiments are shared all across Wake County. In fact, in a first-ever survey commissioned by Raleigh, 91% of the capital city respondents rated Raleigh as a great place to live. In addition, of the 1,200 residents that participated, 85% rated the city's parks and recreation services as good or excellent.

So, when thinking of things to do with the family this summer, I recommend you start with the Wake County Parks and Recreation website (www.wakegov.com/parks/Pages/default.aspx). Did you know that Wake County's eight parks systems and trails facilities welcomed a combined visitation of over 1.3 million people in 2016? Or that Raleigh Parks and Recreation has over 200 hundred parks, 112 tennis courts, and over 100 miles of paved greenway for you and your family to explore?

Not to be surpassed in quality outdoor living, Wake Forest offers 561 acres of parks, open space, natural land, and over 50 miles of greenway trails. Complementing the great parks that can be found throughout Wake Forest, the town's community calendar is chock full of fun – in case you missed it, be sure to check out the article on page 6 for details on the many enjoyable events focused on the whole family around town this summer.
Create A Family Adventure
Summer can be a time for making memories that you will always treasure, so why not plan one or two more ambitious activities? A few suggestions:

– When everyone has a free day, take the family to a nearby park or greenway for a hike and picnic adventure. Let the kids help you pack a picnic lunch that everyone will enjoy.

– Volunteer together. Pick a weekend and take your kids to an organization of their choosing to give back. It's a great way to teach them valuable life lessons and can serve as a great family bonding experience.

– Visit a local museum or educational attraction. Whether it's the Wake Forest Historical Museum or one of the over 20 Raleigh area museums, there's at least one that has a program this summer that your family will find fun and educational.

– Attend a kid's DIY workshop at a local home improvement or home décor store – these free clinics offer you and your kids a chance to learn the true meaning of do-it-yourself.

There are thousands of ideas to keep your kids occupied during the summer months. Hopefully I have given you a few – or better yet, motivated you to create some of your own. The important thing is to leave the TV and social media behind, go outside, and have some family fun. Make the summer of 2017 your best ever – or at least until 2018!
Margarita Cohen
The owner of Mosquito Joe of Raleigh, Durham, and Chapel Hill, making "Outside Fun Again" with mosquito control treatments for residential and commercial customers. For more information or to schedule an appointment for treatment, call or visit their website.