Stop The Resolutions ... And Simply Embrace Starting!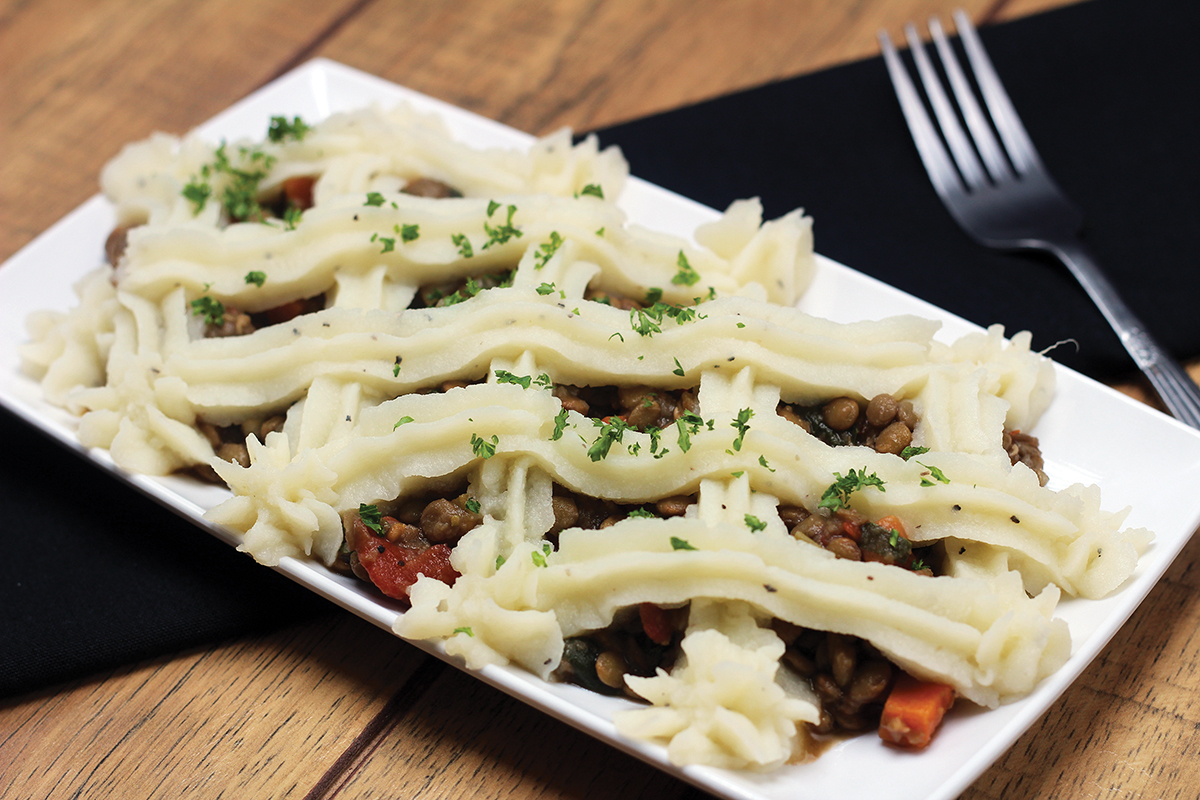 I don't know about you, but I have never kept a "resolution" I made for longer than a month (ok, even a week, maybe) ... why? Well, my resolutions usually involved the word "diet" ... or "healthy" ... or "stop eating ______ (insert current indul-gence)." That first misstep is inevitable – take one bite of that delicious chocolate bar you got in your stocking and the whole "eating healthy" idea is out the window. So, I have a new take on the annual resolution idea – instead of stopping eating something you love, why not simply start adding something new to your diet? Something fun and delicious and good for you. Are you enticed yet?
One of the current buzzes in the culinary world is the plant-based diet. Don't be scared; it's not that bad and can actually be delicious and very healthy! I am not suggesting becoming a full-time vegan or never eating a delicious, juicy burger again – what I am suggesting is that you add new, scrumptious recipes to your list of favorites that follow a plant-based diet. Do this once a week … what do you have to lose?
The big question is: What exactly is a plant-based diet? Well, it's pretty simple, actually. If it grows in the dirt or comes from a plant that grows in the dirt, you can consider it fair game. But, wait, there's a little more. To really be in the spirit of a plant-based diet, you have to embrace the idea of one-ingredient cooking and eliminate highly refined products like flour and sugar. Again, don't be scared. All this means is that you are working with whole ingredients to make your own delicious dish. No store-bought, pre-made, frozen meals or jarred or canned sauces. There are a few variations on the diet that do or don't allow items like oils. Basically, you can refine that list for yourself. There is a lot of great information on the Internet to help fill in the gaps.
Now, the implementation of one-ingredient cooking is a great way to eliminate some of the chemicals and preservatives from your food consumption. Don't buy that jar of pre-made enchilada sauce or pasta sauce. Instead, make your own! Don't buy cans of soup or stew. Make your own! You will feel great because you know every ingredient in the dish – just simple, whole ingredients that you magically turn into a delicious, wholesome, plant-based meal. You get to be the hero and make a delicious dinner that your family or friends can appreciate.
Of course, a plant-based diet is not for everyone, and this culinary lifestyle definitely requires a lot of work and preparation if you intend to maintain it on a daily basis. But, a weekly adventure into the world of "plant-based" may be a great alternative to simply making a resolution to "eat healthy" or go on a "diet." Try something you can succeed at so you don't set yourself up for inevitable failure.
If you're interested in giving it a whirl, the plant-based recipe included here is one of Chef Mario's favorites. It is the perfect comfort food dish for a cold winter's night and is loaded with good-for-you ingredients. If you don't tell anyone it is vegan, they may never even know. Shhhh … I won't tell if you don't!
Shepherd's Pie a la Vegan
Makes 10 servings
Ingredients
– 5 medium potatoes, quartered
– 1 head of cauliflower, roughly chopped
– 3 small onions, small diced
– 9 small carrots, small diced
– 4 cups fresh spinach, chopped
– 3 stalks celery, small diced
– 3 large tomatoes, small diced
– 2 tablespoons olive oil
– 6 cups cooked lentils
– 2 teaspoons dried basil
– ¼ cup soy sauce
– Salt and pepper to taste
– Chopped parsley for garnish
Directions:
Preheat oven to 350 degrees.
Boil the chopped potatoes until they can be pierced easily (if boiling, start with cold/room temperature water, add potatoes, and bring to a boil). Boil your cauliflower in salted water until it is very soft. Drain and puree in a blender or food processor until smooth.

In a medium saucepan, combine and sauté the onions, carrots, spinach, celery, and tomatoes in the oil over medium heat, stirring often to keep them from burning. Once the carrots are tender, add the lentils, basil, salt, and soy sauce. Stir and simmer without a lid until the liquid cooks off and you are left with a hearty stew-like consistency.
In a large bowl, mash the potatoes with salt. A potato masher or fork works great. Resist the urge to use the blender or food processor for your potatoes – you may end up with a paste-like consistency. Fold in the pureed cauliflower. Add additional salt and pepper if desired. Set aside.
Pour the lentil and vegetable mixture into a low-sided, ovenproof casserole dish. To top with the potato/cauliflower mixture you can either spread a thin layer over the whole top or use a piping bag with a star-shaped tip to create a lattice pattern (as pictured). Bake for 15-20 minutes or until heated through. Sprinkle with chopped parsley and serve to your amazed guests.
Holly Hopkins
Holly has spent many years working with food, starting off at her Grandma's elbow, making wedding cakes and cookies galore. Since then, she has been a manager and business owner and is thrilled to be combining her passions for high quality food and superior customer service at Chef Mario's.