Still Celebrating Life ... Just A Bit Differently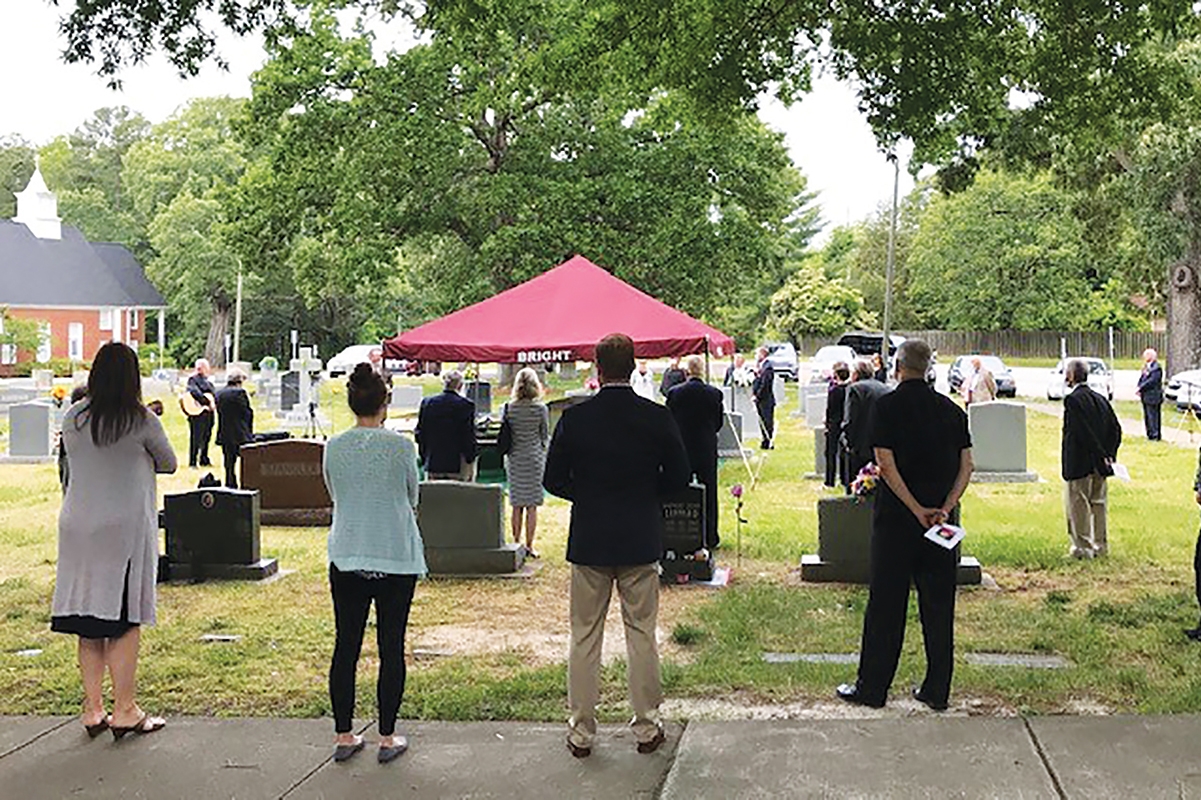 The COVID-19 pandemic has brought many unprecedented restrictions and challenges to every business, including the funeral industry. Losing a loved one during these unfamiliar times has made for many overwhelming and difficult limitations for grieving families. Funeral homes are working very hard helping to plan life celebration services while creating a safe environment for the deceased's loved ones, as well as the funeral home's staff. Thankfully, families have been very understanding as they embrace the current restrictions placed on funeral homes by state health departments, funeral director associations, and political officials.
In an effort to limit the risk of coronavirus exposure and putting anyone in possible danger, funeral arrangements are currently being prepared by phone calls, emails, virtual meetings, and so forth. In addition, the number of people allowed to attend funeral services in North Carolina during the stay-at-home order and its various phases has fluctuated from 100 down to 10, up to 25, then to 50, then back up again (with some churches being more limited) as the "curve is flattening." In some states with high infection numbers, no services are allowed, and no one can attend funeral-related services.
Social distancing is a by-product of this pandemic. Families' normal routines of saying goodbye are being accommodated with smaller, simpler private services; outdoor graveside services; delayed services; drive-through visitations at the funeral home (where families stand outside as friends and extended family members drive by, wave, and offer their condolences); and the opportunity to write personal messages on the funeral home's website. Even with invitation-only services, many people are not comfortable attending in person. But with the technology of livestream, Facebook, delayed videotaping, and Zoom, loved ones near and far have the ability to feel connected to services. One local church has added a radio frequency for their regular programs and with their cemetery close by, attendees can remain in their vehicles and listen to the service on their vehicle's radio.
To encourage social distancing, some vault companies and cemeteries have limited the number of tents and chairs – except for the elderly, who sadly seldom attend because they are in the most vulnerable age group – as well as the length of services. At our services, wearing masks is appreciated and encouraged in order to ensure guests and employees feel safe, hand sanitizer is readily available, ink pens are cleaned after each use, and, sadly, the habit of handshaking and hugging is discouraged.
Another funeral-associated effect of COVID-19 includes travel restrictions, meaning those far away may not be able to fly in on short notice due to limited airline flight availability. Or those who are to be buried in states farther away are now having to be driven. In addition, rock quarries that cut granite were considered non-essential, so fewer monuments have been processed. And even though the same amount of funeral preparation and paperwork is being done, fewer staff is needed because fewer guests are attending services.
Traditionally, funeral services are scheduled so families and friends can personally console and assist each other during this emotional time. Unfortunately, that just isn't the case right now. While end of life celebrations are different now, it is very important that we still provide that love, comfort, and support to those families who have lost loved ones during this time.
While you may not be able to express your sympathy in person right now, mail a handwritten note sharing a personal memory of the deceased. Or with local florists still open, send a lovely flower arrangement or plant to represent you at the service if current restrictions prohibit you from attending. Restaurants are delivering food now more than ever, so perhaps consider a meal delivered in the days after the service. And a phone call or virtual visit can go a long way until you can once again share your condolences, and hugs, in person.
Jill Bright
Bright Funeral Home, located at 405 S. Main St. in Wake Forest. Bright Funeral Home serves the Wake Forest, Rolesville, Youngsville, Franklinton, Falls, Bay Leaf, Louisburg, Raleigh, and surrounding areas.