Steeped In Tradition
The Wake Forest Community Christmas Dinner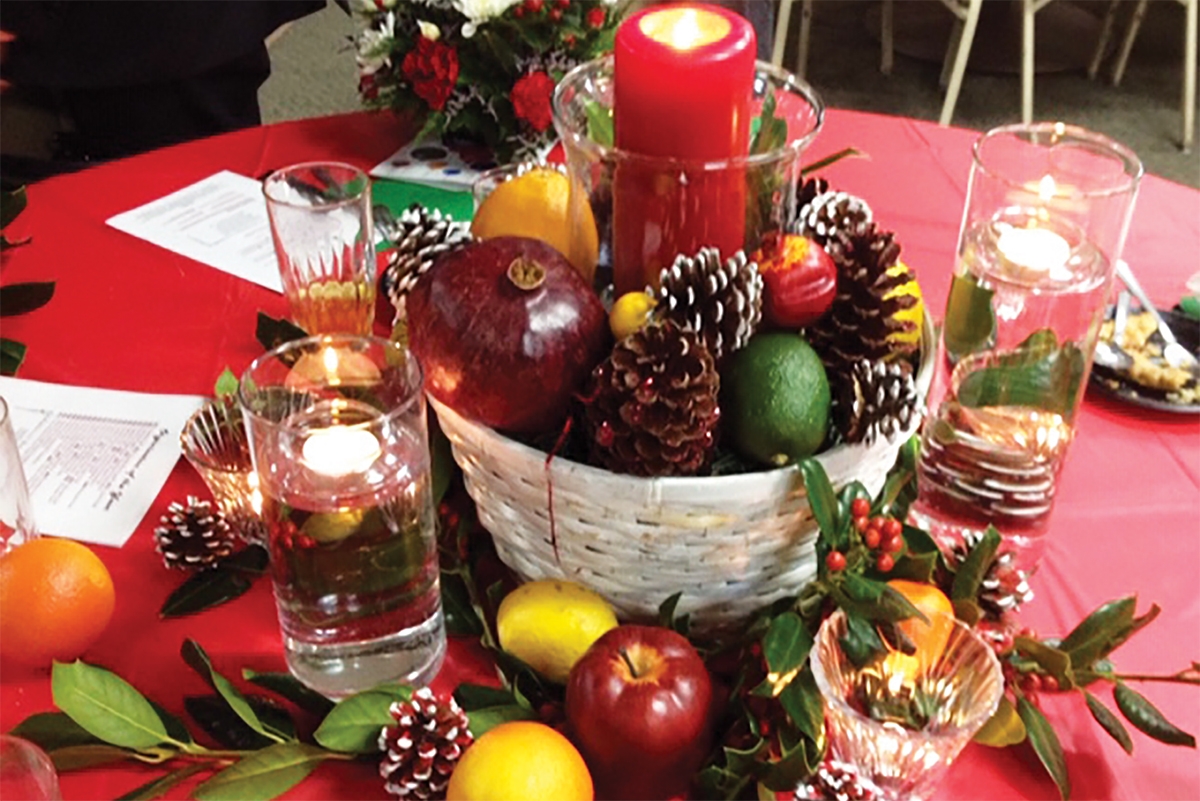 Traditions are not born – they are made by customs, stories, and the legends who pass them on, year after year. One such tradition is the Town of Wake Forest's Community Christmas Dinner, a time-honored custom that is steeped in decades of tradition.
First held in 1947 as a way to show appreciation and give a warm welcome home to the town's returning World War II veterans, the volunteers of the Wake Forest Garden Club and The Civic Club planned a community feast, just in time to ring in the holiday season. They hoped this gathering would bring families peace through a memorable evening in the town's rustic Community House on Owen Avenue. Club members brought in armloads of live greenery for garlands and table decorations; homemade ornaments to trim a large cedar Christmas tree; and a buffet of turkey and dressing and an array of vegetables, homemade breads, and desserts. When the doors opened to extend grace and hospitality, it welcomed and reunited approximately 140 friends and neighbors. This simple inaugural event – filled with the warm spirit of community joy, giving, and friendship – was such a huge success that the residents and civic organizations of Wake Forest decided to do it again and again … and again. And so this tradition began.
This long-standing celebration has been held on the first Monday of December every year since 1947, with the 72nd annual Wake Forest Community Christmas Dinner planned for December 2 at 6:30 PM, at The Forks Cafeteria, located at 339 Brooks Street. This kickoff to the holiday follows tradition with a delicious meal (this year's menu will feature fried chicken, roast beef, veggies, and a dessert bar); a brief program and a special musical performance by local citizens and musicians; the announcement of the Organization of The Year, the Citizen of The Year, and The Peggy Allen Lifetime Achievement Award; and concluding with everyone singing a few of the season's most beautiful Christmas carols. Other entertainment will include the viewing of each table's different holiday-oriented centerpieces or floral displays (provided by members of the Community Council and local businesses); Shirley Matheny's meticulously designed, hand-drawn Christmas scenes on the program covers; watching Jennifer Smart's historical slideshow of all past award winners; and Carolyn Coordes joyfully giving away of dozens of door prizes. A special recognition will be given to longtime resident Shirley Wooten, who has attended all but one of these celebrations.
This event is organized entirely by a hard-working volunteer steering committee representing seven of the towns leading civic organizations. They are: General James Moore Chapter, DAR (Carolyn Coordes, Connie Nourse); Wake Forest Woman's Club (Martha Loftin); Wake Forest Historical Association (Durward Matheny and Beverly Whisnant); Wake Forest Rotary Club (Joe Paulonis); Wake Forest Purple Heart Foundation (Greg Harrington and Mandy Duguid); Wake Forest Historical Museum (Jill Bright and Jennifer Smart); and the Community Council.
Everyone is welcome to attend this event, which sells out quickly. Tickets are $15 (to cover your meal) and can be bought from members of the steering committee, Greg Harrington (ticket chairperson), at The Forks Cafeteria, the Wake Forest Chamber of Commerce, or the Wake Forest Historical Museum before November 25. Please make checks out to The Wake Forest Purple Heart Foundation, the host club for this year.
Christmas memories of holiday cheer, camaraderie, and the sharing of peace and joy touch us all – and this is the reason this strong, old-fashioned Wake Forest tradition has, and hopefully will, continue for years to come.
Jill Bright
Bright Funeral Home, located at 405 S. Main St. in Wake Forest. Bright Funeral Home serves the Wake Forest, Rolesville, Youngsville, Franklinton, Falls, Bay Leaf, Louisburg, Raleigh, and surrounding areas.