Spring Into Fun
Fill Your Calendar With Family-Friendly Fun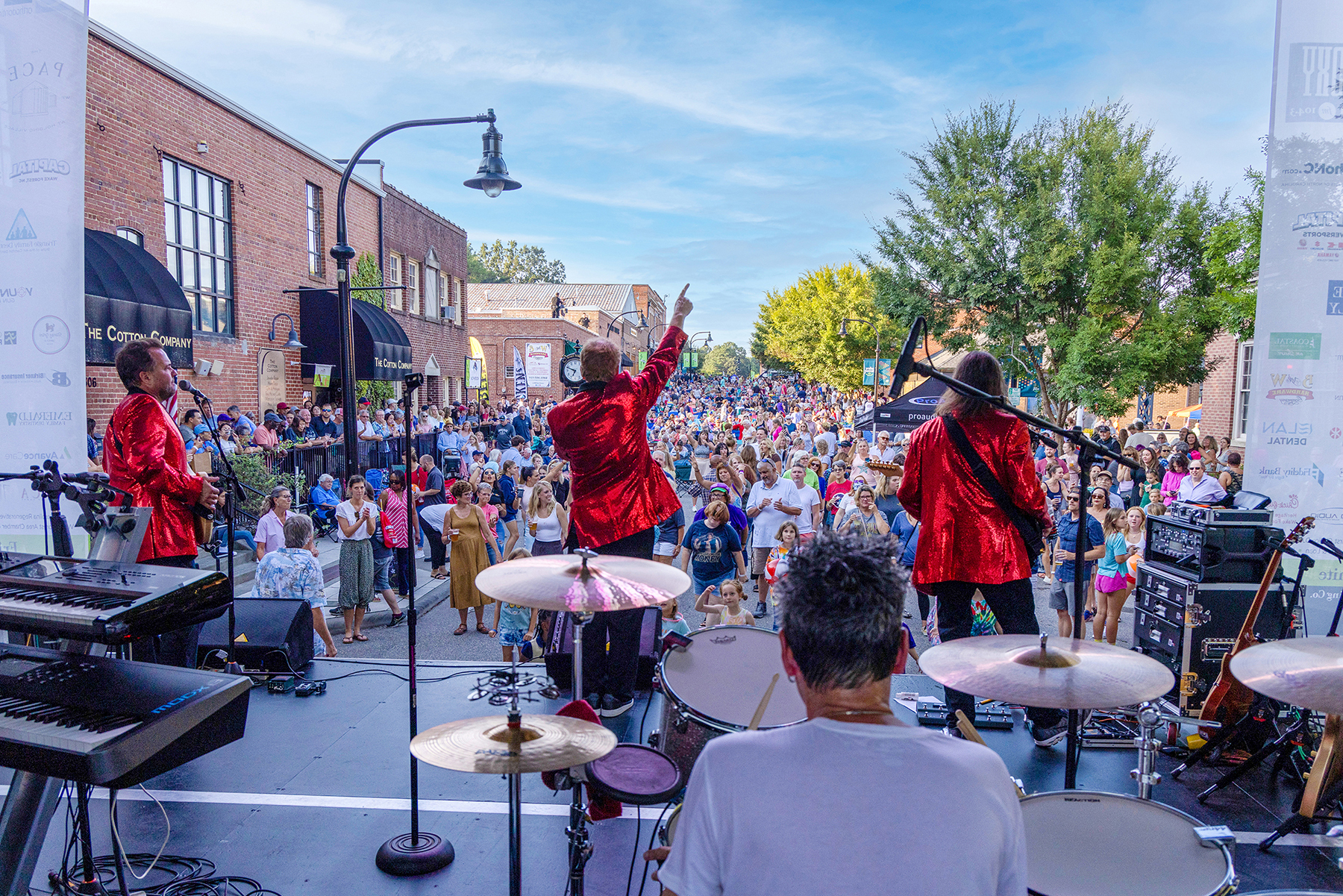 The Town of Wake Forest is excited to offer a full array of events guaranteed to help you spring into the season. From Friday Night on White to family movie nights at Joyner Park, there's no shortage of family-friendly activities coming your way.
Friday Night on White
Friday Night on White (FNOW) returns to South White Street in historic downtown Wake Forest on April 14 with The Magic Pipers. The 2023 series continues May 12 with Sleeping Booty Band, June 9 with Love Tribe, July 14 with The Brickhouse Band, August 11 with Stone Age Romeos, and September 8 with Crush. The FNOW concerts get underway at 6:00 PM and conclude at 9:00 PM. While you're enjoying the music, be sure to visit sponsor exhibits and enjoy delicious food at downtown's outstanding dining establishments or from several food trucks that will be on-site. A special thank you to the Grand Sponsor, White Street Brewing Co., for their continued support. For more information, visit wakeforestnc.gov and search "Friday Night on White."
Renaissance Centre's 10-Year Anniversary Celebration
This year marks the Wake Forest Renaissance Centre's 10-year anniversary! The Renaissance Centre will commemorate the occasion with a series of 10 events over 10 months that highlight the venue's impact as "the place" our community gathers to celebrate and enjoy the arts. Don't miss your chance to see your favorites as many shows are expected to sell out fast. Tickets for the 2023-24 show season go on sale June 28 at 10:00 AM sharp. Would you like to get your tickets prior to June 28? Become a "Friend of the Centre" with a simple $100 tax-deductible donation. Your donation will allow you to purchase up to four tickets for each Main Stage Performance before they go on sale to the public. That's not all – your name will also be displayed as a member of the "Friends of the Centre" on the Renaissance Centre website and on the screen prior to their Main Stage performances. Visit wakeforestrencen.org to become a "Friend of the Centre" and get your tickets before they sell out.
Six Sundays in Spring
Pack a picnic, grab your lawn chairs, and head out to Joyner Park for Six Sundays in Spring. Scheduled from 5:30 PM – 7:30 PM on consecutive Sundays from April 30 – June 4 and co-sponsored by the PRCR Department and ARTS Wake Forest, these free concerts offer something for all music lovers. New this year is the Mini Art in the Park Market where several artists from the Wake Forest Guild of Artists will show and sell their artwork. A percentage of sales will go to support Six Sundays in Spring. Food and refreshments will be available for purchase or feel free to bring your own. For more information, visit wakeforestnc.gov and search "Six Sundays."
STEM Saturday
Elementary, middle, and high school students and their parents are invited to Wake Forest's STEM Saturday on April 29. Presented by the Wake Forest Wireless Research Center, this free event is scheduled from 10:00 AM – 2:00 PM at the Joyner Park Community Center (located at 701 Harris Road). Designed to expose students to a variety of science, technology, engineering, and math (STEM) career options, STEM Saturday will feature STEM-related exhibits, demonstrations, and hands-on learning activities. For more information, visit wakeforestnc.gov and search "STEM."
Family Movie Nights at Joyner Park
The PRCR Department is delighted to offer Family Movie Nights at Joyner Park on the following Saturdays: May 27 (Lady and the Tramp – original), June 17 (Encanto), July 22 (Zootopia), and August 5 (Spiderman No Way Home). Family Movie Nights will also include movie-related pre-show activities beginning at 7:15 PM. Showtime is 8:30 PM and admission is free. Assorted food vendors will be on-site selling snacks and beverages. For more information, visit wakeforestnc.gov and search "Movie Nights."
National Trails Day
The Recreation Advisory Board will host National Trails Day on Saturday, June 3, at Joyner Park. Presented by Ting Internet, this family-friendly event will include a timed 5K/3K walk/run race for children and adults. Check-in on the day of the event starts at 7:00 AM, and the race begins at 8:00 AM. Funds raised through entry fees will be used to support the maintenance of current greenways and the development of new ones throughout Wake Forest. Registration is required. For more information, visit wakeforestnc.gov and search "Trails Day."
Stay Connected
Always be the first to know about Town of Wake Forest announcements, programs, and special events by signing up for E-Notifier, downloading the Town app, visiting the Wake Forest website, and/or following the Town on social media @TownofWakeForest. For complete details, visit wakeforestnc.gov and search "Communications."
Anna Bolton
Communication Specialist with the Town of Wake Forest. To learn more about town events, sponsorship opportunities, and how you can be involved, contact Anna.