Spring Greens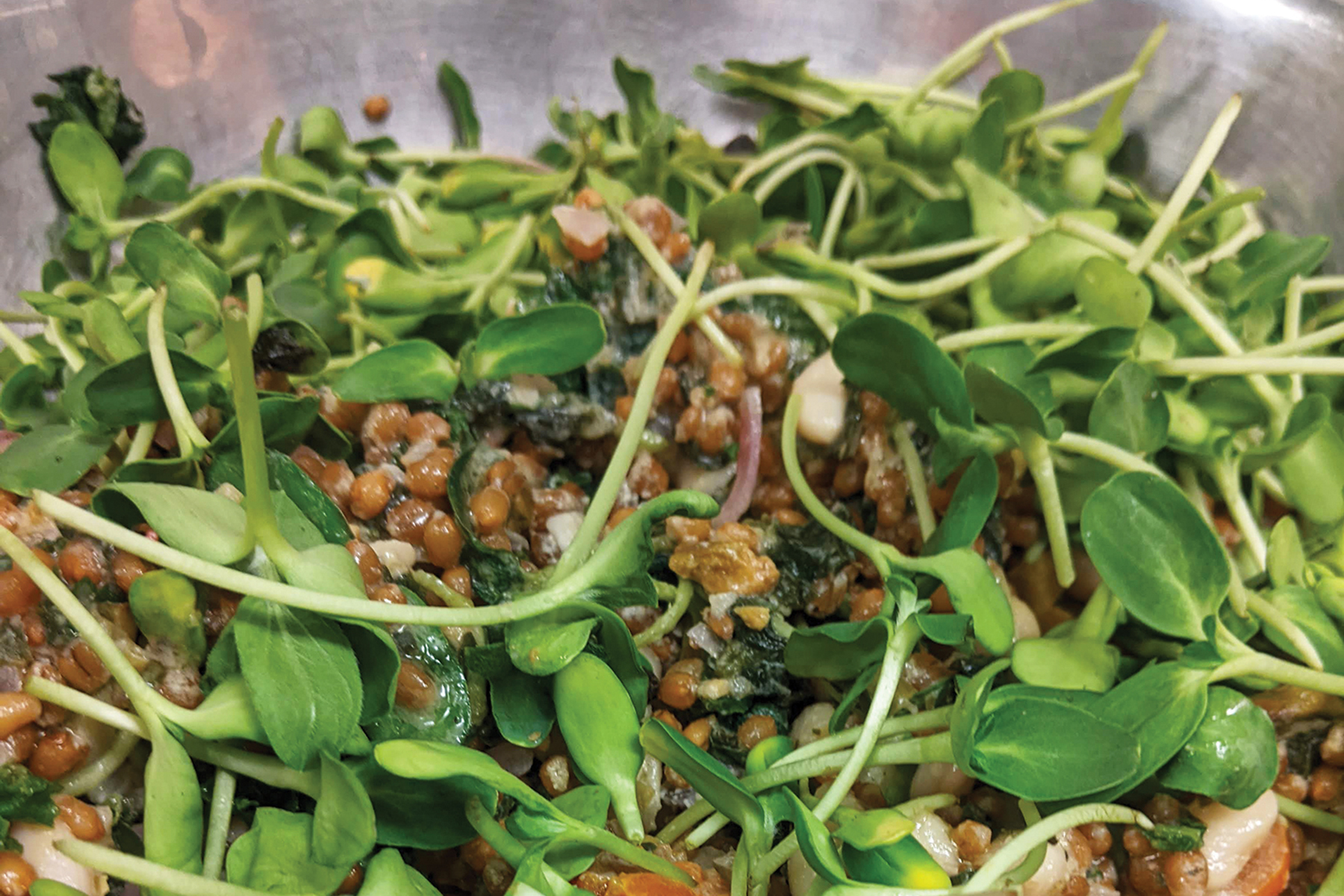 Spring is here and everything feels fresh and new. Color abounds and it's a great season to celebrate with a bright and colorful plate that is chock full of green goodness. I love the vibrant contrast that spring produce brings to the plate. It's almost impossible not to eat healthy when it looks so crisp and yummy!
Beautiful leafy greens are a great way to kick off any meal, yet their use should not be limited to salads alone. Baby arugula, kale, spinach, and even microgreens can be used in so many ways to incorporate tons of color, texture, and nutrition to your main course recipes and to complement a variety of dishes. Think outside the salad plate and experiment with a light sauté to add dimension to your pasta or stir fry of choice, or as a base for grilled fish. A good quality olive oil is a must here, and a squeeze of lemon or a drizzle of balsamic vinegar enhances the flavor of the greens.
One of my favorite ways to use spring greens is to make pesto – perfect to stir into soups, mix with softened butter to adorn your favorite fish or chicken, or as a sauce for a light pasta entrée. Simply toss a handful of fresh greens and/or herbs in the food processor and add a little quality olive oil, a squeeze of lemon, and a pinch of salt. Your concoction should keep in the fridge for a day or two, so for lunch the following day, mix it with a bit of mayo for a delicious condiment to top your sammie of choice. Splash a spoonful into your favorite vinaigrette to drizzle on a garden salad or to brighten a spring potato salad. Green pestos are perfect for tossing with noodles or tortellini for a beautiful pasta entrée. Add a handful of roasted tomatoes and some fresh grated cheese for a lovely luncheon salad or light spring dinner.
Pass the peas please! Spring peas are like nature's candy. Fresh ones can be tossed into a salad or in a light stir fry, or mixed with rice for a delicious side dish for your favorite grilled meat. Tender peas require almost no cooking time, which helps them to maintain their vibrant color, making them a lovely garnish for any dish. Ditto for tender fresh green beans, which can be blanched in boiling water for two to three minutes, then plunged in ice water to stop the cooking process, leaving them bright green and just a little bit crispy. Drizzle with vinaigrette or toss with some roasted baby potatoes for a lovely side to a grilled steak.
Asparagus is another versatile addition to the spring plate and can be adapted to a variety of cooking methods. I am partial to steaming their thicker stalks, but asparagus also grills beautifully, bringing out a smoky flavor – drizzle with a little lemon and melted butter or top with a flavorful tapenade made with capers and roasted peppers. One of my favorite flatbreads includes roasted asparagus, prosciutto, and goat cheese with a sprinkle of olive oil and cracked pepper.
Doing some spring entertaining? An elegant appetizer is at your fingertips. Simply cut puff pastry or phyllo dough into squares, then sprinkle shaved parmesan onto blanched asparagus spears. Wrap the spears with the pastry squares and bake at about 400 degrees until the pastry is golden for a very impressive nibble for your guests.
Spring greens and produce can brighten just about any dish by adding an abundance of color and taste. A visit to your farmers market should be on your agenda this weekend so that no matter when the mood for a vibrant, delicious, and healthy dish hits, you can spring into cooking action!
Stacey Moritz
Owner of The Lemon Tree Cafe, located at 113 S. White St. in Downtown Wake Forest, offering freshly prepared salads, pastas, soups, and take-away fare.