Spring Crafts
To Put A Spring In Your Step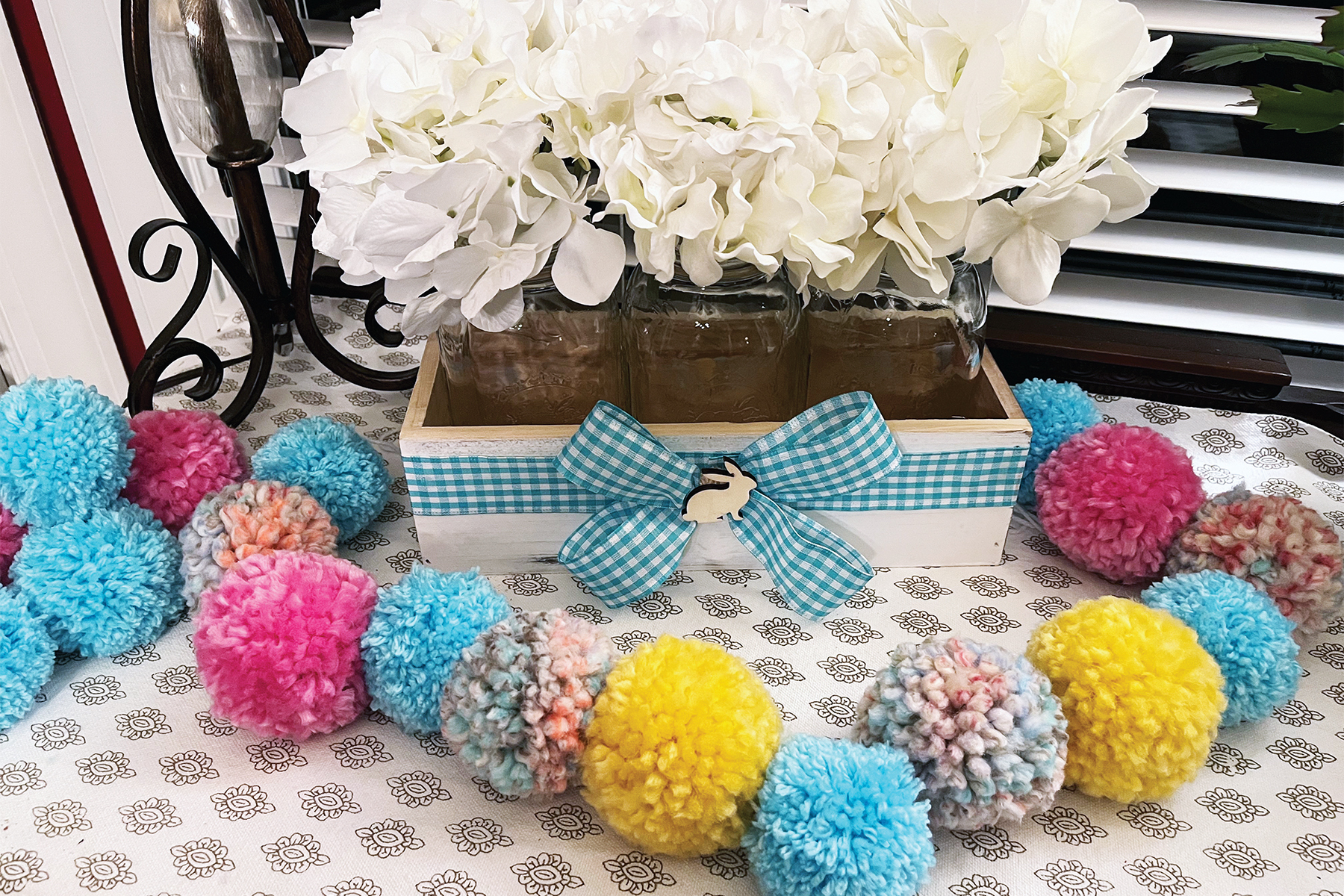 Flowers are blooming, temperatures are rising, days are longer – spring is here, and it's time to brush off the gray of winter and embrace all the bright, beautiful glory the season has to offer. What better way to do this than to tackle some fun, creative crafts to freshen up your home, adding whimsy and delightful spring cheer? If you're like me, you're always looking for fun, new DIY ideas and inspiration – Pinterest seems to always be calling my name, no matter the time of year. But I must confess, I particularly love crafting for spring (Easter and Mother's Day, in particular) – there's just something about the season's lovely colors that brighten my day.
Who can resist a vibrant pom-pom garland or a quintessential mason jar craft? I sure can't! Needless to say, I have pinned so many great ideas that it's hard to choose which ones to challenge myself with first. I did finally narrow it down to two fun and simple projects to share with you that will allow you to tap into your crafty side and encourage you to use your imagination when creating them.
For the recent Valentine's Day holiday, a friend asked me to craft a heart-shaped wreath from handmade pom-poms. Naturally, I said yes – but seeing as how I hadn't really done anything with these fuzzy little creations since Vacation Bible School in 1968, I truly didn't know where to start. After some Pinterest diving, I quickly educated myself on how to make these – I must say I was pleasantly surprised with the outcome of my heart-shaped creation, and now, oh my goodness, I am obsessed with making pom-poms! Doing so is quite fun and relaxing – and as a bonus, it doesn't require a tremendous amount of brain power, of which I seem to be short of lately. A hot new trend is the adorable pom-pom garland – great for decorating your walls to fill up some of that blank space; hung over windows or window treatments to add pops of color and character to a child's nursery or bedroom; draped over the fireplace mantle to help highlight holiday or seasonal decor; as a fun and festive backdrop for a photo booth at a springtime party; or simply displayed on the kitchen table alongside beautiful blooms cut fresh from the garden for a unique tablescape. The number of ways to decorate with pom-pom garlands is almost endless. Tailor the colors based on the holiday or its particular purpose – for instance, blues, greens, yellows, and pinks are nice choices for Easter; or pick Mom's favorite colors in honor of Mother's Day. Maybe you'd like to go the extra mile and incorporate several yarns of the same color, but in different shades, for added personality but still with a cohesive look.
That's enough chatter … let's make some poms-poms! Although there are several methods for making them using cardboard or forks, the best – and easiest – way is to purchase a pom-pom maker. These come in assorted sizes and I recommend getting the variety pack so you have options for different projects. Select your yarn color of choice – if using just one color, grab at least two skeins. Simply follow the easy directions on the package, sit back, relax, and let the pom-making fun begin. The number of cute fuzzy balls you make will depend on the length and spacing you choose. When you have made as many as you need, trim any of the longer pieces of yarn to ensure a symmetrical shape. Next, measure a piece of coordinating yarn and thread it through a large tapestry needle – be sure to add a few inches of yarn so you can attach your garland wherever you'd like to hang it. Using the tapestry needle, go through the center of the pom-pom to thread it onto the yarn. Continue this process until you're satisfied with the number you have used. Perhaps you want the garland to be full or you might prefer they are spaced out – the choice is yours. If you do want to space out your poms, hang the garland and then move them until you achieve the look you want.
While we're in the pom-pom making zone, let's fashion some cute fuzzy bunnies. Grab your yarn (color of your choice), some white and light pink felt, two black and one pink pony beads, and your handy dandy hot glue gun. Make two poms, one a bit larger than the other, trimming any excess yarn pieces. Use the two black beads for the bunny's eyes, attaching them onto the smaller pom. Repeat, using the pink bead for the nose, then glue the two poms together. Next, cut two large bunny ear shapes out of the white felt and two slightly smaller ones out of the pink. Glue the pink ears onto the white, pinching the bottom sides together and adding a dot of glue in the crease. Use a healthy amount of hot glue on the bottom of the ears and insert between the bunny's head and body. Now you have created an adorable little furry friend. Don't stop at just one … craft a whole family of cottontails to add to your spring décor.
Like many, I am obsessed with mason jar crafts – this particular one can be used and enjoyed throughout the year. For this project, you'll need two or three quart-size jars, a decorative wooden box, ribbon of your choice, twine, and your hot glue gun. I purchased a 12" x 5" whitewashed box from a major craft store and the jars fit inside perfectly. From the top edge of the container, measure down about a half to one inch. Mark this area lightly with a pencil, and hot glue the end of the ribbon where you made the mark. Slowly wrap the ribbon around the container until you're back to where you started. As the ribbon is being adhered, add a little glue to keep it in place, pulling the ribbon firmly as you go. Tie a simple little bow, wrapping the center with twine for a little extra pizzazz. Hot glue the bow onto the box where the ribbons meet, and if you feel so inclined, add a little extra embellishment, such as a small, wooden bunny cut-out, to help showcase a particular holiday or season. Simply place the jars inside and fill with fresh flowers or greenery. Spring is the perfect time for bringing fresh beauty and fragrance from the outdoor garden indoors, and this beautifully handcrafted box is the ideal way to show them off.
I'd love to stay and chat about crafts all day, but Pinterest and pom-poms are calling me. Happy spring!
Dolores Riggins
Co-owner of Southern Suds & Gifts, located at 213 S. White St. in Downtown Wake Forest, featuring over 35 craftsmen and artists.