Spring Clean Your Design
A Little Inspiration To Give Your Space A Spring Spruce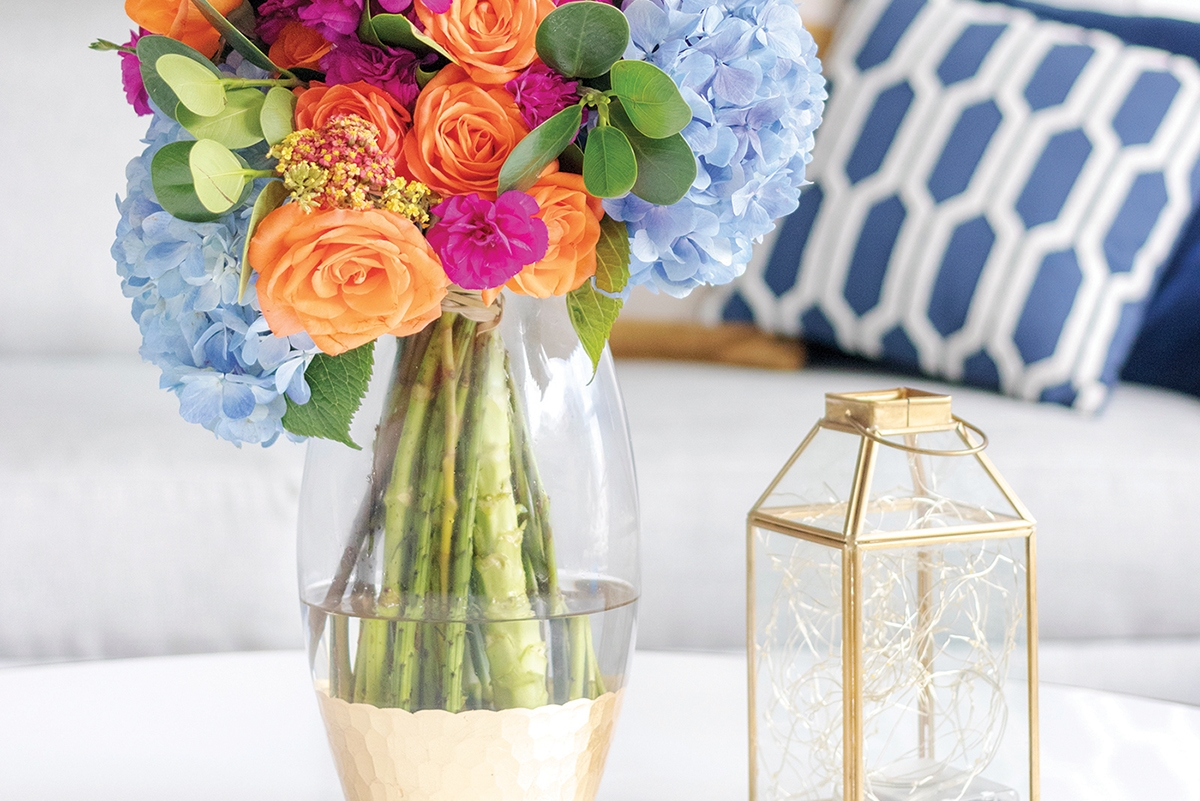 Spring is in the air! The trees are blooming and regenerating their coat of leaves. The flowers are blessing us with their vibrant colors and the birds are singing. Springtime takes our minds to the thoughts of clean and fresh, and many of us use this time to deep clean our homes. Maybe this year, think about spring cleaning your de-sign as well to breathe new life into any room.
Fresh Flowers/Greenery
Nothing shouts spring better than fresh flowers. Purchase a few bouquets of assorted flowers from your local grocery store or favorite farmers market, invest in a few decorative vases and containers in mixed sizes and unique materials – think bud vases, mason jars, wooden boxes, or handcrafted terra cotta pots, for example – and create simple but stunning centerpieces to adorn tabletops. Spread the color throughout your house, such as on the kitchen table, your nightstand, the back of the toilet, and the coffee table. Don't forget to include greenery in your arrangement. It adds balance and texture to the overall look of your newly created masterpiece.
Fabrics
Now that winter is behind us, it's time to pack away the heavy blankets and throws that kept you warm on chilly evenings and replace them with light colored cottons or linens. Since spring is the season of renewal, easily renew your spaces by tossing in color and texture with decorative spring-y pillows in bright colors and fun patterns. In your bedrooms, swap the bedding with something lighter in both color and weight.
Paint
A gallon of paint is one of the easiest and most cost-effective tools for freshening up any space. Paint an accent wall with a fun shade that is part of the décor of your room, making sure that it coordinates well with the other colors of the space for a more subtle makeover, or paint the whole room and it will instantly feel brand new. Need a little paint palette inspiration? Colors of the year range from vivid hues like Sherwin Williams' Eros Pink, Oceanside, and Gambol Gold to more subtle tones like Breathless and Stardew, also from Sherwin Williams. Navy, deep greens, and warm grays are still top colors this season.
Artwork
While you are coordinating the just-mentioned fabrics and paint colors, consider also replacing some of your artwork with new pieces for a springtime refresh – perhaps with floral prints to remind you of beautiful blooms and botanicals outside. Updating just a few pieces will make a huge difference in the seasonal feel of your space.
Shower Curtain
Okay, when it comes to decorating, how many of you think about the shower curtain? Sure, the shower curtain is essential for keeping the water in the shower and off the bathroom floor – but it is often a very forgotten-about item that can easily and affordably revive a very important room in the house. Brighten up your bathroom by updating your outdated shower curtain for a whole new look. This one simple item can make it look like you have given a facelift to the entire room.
Rugs
Instead of spending the money to spring clean the rug you already have, consider splurging for a new one. Replacing your existing rug with a new updated style, color, texture, and pattern can effortlessly transform the way an entire space looks and feels.
Accessories
Changing out a few accessories will give any room a fresh look – yes, out with the old and in with the new. I'm not saying get rid of everything in your bookshelves or on your mantel. Simply replace one or two dark, heavy pieces with lighter ones for a brighter look. Swap those winter candle fragrances with more spring-like scents. Switch out a few of the photos in your frames with some of more recent memories.
Just a few little tweaks can take your home from dark and drab to bright and beautiful. Take some time to plan how you will spring clean your design, or hire a professional to help you if it seems too daunting or you need a little inspiration. Just as the seasons change, so should our living spaces. So tackle some of these simple updates to spruce up any space for spring.
Rhonda Benvie Plummer
The owner of Help Me Rhonda Interiors and Open Door Furniture & Accents, a furniture and accessories store, in Wake Forest. Visit www.helpmerhondainteriors.com or www.opendoorfurnitureandaccents.com, or call 919-263-9054.