Spice Up Your Summer
With Pollo Al Pastor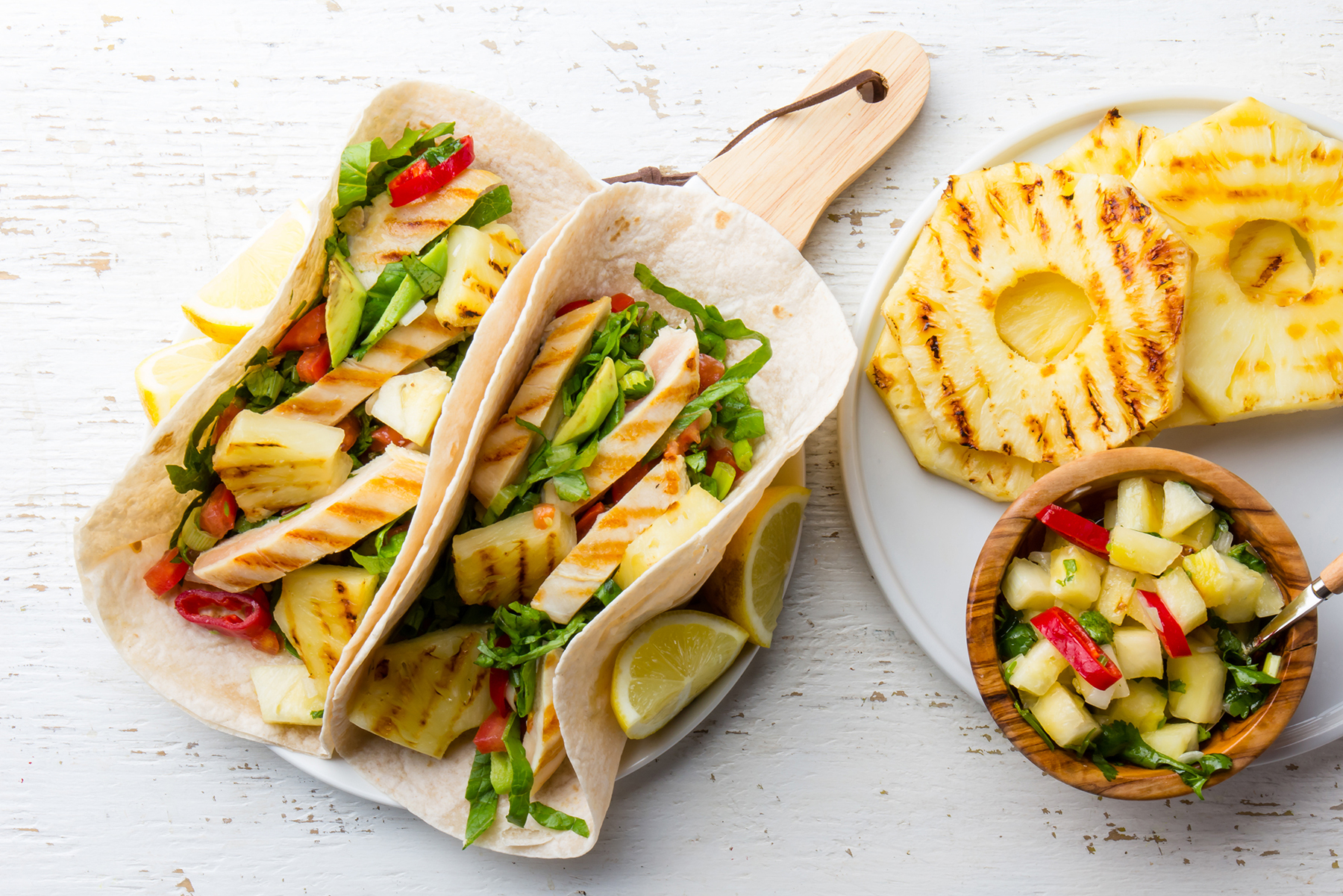 The year was 2010. Lady Gaga and The Black Eyed Peas were dominating the airwaves, spilled oil was saturating the Gulf Coast, and Drew Brees won his first Super Bowl. My sister and new brother-in-law had just moved to San Diego from Milwaukee in the fall of 2009 – which I would say was a definite weather upgrade! Months after their relocation, I was finally able to visit them in their new city. My sister was always on the move, ever since she left for college. After stints in Connecticut and Milwaukee, I was happy to finally have a warm place to visit.
I am pretty sure the first stop off the airplane was In-N-Out Burger, as is customary with any West Coast trip. The rest of the time we took in the sights, sounds, and flavors of Southern California – South Asian, Mexican, and seafood to name a few. But to me, the best night of food was on the back patio of their friends' house.
My brother-in-law grew up in Guam – the U.S. territory in the Micronesia region of the western Pacific Ocean – and lived there for 15 years. Much to his delight, long-time friends from there lived in San Diego as well, just a short drive from where he and my sister resided. Their friends are indigenous to Guam, also referred to as Chamorro, whose people settled on the island about 3,500 years ago. There is a big sense of community in Guam, which one can easily sense by spending any amount of time with my brother-in-law and his hometown friends.
We arrived at their home and instantly felt like family. There were a few other friends hanging out that night, too. Everyone was so kind and welcoming, making my nerves of meeting new people dissipate quickly. Many of us headed out to the patio to grill food and watch the UFC fight. The night was perfect. A typical, mid-70s So-Cal night; light breeze, cold beer, and the smell of charcoal wafting through the air, Sublime and Bob Marley emanating from the radio. I was already in my element, but I had no idea about the delectable treats that were about to come off the grill grates and into my mouth.
A lot of great food was being prepared – ceviche, pork belly, brisket, beef tongue, octopus, to name a few. It was just a steady stream of tapas. Each portion was the perfect size to continue the culinary ride, but also leaving me disappointed that there was not an unlimited amount to consume. Every serving was made with love, and I could feel the sense of community enveloping me. It was a perfect night.
I provide this backstory before I share my brother-in-law's recipe because I want to express how important the environment can be to creating an unforgettable dish. I remember that night like it happened last week, yet it was 13 years ago.
My brother-in-law is a graduate of Le Cordon Bleu, in Dover, New Hampshire and has been working in kitchens all his life. He is a phenomenal chef and pulls from his upbringing in Guam to add flavor to his cuisine. One of his signature concoctions is Pollo al Pastor. As you host your own perfect night with friends and family this summer, give this delicious dish a try. Just be sure to inject your food with love – your guests will thank you.
Pollo al Pastor
– 2 tablespoons achiote paste
– 2 garlic cloves minced or grated
– 2 canned chipotle peppers in adobo (with 2 tablespoons adobo sauce)
– 2 tablespoons apple cider vinegar
– 2-1/2 tablespoons kosher salt
– 1 tablespoon honey
– ¼ cup olive oil, plus 2 tablespoons separated
– 1 whole (4 pounds) chicken
– 1 medium pineapple (peeled, cored, sliced in 1/2 rings)
– 1 large onion
To make the marinade, combine the achiote paste, garlic, chipotle peppers, adobo sauce, vinegar, and 2 teaspoons of salt in a mixing bowl. Whisk in the honey and the olive oil until smooth.
Pat the chicken dry, place on a baking sheet, and apply all the marinade to the chicken, making sure to get inside the cavity as well. Toss the pineapple and onions in 21/2 tablespoons of salt. Cover the chicken and refrigerate for a minimum of 3 hours (can go up to 12 if desired). After refrigeration, uncover the chicken and let sit at room temperature for 1 hour before roasting.
Preheat your oven to 350 degrees. Roast the chicken, adding the pineapple and onions after 30 minutes. Continue to roast until the pineapple starts to brown and the chicken is a deep red. Insert a thermometer, into the thickest part of the breast, which should read 155 degrees (about 60-70 minutes). Remove the pan from the oven and let it rest for 25 minutes, but not more than one hour. Transfer to a cutting board and carve.
Heat your tortillas in the oven – corn or flour, the choice is yours. Serve with roasted onions and pineapple, salsa, and freshly chopped cilantro. If you want a little spice, chop up some fresh jalapeños. You can also add cotija cheese and chopped avocado.
With the dog days of summer upon us, this dish should undoubtedly be paired with some ice-cold beers, some delicious homemade margaritas or sangria, and some dear friends and family. Oh, and don't forget the love.
Will Barnack
General manager of The Butcher's Market – Heritage.