Souper Soups
Healthy Soul-Soothing Goodness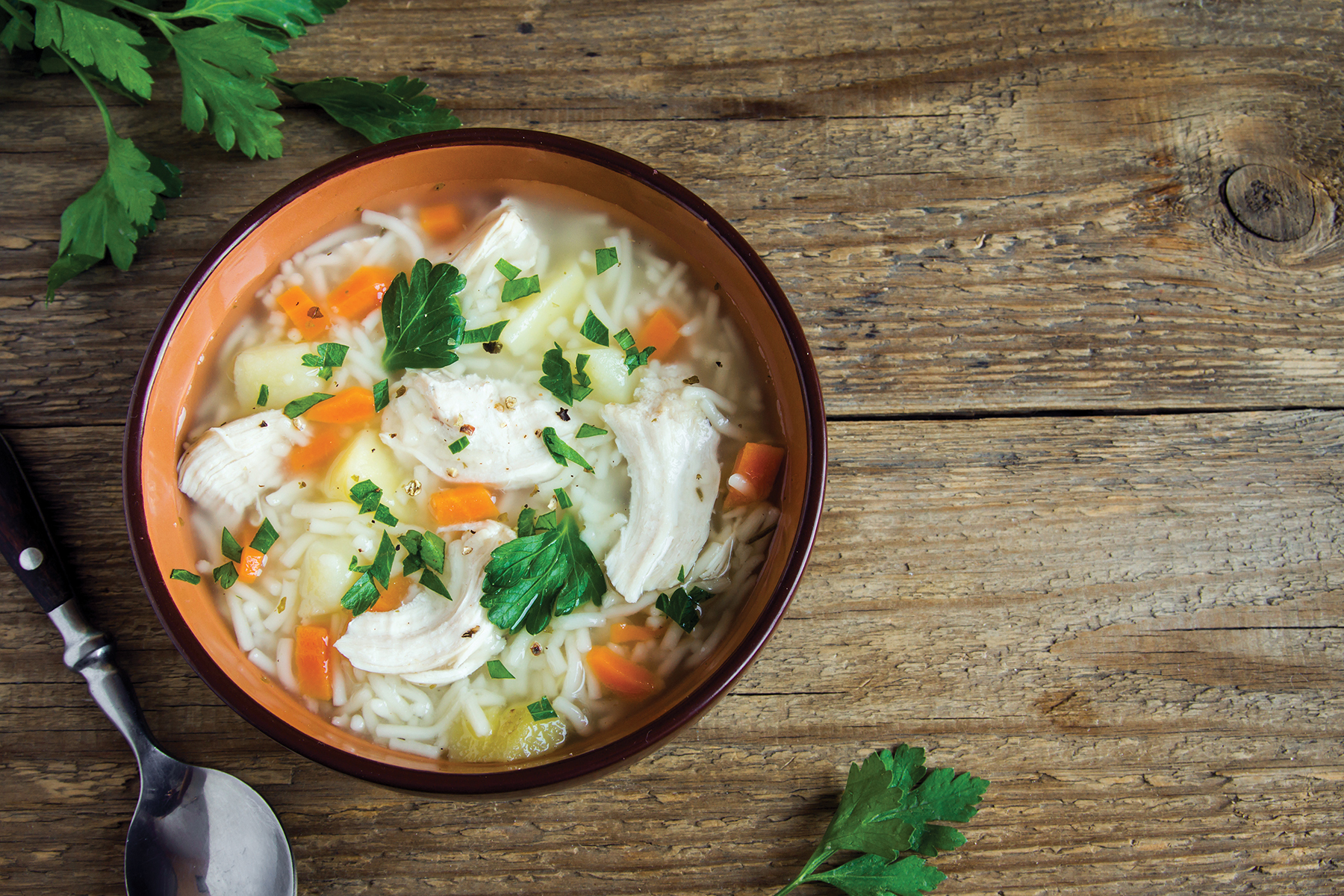 The oppressive heat and humidity of summer is finally behind us and it's time to turn our attention to fall's cooler weather and the comforting meals that pair so perfectly with it. And as we continue to try to move back toward "normal," this vicious virus season remains at the forefront of our lives … so it's more important than ever to nourish our health and protect our well-being. Time to bring out the big guns! Nothing short of a simmering pot of homemade goodness can help us accomplish this goal.
If you know me at all, it's no secret that soup is most definitely my favorite culinary passion. While it should be enjoyed all year round, soup's deliciously warm and wonderful flavors should especially be savored this time of year. It's hard to say what I love most about making homemade soups – is it the ability to experiment with taste and texture? Is it the chance to use fridge and pantry staples and leftovers to minimize waste? Is it the fact that soup almost always tastes better the second or third day, making it the perfect make-ahead meal for a busy week coming up? The answer is a resounding yes to all! I especially love that soup can nourish the soul, heal the sick, and provide comfort on a chilly and rainy day. It speaks to my passion of nurturing those around me – quite frankly, soup is my love language.
The true beauty of soup is that you can create a masterpiece – no matter if you are a carnivore, vegan, or vegetarian, or live a gluten-free lifestyle. It can be enjoyed individually or feeds a crowd, gets better with age, offers tremendous versatility and, for the most part, freezes beautifully. What's not to love? Soup also offers a great opportunity to incorporate ingredients that not only taste divine together, but also provide a multitude of healthy immune-boosting properties … who doesn't want or need that right about now?
Thinking back to your childhood, I would be willing to bet your mama or grandmother had a go-to recipe for a family favorite soup that graced the table during the year's cold weather months. A great way to tap into that nostalgia and embrace that culinary tradition is to recreate this family classic – but this time, toss in a few new additions for an added nutritional boost that will increase your ability to stay healthy and keep your immune system in top fighting shape.
Chicken soup has been the culinary cure-all that has stood the test of time. It not only warms the mind, body, and spirit, it is also a great source of nourishment, providing balanced nutrition, mediating inflammation, and improving symptoms of respiratory infections. It's no wonder chicken soup is the savory and soothing go-to, feel better food that is perfect for everyone, old and young alike. The beauty of it is that chicken soup typically requires only a few ingredients; but you can add just about anything, and it will still taste amazing. Leafy greens like collards, Swiss chard, kale, and spinach can add lovely color and texture to your soup, as well as vitamin C, K, and A and a number of antioxidants that help strengthen your immune system. To gain the most benefits, add these greens toward the end of your soup's cooking time – doing so will retain their nutrients and also preserve their bright green color.
Broth and tomato-based soups are also great backdrops for comforting goodness. Load them up with your favorite veggies and greens and toss in your favorite pasta for a heartier, thicker stew – orzo, rotini, and tortellini are great options. Toss in your favorite sausage or meatballs for a protein-packed one-dish meal. Grains like barley, quinoa, and lentils are also wonderful additions that will add bulk and texture, and key nutrients like iron, manganese, and protein.
Another favorite is loaded with root veggies like onion, parsnips, leeks, butternut squash, carrots, and potatoes. This broth-based soup is light enough for an upset tummy, yet hearty enough to satisfy even the most ravenous appetite. To make it more stew-like, throw in some white beans or chickpeas and dark leafy greens. Mix in a handful of fresh herbs like thyme or oregano for added aroma. This delicious concoction is perfect for serving with roasted chicken thighs, or toss in some shredded rotisserie chicken for an easy meal.
If you find yourself craving intense flavor packed full of healing goodness one of these crisp, cool autumn evenings, then I've got you covered. Think Asian-inspired broth and noodle-based soups that will warm your belly and intoxicate your palate. Sauté fresh garlic, ginger, and onion; add in your favorite vegetable or chicken broth; and then build your textures and flavors. Shredded carrots, bell peppers, and slivered snow peas are great extras. Cook your noodles directly in the broth to thicken it just a bit, then stir in your favorite greens and cooked meat, tofu, or seafood a few minutes before serving. The result is a big steaming bowl of yummy goodness! Garnish with thinly sliced scallions and cilantro for extra flavor.
As the temperatures drop and we seek warmth and comfort around the dinner table with family, I hope you will look for little opportunities to nourish your body and soul. Indulge the healthy you and reap the rewards today and for years to come!
Stacey Moritz
Owner of The Lemon Tree Cafe, located at 113 S. White St. in Downtown Wake Forest, offering freshly prepared salads, pastas, soups, and take-away fare.