Sneak Peak
Outdoor Living Trends For 2019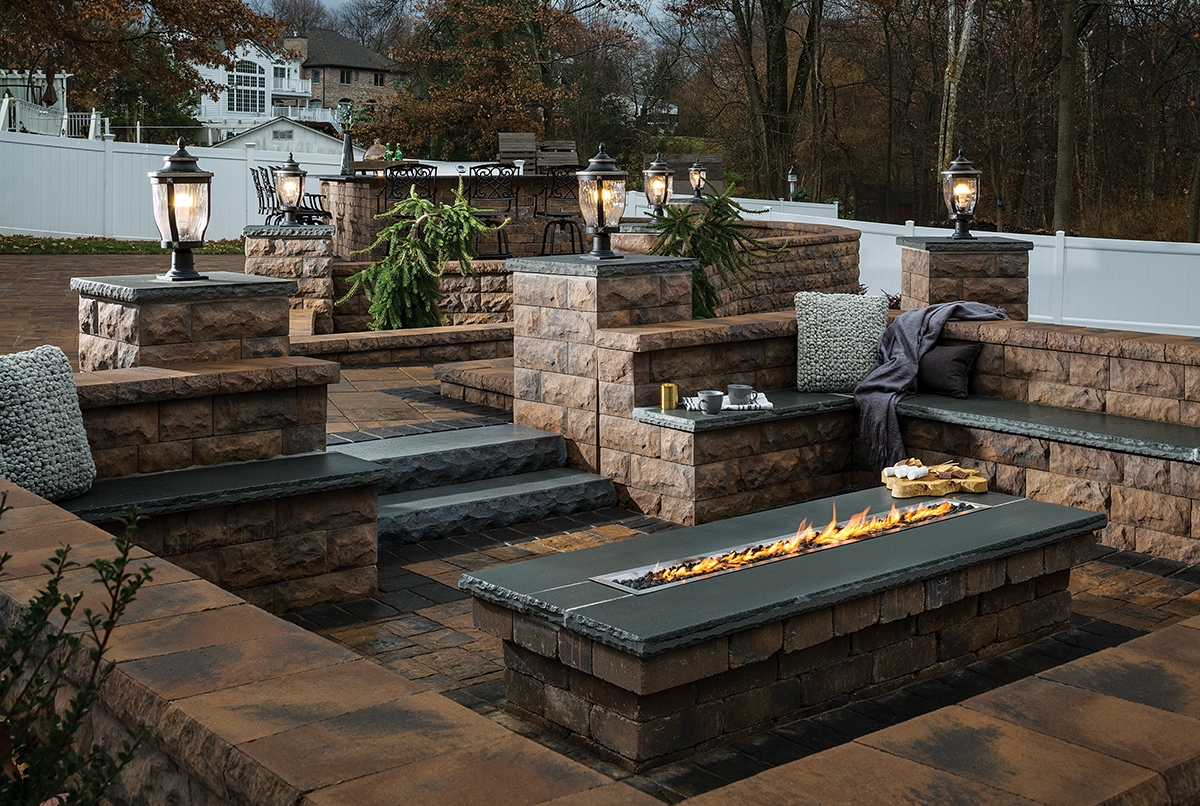 Now that the 2018 summer season has shaded into autumn, the amount of evenings spent outside on the patio has begun to dwindle down. If you're looking to get the most out of your yard, fall and winter are some of the best times to find great deals and to prepare your outdoor spaces with 2019's hottest backyard trends.
Increasingly, homeowners are taking the time to create beautiful outdoor living spaces that add charm, functionality, and comfort to their homes. Though outdoor projects have been around for a long time, people are choosing these projects more than ever before to beautify and better their home environments, and projects in recent years have been shifting towards larger scale endeavors.
As such, today's architects, designers, and landscape contractors are building creative and imaginative amenities that not only boost a property's curb appeal and increase its value, but also enhance quality of life for the homeowner.
The goal with any project is to take under-utilized outdoor spaces and transform them into vital parts of the home experience. By adding physical elements that make people feel welcome and comfortable, such as plush seating and new landscaping, outdoor spaces are increasingly built to align and extend the experiences between indoors and out.
These connected spaces are an extension of our awareness that what we do in our environments has an impact. There's an increasing overall awareness that people want to be and need to be connected to their neighbors, and therefore, many design trends in outdoor living today seek to foster the idea of "connection." There are also trends supporting our desire to have less negative environmental impact, both around the world and in our own backyards. In addition to the built-in features that support a healthy, natural environment, color palettes for pavers and walls are moving away from bright, manufactured colors, and are migrating instead to neutral, contemporary tones in grays and tans and whites and ivories.
Finally, many of the trends in 2019 will reflect the bigger, more elaborate project goals. In short, our outdoor living projects, the spaces we create, and the furnishings we choose are becoming larger and more complex. Outdoor living is no longer a trend, but instead has become an expectation.
Following are the top outdoor living trends for 2019.
Clean Contemporary Spaces
Exactly as the interior kitchen and bathroom design trends have shifted towards more sleek and modular aesthetics, so too have outdoor designs. Simple, soft, and neutral colors like gray and taupe blend with clean design lines to create approachable, modern outdoor spaces that would be as comfortable inside as they are outside.
With modular design, homeowners today are increasingly bringing the indoors out by choosing features within their outdoor spaces that seamlessly integrate the experiences between the two environments.
Nowhere is this more evident than in the comfortable, large outdoor furniture that will remain popular in 2019. From hanging swings and beds, to chaise lounges and couches with deep seating, recent trends have put an emphasis on comfort while retaining the design aesthetic of a clean and contemporary style.
The Front Porch
Another trend in 2019 will be the return of the front porch as an important environment to encourage conversations and relationships among neighbors and friends. Designers are increasingly including front porches in new construction plans, and homeowners are making those spaces an extension of outdoor living in the front of the home. Even front porch fireplaces are beginning to emerge as a trend, with a lot of opportunity for creativity from homeowners.
Beyond front porch fireplaces, trends in backyard fire pits are heading towards more linear and rectangular pits, leaving behind the traditional round or square-shaped pits. In addition to more rectangular pits going into backyards, it will remain a trend in 2019 to opt for gas-burning fire installations wherever possible.
Outdoor Kitchens
Outdoor kitchens and outdoor cooking will be among the hottest trends of 2019. Throughout the food preparation world, the trends are focused on the notion of fresh and well-sourced ingredients in local gardens. What better way to compliment an outdoor garden filled with fresh herbs than to harvest and cook those ingredients in a space that is at once inviting and functional, as is the case with outdoor kitchens?
Wall Products
Borrowing from the vertical design trends popular in city environments, outdoor wall products will remain popular in 2019 for creating multi-functional areas with less space. From full-blown urban gardens, to raised planting beds, built-in seat walls, and more, using vertical space can create the "room" and set the tone for an outdoor environment of any size.
Vertical gardening will remain popular in 2019 because it maximizes available space and offers homeowners of every size the ability to grow their own herbs and veggies at home. So too will be depth-providing vertical structures such as arbors, arches, pergolas, and gazebos to add a sense of height to an otherwise small space.
Full Coverage
For those who have the yardage, this upcoming year promises to shift towards fully-covered outdoor spaces, including free-standing outdoor pavilions and built-on home extensions.
High-quality wood pergolas can become a significant financial investment, and they have a fairly significant amount of maintenance associated with their upkeep. For a slightly higher cost of entry, homeowners are finding full-coverage spaces offer a tremendous uptick in functionality and provide the shade and protection they desire. By adding this feature, outdoor televisions and sound equipment – as well as outdoor kitchens and living spaces – are better protected, allowing the space to reach its full potential.
From raised planters and vertical gardens to fully-functional outdoor kitchens and bars, it will be easier than ever to build the outdoor kitchen space of your dreams, and bring fresh, homegrown foods straight from the garden to the grill.
Non-Traditional Spaces
People are looking at their outdoor spaces as an opportunity to do more than simply grill out or entertain with family and friends. With that, the trends in outdoor living reflect the shifting values towards health and balance, and away from traditional applications. Many of the most exciting trends in outdoor living in 2019 could be lumped into a category we could call "non-traditional" spaces.
As people are trying more exciting and innovative uses for their outdoor environments, there is no shortage of fun and exciting uses for the yard. From "She Sheds" and artist studios to meditation and yoga spaces, outdoor showers and tubs, tree houses, outdoor movie screens, and even free-standing barrel saunas, the outdoor environment is limited only by our imaginations.
These 2019 outdoor living trends, in effect, will prove to create a year full of innovative outdoor projects that fit the needs of every homeowner.
Joe Raboine
A residential business manager with Belgard.