Smell The Season
Delightful DIY Holiday Scents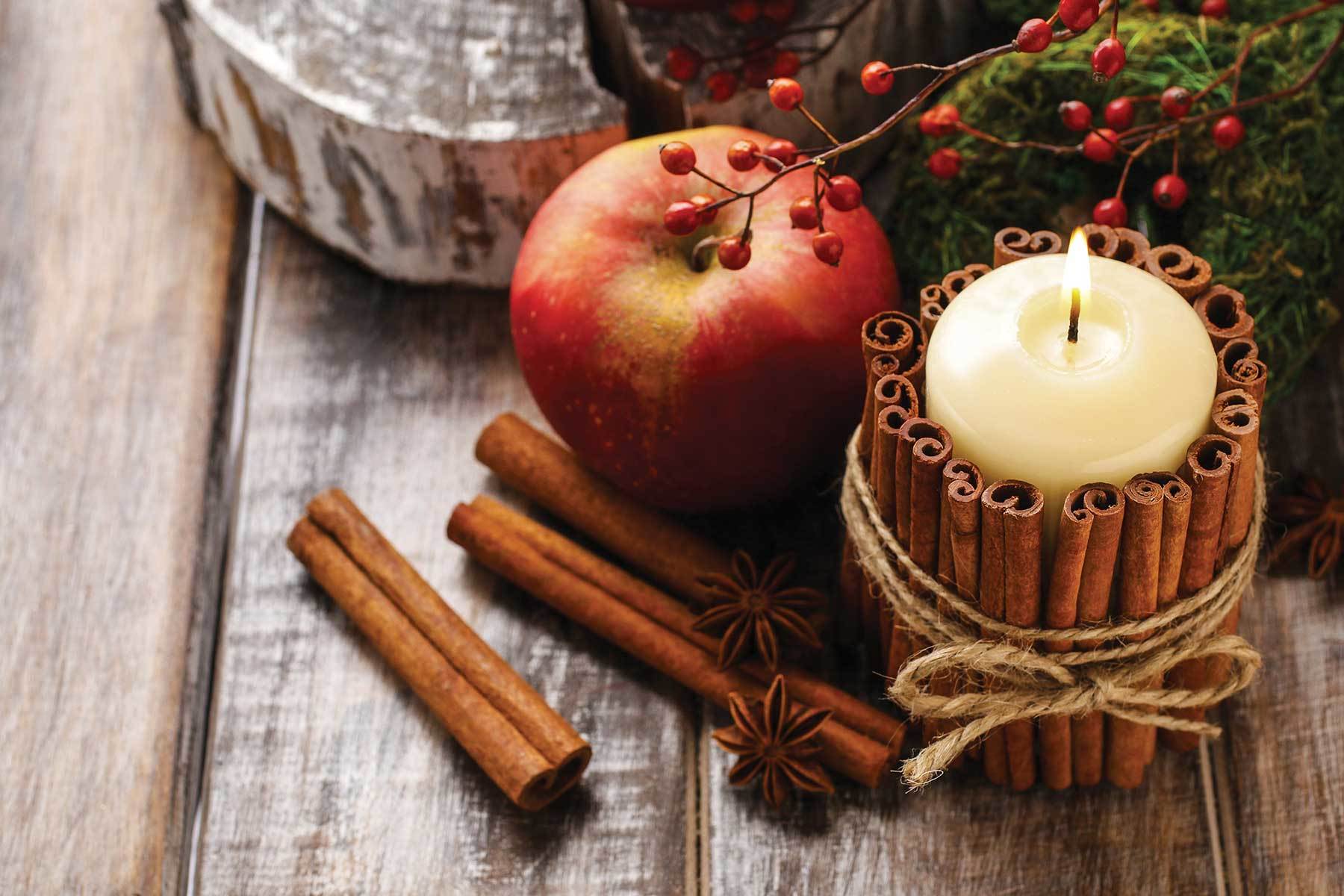 Ever wonder why particular aromas have the power to instantly evoke cherished childhood memories? It's because your sense of smell is the only one of the five with a direct connection to your mood, memory, behavior, and emotion. With the incredible power of smell in mind, here are a few easy and inexpensive techniques to fill your home with evocative scent combinations to enjoy, whether on a cool, crisp autumn evening or at your next holiday gathering.
SIMMER POTS. A scented simmer pot consists of nothing more than water, fruits/fruit rinds, fresh herbs, and spices, simmering gently on a back burner, in a slow cooker, or atop a wood-burning stove. It's likely you already have most of the ingredients for a yummy smelling simmer pot or can easily find them at your local grocer's. Think cloves, nutmeg, cinnamon, star anise, fresh ginger root, vanilla beans; baking extracts such as vanilla, almond, or peppermint; and fruits such as lemons, limes, oranges, grapefruits, apples, and cranberries. The possible scent combinations are endless.
POTPOURRI. The word translates as "rotten pot," following a 17th century French custom of collecting and layering fragrant herbs and plants over the course of spring and summer, allowing them to ferment and mold, then mixing in aromatic spices in the fall and winter to scent rooms. Contemporary potpourris favor drying ingredients such as fruits like oranges and apples and spices such as cinnamon and cloves over the old fashioned method. This is something you can accomplish quite easily in your oven on low heat with a baking sheet and parchment paper.
DIY SCENTED CANDLES. You could spend upwards of $30 on one great-smelling holiday candle. But there's no need to when you can spend much less creating autumn or holiday scented combinations to either burn in your own home or give as holiday or hostess gifts (a very personal gift idea). DIY scented candles are a great way to use up those mason or jelly jars that are collecting dust on your pantry shelves or other beautiful containers you might have lying around the house or can pick up for next to nothing at yard sales and thrift shops. There are many tutorials online to guide you through the simple process of making your own scented candles.
SCENTED FIRE STARTERS. If you have a traditional fireplace or outdoor fire pit, create your own scented fire starters to layer comforting, traditional autumn scents over the smell of burning wood. You can create dry sachets, plant and herb bundles, or aromatic wax fire starters (peruse the Internet for information on how to make your own wax fire starter). Note: scented fire starters are not for use in gas fireplaces or enclosed wood-burning stoves.
Todd Nelson
Owner of MaidPro of Raleigh and Wake Forest.