Simple Summer Style
Freshen And Lighten Your Home For Summer With These Easy Breezy Decorating Ideas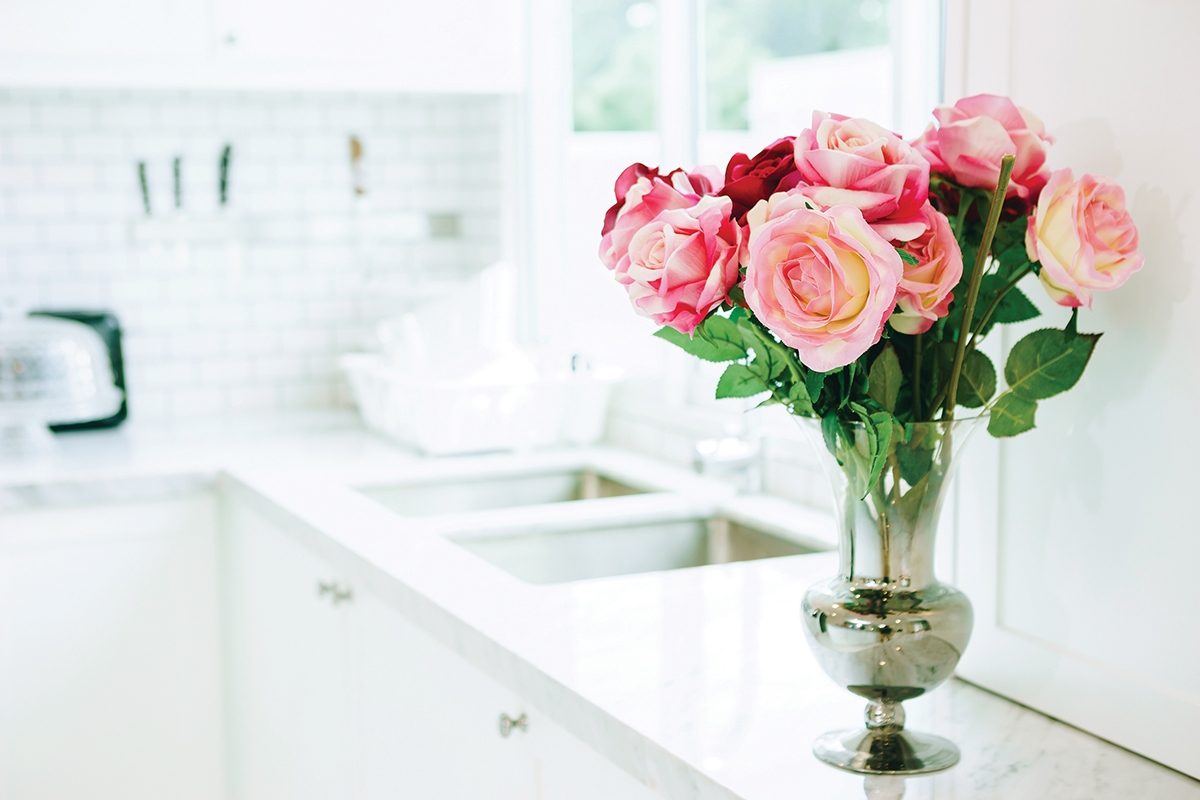 The birds are singing and the flowers are blooming. Yes, summer is here. This time of year allows us to enjoy the outdoors and the wonder of nature, with its glorious smells and colors that instantly brighten our moods. But what about the inside of our homes? Do you smile when you walk into your house?
If not, you may be itching to give it a bit of a freshening facelift. But does the task of updating your space overwhelm you and inflict anxiety? There's no need for that! Here are some quick and easy fixes for each room that will bring the joy of summer indoors, and have you smiling each time you enter.
THE KITCHEN
Most of you probably agree that the kitchen is the heart of the home. Therefore, this popular gathering spot for family and friends should be cheery and inviting. To help achieve this goal, purge items you don't use on a frequent basis, and make room in the cabinets for the items that are cluttering your countertops. Bring in live plants and flowers from your summer garden for a splash of color (not to mention some wonderfully fresh scents to permeate throughout the space). Summer is also the season for fresh fruit, so why not incorporate this natural element by investing in a beautiful bowl and filling it with fresh fruit? In addition to providing an instant and vibrant decorative pop, it also readily offers a fabulous and refreshing seasonal snack. Throw in some new linens with a style that speaks to you, whether it's as big as new window treatments, or as small as trendy dish towels. If color is what you crave, introduce a coordinating hue. If you want texture, bring in jute placemats. Mix the two for a cool and funky vibe.
THE FAMILY ROOM
Another popular spot in the home is of course the family room – another space that should always be warm and welcoming. Update the sofa pillows for an instant and inexpensive facelift. Maybe the art in the room doesn't speak to you anymore, or isn't providing the fresh, summery vibe you're envisioning for the season. Replacing existing art with something new can definitely bring a whole new look to the space. Don't forget about personal family pictures. Seeing recent pictures of loved ones can brighten your mood as well. Maybe your accessories have been around for way too long. Replace a few with a ones in a new popular color that coordinates with your space. And again, incorporate some flowers and greens from your garden for added color and dimension. Ta da – with these simple tweaks, the whole space has been transformed.
THE BEDROOM
After a long day at work, who doesn't want to come home and relax in a safe haven? Your bedroom should be the perfect place to unwind from a hectic day. How long has it been since you bought new linens? A nice set of sheets can instantly bring desired relaxation to fruition. Or maybe it's time for an entirely new comforter set. This update alone can renew and refresh this room. Adding some flowers and updated accessories will easily breathe new life into this space again. A new coat of paint in a new, calming color may upgrade the space to a whole new level, helping to turn this space from just a place to sleep to a soothing, peaceful retreat right inside your own home.
THE BATH
When it comes to redecorating, we often tend to forget the bathroom – whether it's the master bath, the kids' bathroom, or the guest powder room, this important space shouldn't be overlooked. Update towels with ones of a fresh hue. And just like with the other rooms I've discussed, adding fresh flowers will integrate summer's colors into the space. Rugs can also bring an entire new look to this room by adding color and texture. Display some new soaps or essential oils for a fresh smell that is pleasing, but not overpowering.
THE OUTDOOR LIVING AREA
Outdoor spaces are used more than ever during the summer months. Paint that dull or rusty outdoor furniture for an updated look. Go bright and cheery with new colorful pillows. Lightweight drapes on a porch can add softness to the space. Plants and flowers alone can transform a porch, patio, or deck. To ward off mosquitos, choose plants that do double duty – for instance, lavender, rosemary, basil, lemon balm, peppermint, and citronella not only smell nice, they also ward off those pesky pests. And of course, the herbs you grow can be used in the kitchen for scrumptious summer fare.
These quick, simple tweaks will give you a fresh new outlook on your home – not only this summer, but any time you feel like tackling a redecorating task. Cheers to your fresh, newly updated spaces – may they bring a smile to everyone who enters.
Rhonda Benvie
The owner of Help Me Rhonda Interiors and Open Door Furniture & Accents, a furniture and accessories store, in Wake Forest. Visit www.helpmerhondainteriors.com or www.opendoorfurnitureandaccents.com, or call 919-263-9054.