Simple Summer Decorating Ideas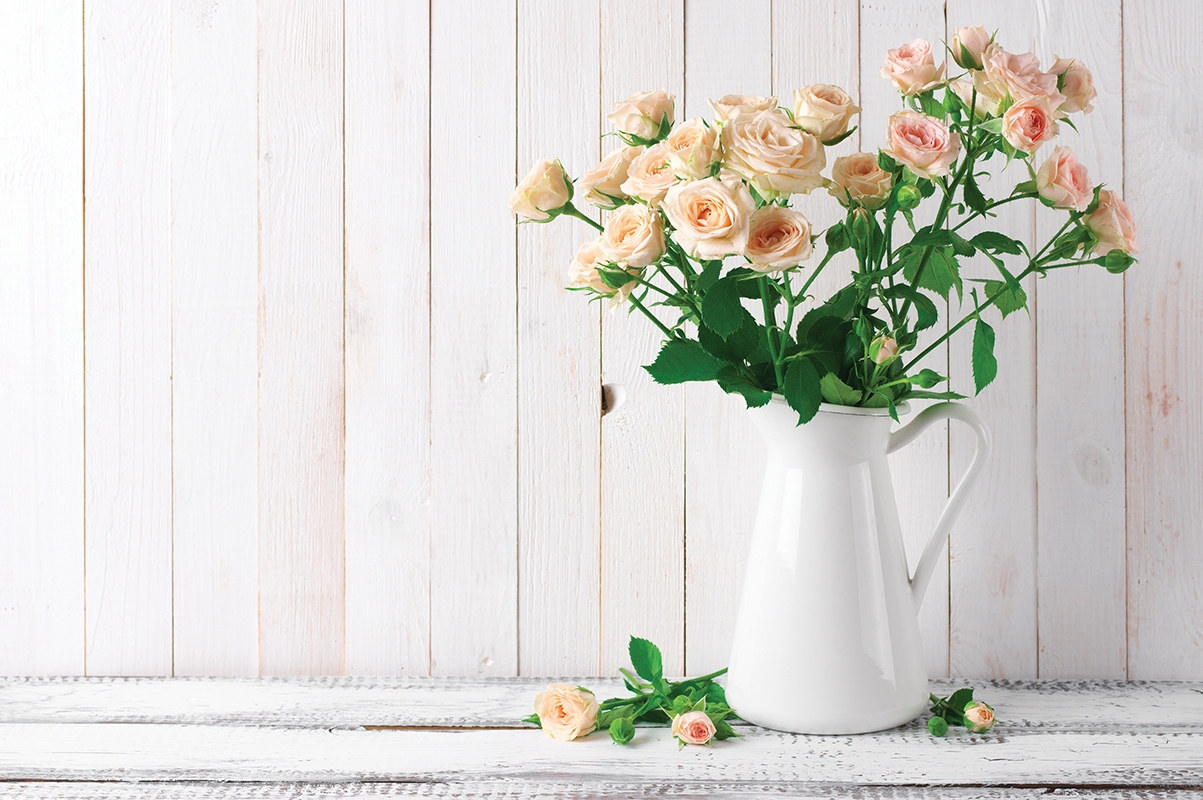 Knowing that we are going to be spending a great deal of time outside during the warm summer months, we often use this as an opportunity to freshen up our outdoor living spaces. However, summertime is also the perfect time to tweak your interior living spaces as well. The summer season gives us a chance to tackle some quick and inexpensive interior decorating tasks that will liven up our homes. Yes, the sun is shining and our moods are lifted with that extra dose of Vitamin D ... it's time for our living space to be sunny too. So here are a few ideas for some easy breezy summer décor.
– Florals. This is a huge trend right now. Bold and bright florals can be incorporated on your wall with a fresh new piece of artwork. Wallpapering an accent wall in huge bright florals may just be what your space is craving. If that is too much of a commitment for you, then simply toss a few pillows in the trendy floral patterns on your sofa, recliner, or bed. Remember, a little goes a long way and makes a bold statement.
– Mixing of Metals. An easy facelift for your kitchen or bathroom can be achieved by changing the cabinet knobs or pulls to a complementary metal rather than a matching one. For example, if your faucet and light fixture are brushed nickel, then change the knobs or pulls to black or oil-rubbed bronze, making sure their lines/style match the lines/style of the faucet and light fixture. Metal mixing gives interest to any space. Brass, gold, and nickel mix well with oil rubbed bronze and aged iron. Silver and pewter mix well with bronze and black as well. Get creative!
– Paint Trim. Update a few of your favorite rooms with trim paint. Maybe you have stained trim ... paint it white for an instant pop of brightness. Perhaps you already have white trim everywhere and you want a splash of color. Paint the door of a room a complementary color to the room's décor. Painting is an inexpensive way to create a huge impact.
– Paint Walls. 2019's paint trend is all things bold. Pick an accent wall and go crazy. The colors of the year are mustard yellow, pinks, teal, indigo blue, and feminine tones. Incorporate these colors into your space for an instant transformation. Choose one that already coordinates with your space. If your furniture is neutral, splurge on some new pillows in the colors that are appealing to you and paint a wall in a coordinating hue for an immediate wow factor.
– Tile Backsplash. Does your kitchen need a makeover? A new tile backsplash could be all you need to bring it to life. The hot trend is bold and patterned. Bold can mean anything from a vibrant color to a tile that is full of texture. Moroccan-inspired patterned tiles are hot on the trend radar – they look best with countertops that have very little movement and pattern (otherwise, they tend to compete with each other). Mix a new backsplash with new knobs and you may think you are in a whole new house!
– Fresh Flowers. Bringing the outside in is always a decorating staple, but never more so than during summer when it's often too hot here in North Carolina to actually enjoy the outdoors. This season offers an ample array of colorful flowers and greenery that have texture galore. Ceramic jugs and vases in varying colors and finishes will showcase these blooms just beautifully. Don't worry if you're not a great flower arranger – simply cut them in varying heights to mimic nature and display in any space in your home (their fresh, summery scent is an added bonus).
– Vacation Envy. Do you love our state's beautiful beaches or majestic mountains? Or maybe Europe or Asia is where you want to go. If an escape to one of these destinations isn't in the cards (or even if it is!), why not bring a little of that locale into your home for the summer? Find and frame a vintage map of your favorite spot. Remember those pictures from the best vacation ever by getting them printed on canvas as a keepsake of the great experience. All of these can become fabulous artwork when hung on a wall, placed on the mantel, displayed in a bookshelf, etc.
– Accessories. Replace a few older accessories with new ones to bring in some of the colors you are adding to your space. Think textures, colors, and items that speak to you. Colorful hardback books are an inexpensive way to introduce texture and tints. Turn the book around to see the pages instead of the binding, or rip the binding off for even more texture. Go a little further and show the distressed book a little DIY love by writing your favorite quote on it. Little tweaks go a long way.
No matter how you decide to update your indoor space for the summer, do at least one thing to brighten it up. It could be as easy as picking fresh flowers out of your yard and proudly displaying them on your kitchen counter. Or you may decide to go all out and redo that kitchen backsplash. Regardless, make sure you love it ... it is your home, after all. But if you're looking for more ideas and inspiration, then perhaps a brief consultation with an interior designer is something to consider. Happy summer decorating!
Rhonda Benvie Plummer
The owner of Help Me Rhonda Interiors and Open Door Furniture & Accents, a furniture and accessories store, in Wake Forest. Visit www.helpmerhondainteriors.com or www.opendoorfurnitureandaccents.com, or call 919-263-9054.