Simple Spring Suppers
With Seasonal Ingredients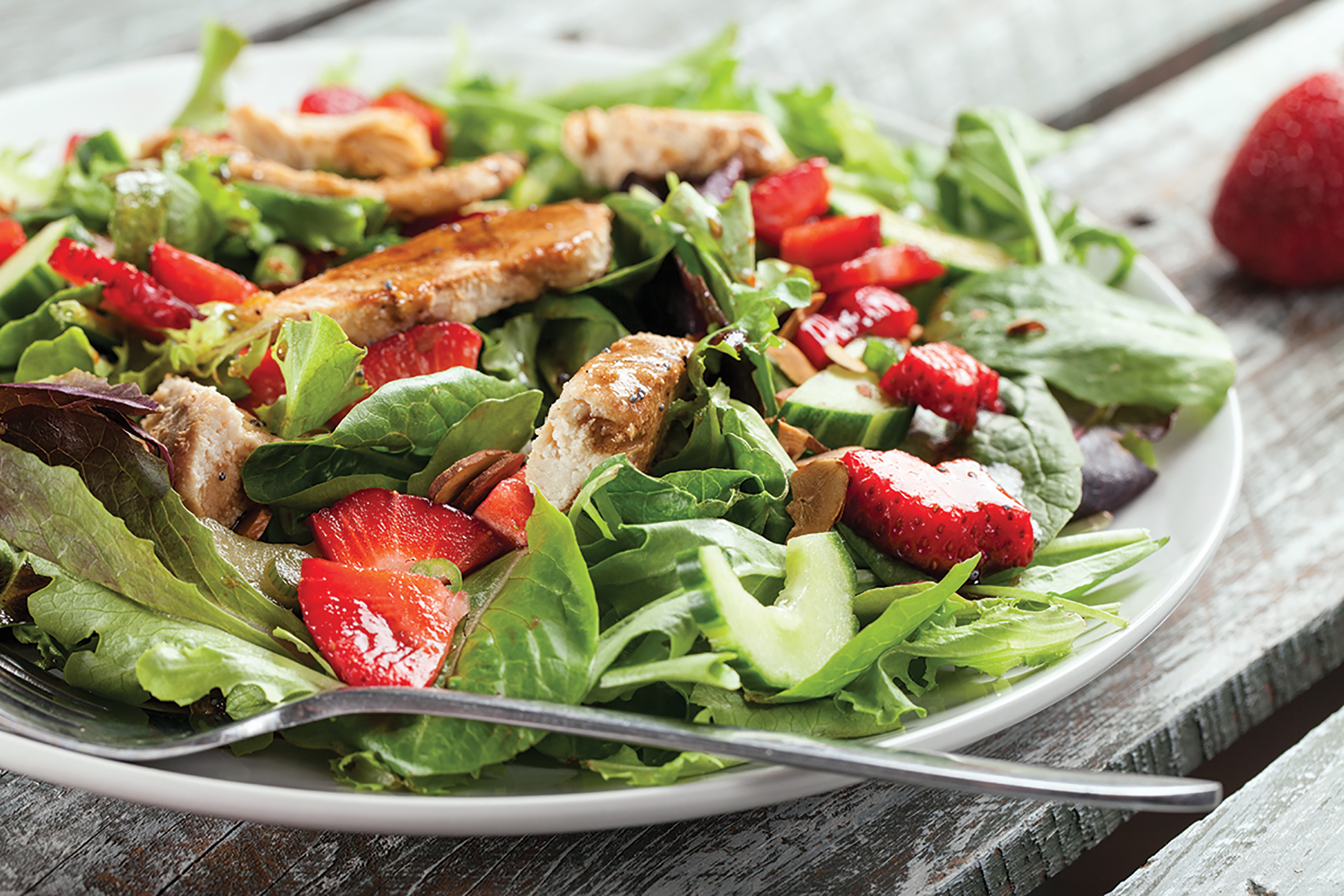 Happy spring! Thankfully we have shaken off the chill of winter and are now embracing the warmer weather that is finally here to stay. Just because we are moving away from those heavy dishes we craved during the colder months, it doesn't mean we have to say goodbye to our favorite easy cool-weather mainstays like pastas and soups. Easy meals can still be a staple in your kitchen now that it's time to transition your dinner routine from winter to spring.
In addition to lots of sunshine, warmer temps, and longer days, this time of year also welcomes an abundance of fresh vegetables, fruits, herbs, and leafy greens that can really brighten up your culinary repertoire. I highly encourage you to visit local farmers markets and buy a bounty – not only are they a healthful addition to any meal, they also add flavor and texture to your plate and brighten any dish. What a great way to celebrate all that spring represents!
If you are looking for a lighter fare pasta to enjoy this time of year, reach for a box of orzo. This rice-shaped option is perfect for springtime stars like fresh asparagus, sweet baby peas, or pan-roasted tomatoes. Whip up a simple pesto incorporating your favorite herbs combined with a little olive oil and garlic. Feel free to add a splash of white wine or swirl in a bit of cream if you are feeling indulgent. Top with a handful of shaved parmesan or romano cheese – serve alongside a salad and maybe a crusty ciabatta bread and you have a satisfying and healthy meal in a matter of minutes.
Gnocchi is another great springtime option – especially if you are following a gluten-free diet. When preparing it for my family, I love to sauté a little bacon with onions, garlic, and spinach in a good olive oil, then add the gnocchi and a little half-and-half or heavy cream, simmering until the gnocchi is warmed through. Take it up another notch by sprinkling your favorite cheese on top … so good!
Feeling a little spicy this spring? Cilantro lime chicken or carne asada pork are ideal ingredients for an amazing southwest burrito bowl, a topping for nachos, or a filling for tortillas or lettuce wraps (all perfect for that Cinco de Mayo party). Top your favorite flatbread with a handful of baby greens, grilled chicken, sausage, fresh tomatoes, garlic, and herbs – drizzle with a little olive oil and crumble your cheese of choice for a sophisticated pizza. Cook extra sausage and meats to have on hand – they are great the second time around as a stuffing for bell peppers or added to an entrée dinner salad. They also make yummy paninis for a quick meal on the go.
Roasted chicken is a staple in my kitchen throughout the year, and spring is no exception. The season provides the perfect opportunity to incorporate fresh leafy greens into my culinary creations – do a quick sauté and serve them alongside the chicken for a quickly-prepped yet delicious and healthy dinner, or for lighter fare, serve the chicken atop a bed of lettuce or spinach, and top with your favorite fresh fruits and veggies. For a leafy green twist, consider fresh leeks – sauté them in a little olive oil until soft and fragrant. Add a handful of kale and simmer for a few minutes until the kale is bright green and just wilted. Pour a splash of chicken broth in the pan and you will be rewarded with a lovely light spring stew. Serve in a bowl topped with the chicken and accompany with a little bread to mop up the aromatic broth. Fresh herbs and pan-roasted tomatoes add a colorful and tasty finish.
Many grocery stores are tapping into the busy cook market by offering pre-marinated meats and seafoods – a huge timesaver for those of us with hectic schedules but who still want to enjoy delicious meals. Tasty new flavors of chicken and pork sausages are popping up, along with appetizing ingredients like apples and fresh herbs. Robustly flavored marinades for steak and chicken welcome bold flavor with little effort on your part. Flavors like Jamaican jerk and Korean barbecue are just the beginning. With the addition of pre-cut and prepped veggies and greens, you have everything you need to put together a delectable meal in no time.
Easy meals, especially those prepped with fresh seasonal ingredients, are the perfect way to end the day. With just a little planning, you can get in and out of the kitchen in the blink of an eye, and outside to enjoy this beautiful spring weather we've all been craving.
Stacey Moritz
Owner of The Lemon Tree Cafe, located at 113 S. White St. in Downtown Wake Forest, offering freshly prepared salads, pastas, soups, and take-away fare.