"Shrimply" Delicious
The Succulent Seafood Boil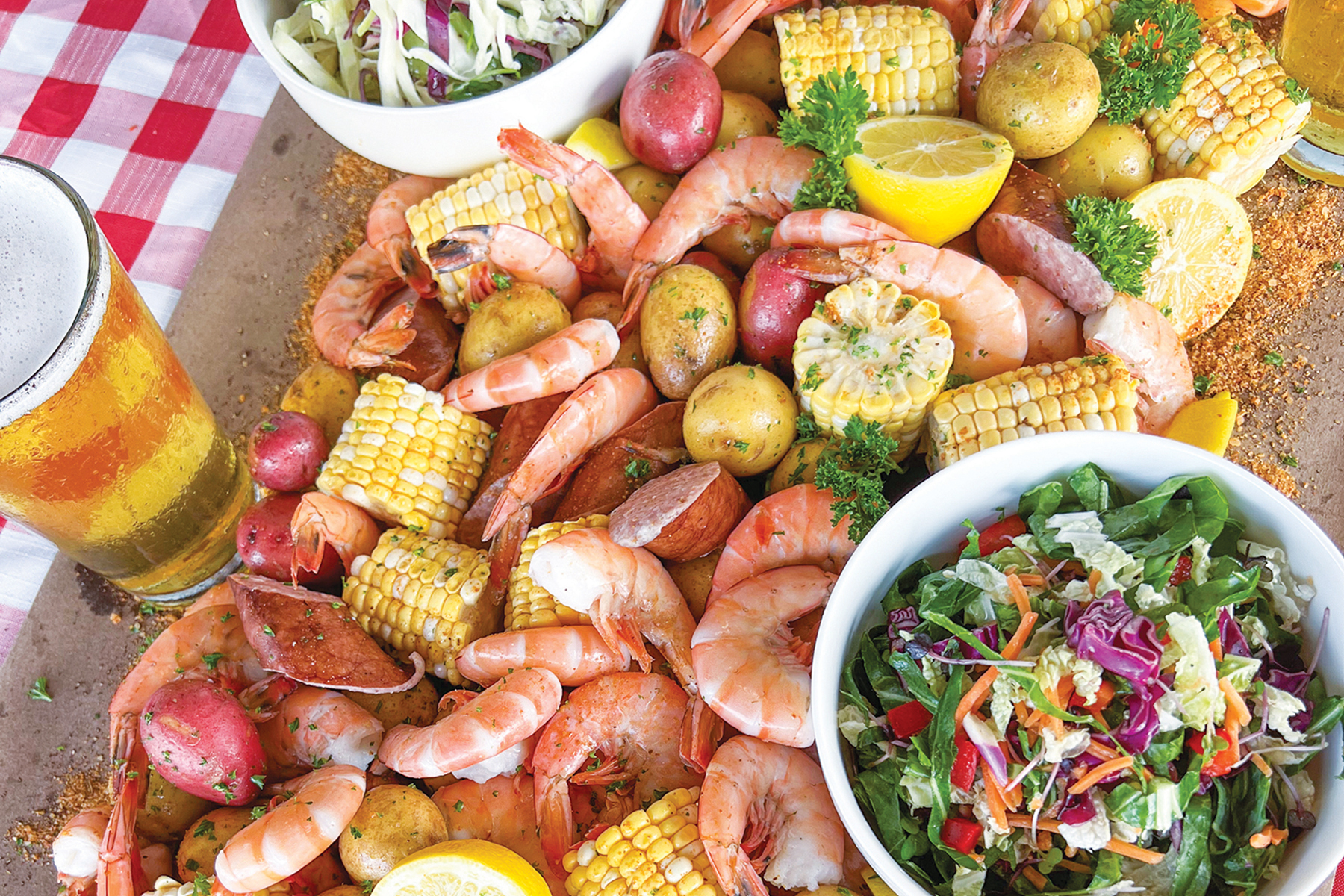 Summertime brings family and friends together to commemorate graduations, holidays, and weddings. What better way to celebrate these occasions than the iconic seafood boil? This summertime tradition pairs some of the best parts of summer: delicious seafood, warm weather, and the beautiful outdoors. Whether big or small, on the beach or in your backyard, the seafood boil is the perfect festive fare.
The name "seafood boil" is a generic term for the type of meal served at events where the seafood is the primary dish. However, boils vary across parts of America depending on the seafood, the seasonings used, the way the seafood is prepared, and the types of side dishes that accompany them. Here are examples of what is typically included in various regional boils:
– Louisiana and the Southern Gulf region of the United States traditionally include shrimp, crab, and crawfish, and may include crab boil seasoning packets that contain cayenne pepper, hot sauce, salt, lemon, and bay leaves.
– Our northern friends in New England prefer the clambake route ... clams, corn, potatoes, sausage, and beer for boiling. It wouldn't be a shock to see lobster show up in a New England boil.
– Here in the South, the traditional seafood boil consists of boiled shrimp, sausage, corn, and potatoes, all seasoned to perfection using a seasoning such as Old Bay for added zest.
Tailor your boil to your tastes. You can kick it up a notch or add whatever you desire – if you crave clams or love lobster, go ahead and toss them in! For added flavor, use beer instead of water, or different types of seasoning. When it comes to boils, the elements are always the same – delicious seafood, the beautiful outdoors, and time spent with great people … the ingredients are up to you.
Summer can also be a great excuse just to get together and have a good time! If you choose to do so, you can turn your backyard into the perfect party destination for celebrations or just share your love for the seafood boil with friends, family, and neighbors. While a seafood boil is easy, sometimes throwing a party isn't quite as stress-free. Here are some tips to take the stress out of planning a gathering including a few practices on how to keep yourself relaxed and engaged throughout the event, and some easy touches to help make your boil the best backyard party it can be.
Cooking and Clean-up
Not only is it delicious, but the seafood boil is also easy to cook – all you need is a large pot of hot, boiling water. It's also fun to eat, with minimal clean up too! The traditional way to serve is to cover a table with newspaper or craft paper, then simply strain and pour out the seafood and veggies directly onto the table, and guests can dive right in. After everyone has eaten to their hearts' (and bellies') content, gather up any leftovers, collect all the scraps in the center, roll up the paper around them, and throw them away. Other than washing the pot, your cleanup is done. Another reason why the seafood boil is the perfect party cuisine!
If you want to sit back and just enjoy the boil with everyone else, you can always have it catered. Having someone else come in and lighten the load gives you a lot more time to relax before the event.
On the Side
When it comes to the menu, of course, the seafood is the star. However, delicious sides will elevate your menu even more. A staple that is sure to please all palates is summer slaw (check out the article on page 10 for ideas and inspiration). Veggie dishes, cornbread, hush puppies, and pasta salad are great options as well. Refreshing desserts like lemon bars or fruit kabobs are sweet accompaniments to perfectly top off the event.
Decorations
As for the party décor, using the festive items you already have on hand makes the decorating process quick and easy. Flowers fresh from your garden displayed in mason jars are a simple DIY decoration. Write guests' names on lemons with a permanent marker for place cards if you're planning on a seated meal. Their vibrant splash of color looks great on a summer tablescape. Make a playlist of your favorite beach tunes for a vacation vibe, or get one of your favorite Pandora or Spotify stations ready to play throughout the party. String twinkling lights around trees or wrap around fence posts, or hang globe lights above your outdoor dining area – not only will they help illuminate your space as the sun goes down, but their beautiful effect will elevate your ambience.
No matter how you go about your seafood boil, do not hesitate to get creative with the ingredients, side dishes, or decorations. What is most important is that you get to spend quality time with friends and family, whether celebrating a big event or just enjoying one another's company.
Photo courtesy of Natasha Gentile-Leshchiner, owner of Femme Fromage (@Femmefromagenc).
Bridget Dutton
She and her husband Bracy are the owners of Fishin' Shrimp, bringing fried and steamed seafood specialties to the area via their food truck, seafood boils, and party platters. For great seafood (that you don't have to cook yourself), follow Fishin' Shrimp on Facebook and Instagram @fishinshrimp and visit fishinshrimp.com.