Show Some Love
Anti-Littering Campaign Aims At Keeping Wake Forest Clean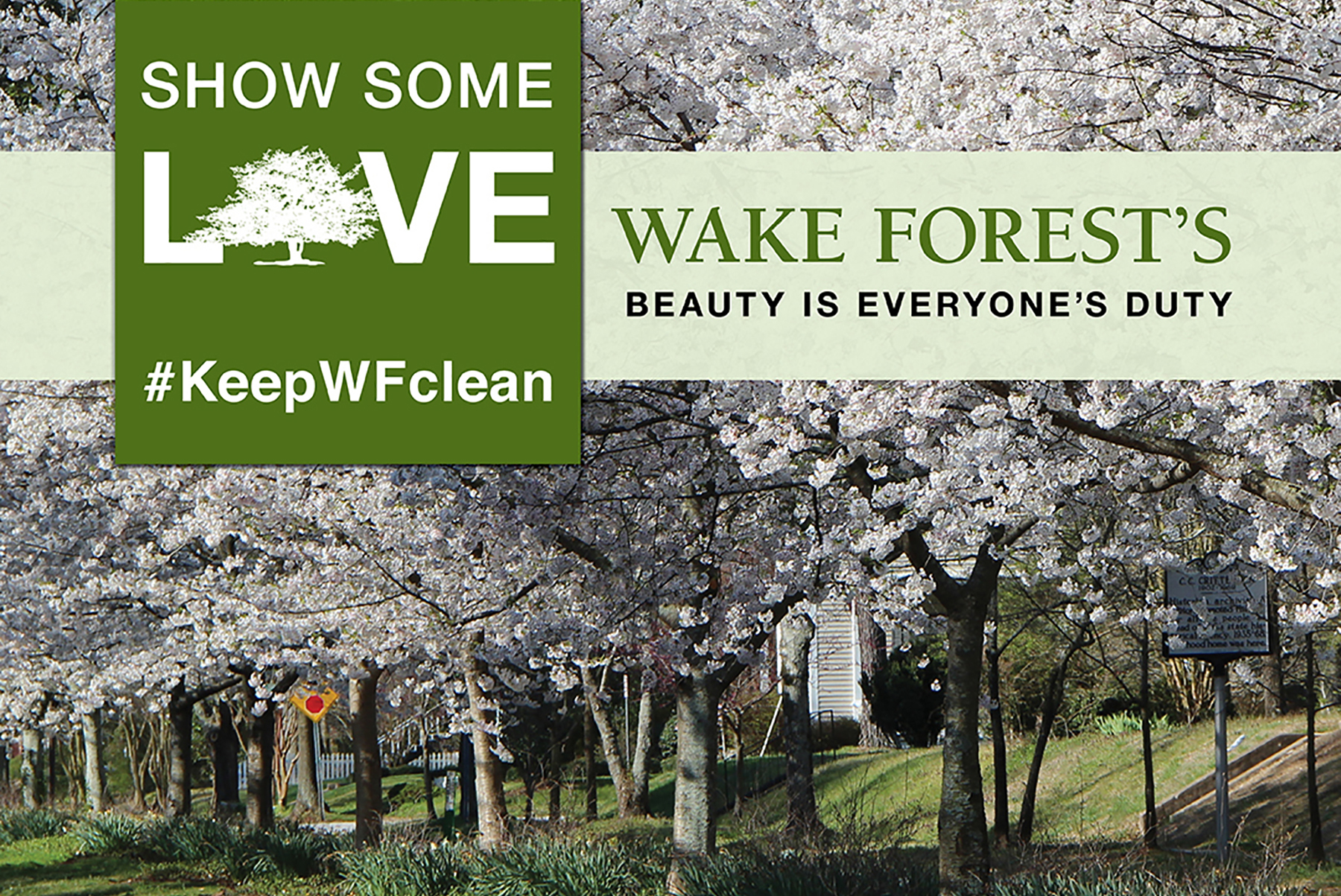 Wake Forest is a wonderful community to live, work, play, and visit. We have so much to be proud of, but like many communities across America, litter can be found along many of our streets and highways.
In response to this issue, the Town of Wake Forest has launched a comprehensive anti-littering campaign aimed at eliminating unsightly trash along roadways, in neighborhoods, and in other parts of our community. Entitled "Show Some Love, #KeepWFclean," the initiative focuses on education, awareness, and enforcement, while encouraging residents, businesses, neighborhoods, and community organizations to take action to ensure that litter finds its rightful place. The campaign emphasizes the message that litter is not only unsightly, it is also a costly problem that can be only be addressed with behavioral changes at the community and individual levels.
"We have all noticed the significant increase in litter around town," said Wake Forest Mayor Vivian Jones. "We are asking all Wake Forest residents to take a renewed pride in our community by properly disposing of their trash and securing their truckloads."
The "Show Some Love" campaign features the logo below and the hashtag #KeepWFclean that is being used in a range of promotional materials, public service announcements, and on social media. The "Show Some Love" logo appears on Town email signatures, posters, yard signs, banners, vehicles, and other areas throughout the community.
Residents are strongly encouraged to do their part to eliminate litter by putting trash in its proper place. And, if you see a friend or family member litter, politely remind them that trash only belongs in a recycling bin or trash can.
Join the fight against litter!
Residents and business owners can help the Town of Wake Forest create awareness about the "Show Some Love, #KeepWFclean" initiative by displaying a yard sign, car magnet, or proud supporter window decal at their place of business or on their vehicle. All items are available for contactless pickup in the lobby of Town Hall, 301 S. Brooks Street.
As a part of the campaign, the Town of Wake Forest is also inviting individuals and families to join in by picking up trash in their neighborhoods and along local streets and roadways. Designed to encourage maximum public participation, the initiative allows volunteers to pick up litter on a one-time or ongoing basis. Participants may also choose the area they wish to clean or request direction to high-need areas around town.
To aid the effort, volunteers may reserve one or more litter kits at no charge by completing the online form at wakeforestnc.gov/keep-wf-clean. Each litter kit includes reflective vests, gloves, buckets, grabbers, trash bags, data collection sheets, hand sanitizer, and litter education materials. A special thank you to B&W Hardware for sponsoring the litter kits.
Once reserved, litter kits may be picked up at the Public Works Operations Center located at 234 Friendship Chapel Road, Monday - Friday, between 7:00 AM and 3:30 PM, and must be returned within one week, unless otherwise requested.
Due to COVID-19 and out of concern for public safety, the Town is currently limiting participation in the roadside cleanup program to individuals and families. Once state restrictions are lifted, the invitation to participate will be extended to schools, churches, civic groups, and community organizations.
Secure your Load
One of the main issues the campaign will tackle is confronting unsecure truckloads. In North Carolina, half of the litter along state highways is blown – not thrown – from uncovered trucks. Debris that is tossed or falls from your vehicle becomes a safety hazard to other drivers. Make sure your loads are secure and that no loose trash can fly out of your open window or your truck bed. Littering is a violation of state law that the Highway Patrol takes seriously.
The Town wants residents to know both private and commercial drivers are responsible for anything that is blown from the uncovered bed of their pickup trucks. Penalties for littering include up to a $2,000 fine, community service work, and one point on a motorist's driver license upon conviction.
To secure your load:
– Tie it down using rope, netting, straps, or chains. Securely fasten large items directly to your vehicle. Make sure that any covering is securely tied down.
– Put lighter items lower and place heavier items on top to help keep them in place and secure the heavy items directly to your vehicle.
– Cover your load with a tarp. Doing so and then securely fastening the tarp to the vehicle is a good way to ensure that your load is secure.
– Don't overload your vehicle.
– Double-check that your load is secure.
Learn More
For more information about "Show Some Love, #KeepWFclean," including opportunities to join the fight against litter, visit wakeforestnc.gov/keep-wf-clean. You may also contact Sustainability Coordinator Jeanette Johnson at 919-435-9585 or jjohnson@wakeforestnc.gov.
Town of Wake Forest
To learn more about town events, sponsorship opportunities and how you can get involved, contact Amanda Cochrane.