Salsabilities
The Possibilities For Springtime Salsas Are Endless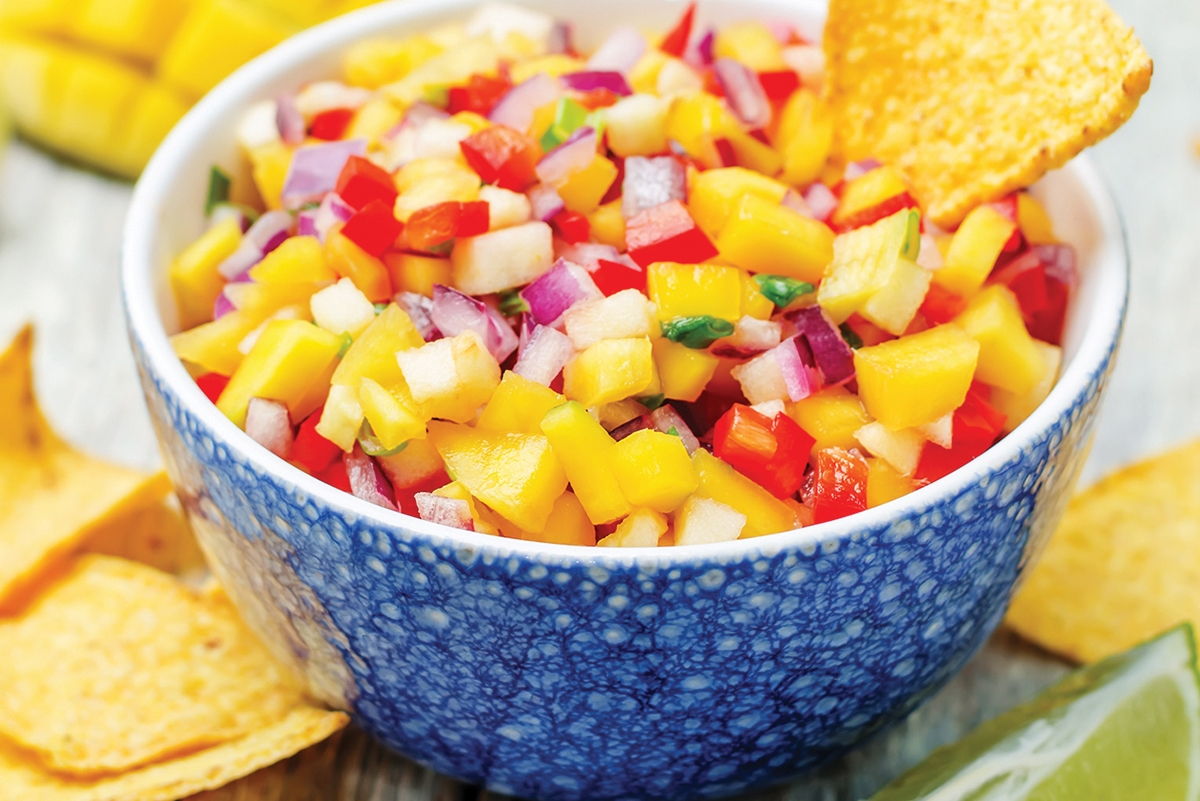 With the winter chill now just a memory, the prospect of visiting roadside farm stands and produce aisles bursting with fresh fruits and vegetables gets me excited to start cooking a whole new way. Hearty, cold-weather soups and stews have been replaced with lighter entrees and tasty salads as we inch toward summer. Bathing suit season aside, spring just begs us to lighten up a bit and focus on fresh and healthy eating.
With so many fresh choices readily available, deciding what to serve your family on a warm, spring evening might seem a bit overwhelming. But it doesn't have to be … in fact, incorporating fresh fruits and vegetables into your favorite meals – and in the process, adding tons of flavor and pizzazz – is easier than you may think. How, you ask? In one word – salsa! The "salsabilities" are endless …
Fresh salsa offers a taste sensation that can elevate just about any meal because it is not only delicious, but also a beautiful addition to your plate. The best thing about salsa is that you can use whatever fresh fruits, vegetables, and herbs you have on hand to create something fantastic with just a few ingredients. A grilled chicken breast or seared fish fillet is transformed with the addition of a colorful salsa that can either cool you down or heat you up.
Salsa is also great for entertaining. While we all know it's a tortilla chip's best friend, salsa is also delicious atop toasted baguette rounds, sliced jicama, or fried wontons. The limitless possibilities of your imagination can make creating different salsas so much fun, and are perfect for combining fruits and vegetables in ways you wouldn't have thought of before.
Tomato-based salsas are always popular, but cilantro and onions aren't the only way to prepare them. While some might prefer to puree their salsas like those you'll likely find in your favorite Mexican restaurant, I prefer to hand chop the ingredients to provide texture and visual appeal, making them more versatile. For an Italian-inspired bruschetta, combine chopped fresh tomatoes, basil, minced garlic, and crumbled blue cheese. Serve on toasted bread for a delicious appetizer. To make it a meal, add some toasted walnuts and toss with cooked linguine and a bit of olive oil – a tasty pasta dish that is perfect for a warm, spring evening. This creation is also a tasty topping for flatbread pizzas. For a Mediterranean flair, pair tomatoes with feta cheese, Kalamata olives, chopped artichoke hearts, and fresh oregano – simply delicious when served with pita chips. Add some chickpeas and toss with a bit of olive oil and pasta for a fantastic and protein-rich entrée.
While I love all sorts of salsa, fruit salsas are probably my favorite to make. They are deliciously different and very versatile. Not only do they make great accompaniments to chicken and fish, they can also elevate a springtime salad to new heights. Whatever your preferred fruit may be, you can concoct a scrumptious salsa. You can also combine fruits with vegetables to add texture and flavor. Mangos and strawberries, mixed with diced cucumber, cilantro, jalapeños, and a splash of lime juice are the perfect ingredients for a yummy salsa that is delectable on everything from blue corn tortilla chips to fish tacos. Make a salad by tossing grilled chicken, canned black beans, and red onions over lettuce. Add your mango salsa and a light vinaigrette for a beautiful and healthy meal. Spicy dishes like blackened fish or chipotle chicken call for a cooling component, and a fruity salsa is the perfect accompaniment to tame the heat. Other suggested fruits for salsas include fresh pineapple, honeydew melon, and papaya.
Salsas are also great additions to your appetizer repertoire. A trio of different versions can be the centerpiece of your hors d'oeuvre table. Grilled chicken bites and shrimp or a variety of chips – such as tortilla, fried plantains, or sweet potatoes – are all excellent snacky salsa dippers. Uplift your next cheese course by offering baked brie with fresh berry salsa or a spicy peach version served over goat cheese. Quesadillas filled with your favorite cheese are great complements to your favorite sweet or spicy salsa. You can garnish just about any dish with a dollop of your favorite creation – cold summer soups, grilled turkey burgers, pizzas, salads, and even desserts! Just think about it … a scoop of vanilla ice cream drizzled with a sweet grilled pineapple salsa and studded with fresh strawberries or kiwi. Is your mouth watering yet?
The best part of salsa-making in the warm weather seasons is that you don't need to fire up the stove. So this spring, stop by the farmers market or your local grocer and see what unique combinations you can create to kick things up a notch. With the seemingly limitless "salsabilities" available, I bet you'll come up with so many ways to enjoy your salsas that you don't even reach for that tortilla chip!
Stacey Moritz
Owner of The Lemon Tree Cafe, located at 113 S. White St. in Downtown Wake Forest, offering freshly prepared salads, pastas, soups, and take-away fare.