Pork Belly Burnt Ends
Smoky And Sweet Autumn Treats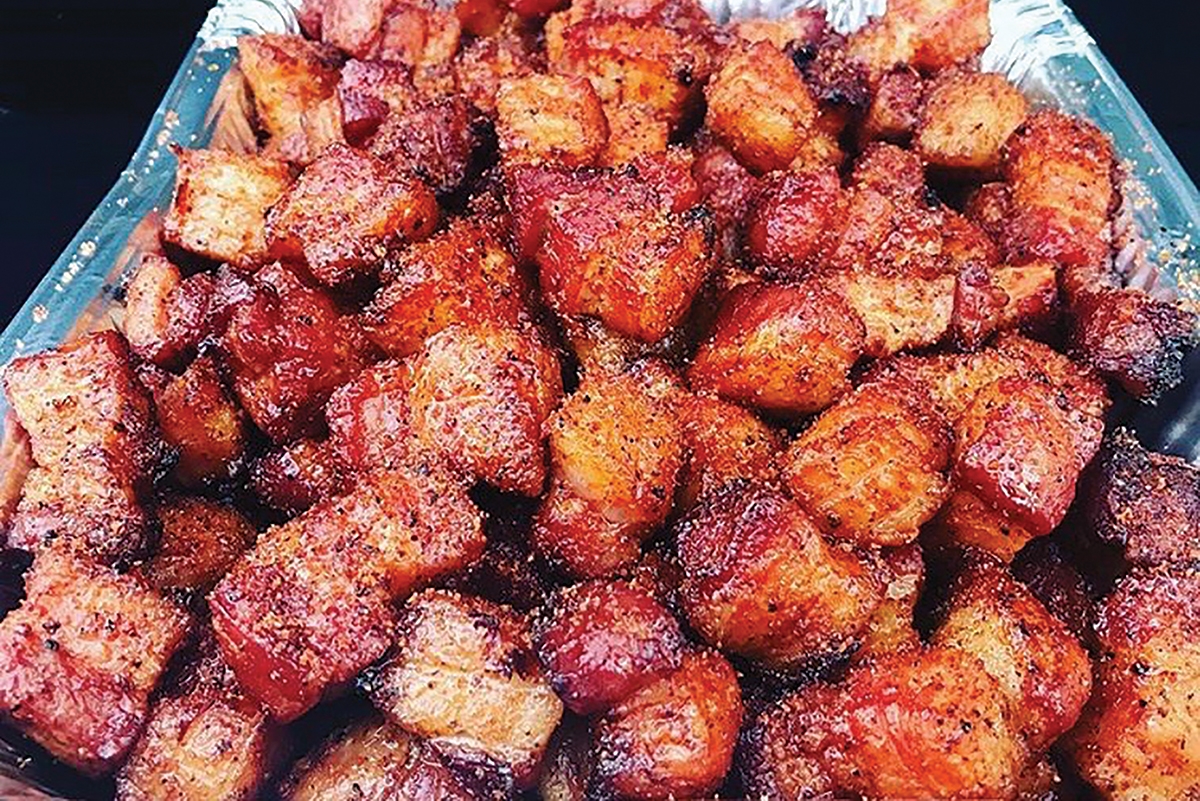 If you fancy yourself a grilling guru, you've probably heard of brisket burnt ends. These sweet nuggets of joy are cut from the point muscle on a whole brisket. There is no way to eat just one, and once you've started, it's hard to stop. But since brisket is a time-consuming and challenging cut of meat to cook, it isn't often that you can enjoy these delicious morsels.
Well, to fill the void, try pork belly burnt ends. Now, some of you may say "Pork belly, yuck!" But hold on … pork belly is simply uncured/unsmoked bacon. Even though they are easier to make than brisket and take a lot less time to cook, pork bellies are by no means inferior or a poor second. They are absolutely delicious and anyone can make them, even those with limited smoking/grilling experience. You do not have to own a smoker to achieve great results – the process can be done on your gas grill as well (see instructions at the end of this article). So this fall, give pork belly burnt ends a whirl as an adder to other smoked or grilled meats you plan to serve. They also make a perfectly appetizing tailgating treat or a mouthwatering holiday snack – guaranteed, your guests will love them.
When purchasing pork belly, keep in mind that sizes will vary, but one approximately 15" X 12" will be plenty for appetizers at a good size gathering.
PORK BELLY BURNT ENDS
– Pork belly slab
– 1/4 cup sweet seasoning
– 1/2 cup sweet barbecue sauce
– 1/4 cup brown sugar
– 1/4 cup honey
– 1/4 pound butter
– 1/4 cup apple juice
Cut pork belly into 1" pieces. Apply sweet seasonings, making sure all sides are coated evenly. Put chunks on a rack and place in the smoker (for gas grills, use the indirect cooking process described below). Cook at 275 degrees for approximately two hours, or until tender. Remove pieces from the rack and place in a pan. Add butter, brown sugar, honey, and apple juice. Cover and cook for another 11/2 hours. Move burnt ends into a clean pan and add the sweet barbecue sauce, tossing to coat. Return to the smoker/grill for 10-20 minutes to thicken the sauce.
To cook on a gas grill, add smoke by using wood chips, pellets, or a pellet tube. Light one or two burners to achieve a temperature of 275 degrees and place the meat over the unlit burner(s).
Joe Pino
Owner of GrillBillies Barbecue, with two area locations: 10012 Capital Blvd. in Wake Forest and 36 N. Pine St. in Wendell.