Pork BBQ ... It's Personal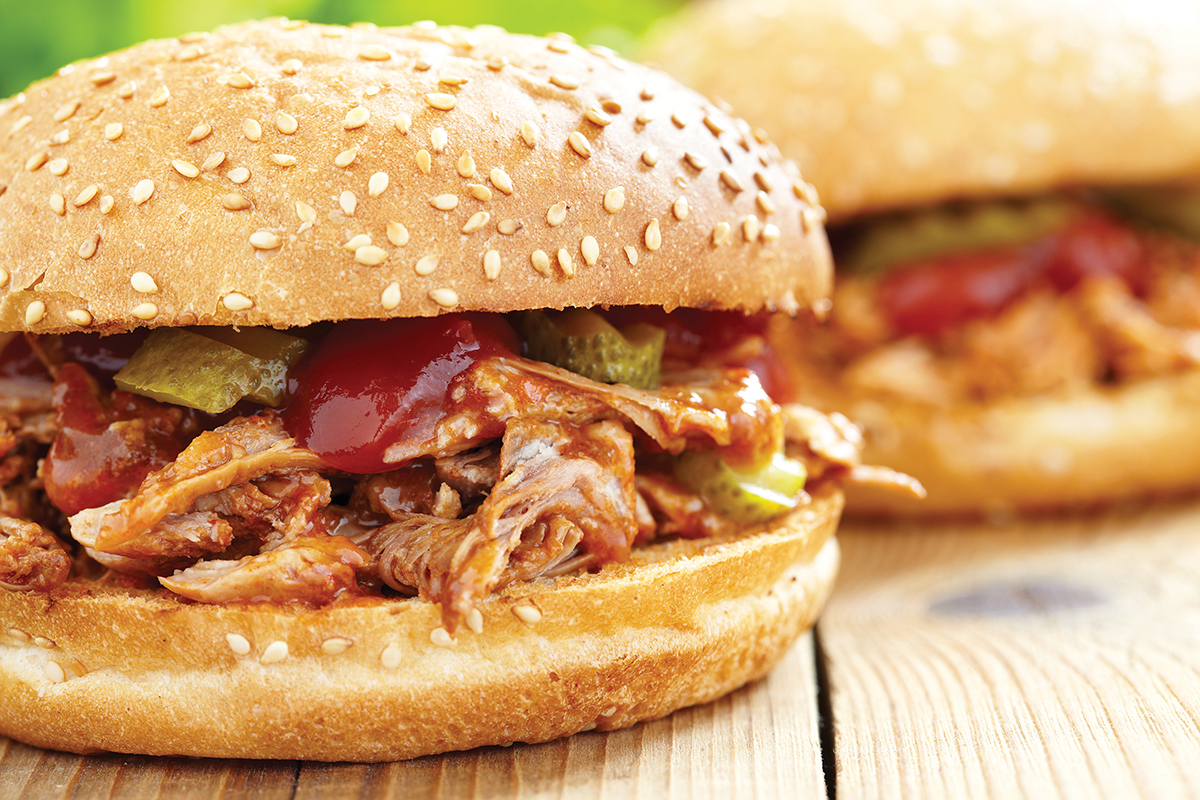 Warm temperatures and longer days mean more time spent outdoors with family and friends – especially in the form of backyard cookouts. So now that it's time for cookouts, we have to ask, "What should we cook?" My easy answer is pork BBQ – with buns, slaw, sauces, and a variety of scrumptious sides so everyone can fix their meals to their own personal tastes. And speaking of personal tastes, there are about as many opinions on pork BBQ as there are folks cooking it. My style is heavily influenced by that of Lexington, North Carolina.
To make your own, first, you'll need the right equipment – use a smoker, pellet, or kamado-type ceramic grill to ensure the right temperature and length of cooking time. Second, you'll need meat. In Lexington, you'd use an entire pork shoulder, but the Boston pork butt is a trimmed version available at most grocery stores and warehouse clubs around here. I season generously with a rub made of equal parts salt and black pepper, with just a bit of granulated onion and garlic. Season the meat ahead of time for a better result – a few hours is good; overnight is even better. Third, you'll need a smoke source. Hickory wood, natural lump hickory charcoal, or hickory pellets are good choices, depending upon your grilling equipment.
After preparing your equipment and meat, it's time to cook. Set your smoker or grill between 200 and 220 degrees F. Place the pork butt (fat side down) about 12-14 inches above the coals (if using a kamado-type grill; otherwise, refer to your manufacturer's recommendations). Keep the temperature in the above range for 11-12 hours. At around the ninth hour, begin occasionally checking the internal temperature with a meat thermometer. For succulent pulled pork, cook the pork butt until the internal temperature is 190 degrees F. Finally, wrap it in tinfoil and let rest in an insulated cooler or warm oven for at least 30 minutes before pulling/chopping.
While the pork rests, simmer up a Lexington style vinegar sauce – locally, it's known as "Dip" and is served hot. Here's a simple and delicious version to make and enjoy yourself:
– 4 ounces ketchup (Hunts is region-accurate)
– 3 ounces water
– 3 ounces cider vinegar
– 1 teaspoon salt
– 1 teaspoon black pepper
– Big pinch crushed red pepper flakes
Combine all ingredients and bring to a simmer. Cover BBQ with hot dip just before eating. Add slaw, buns, and side dishes of choice for a delicious meal.
Aside from my suggestions shared here, there are infinite ways to season, prepare, and serve this southern staple this spring. After all, BBQ is always personal in our home state of NC!
David Greenwell
Owner of The Forks Cafeteria, located at 339 S. Brooks St. in Downtown Wake Forest, offering classic Southern fare for lunch and dinner.