Playtime Is Back!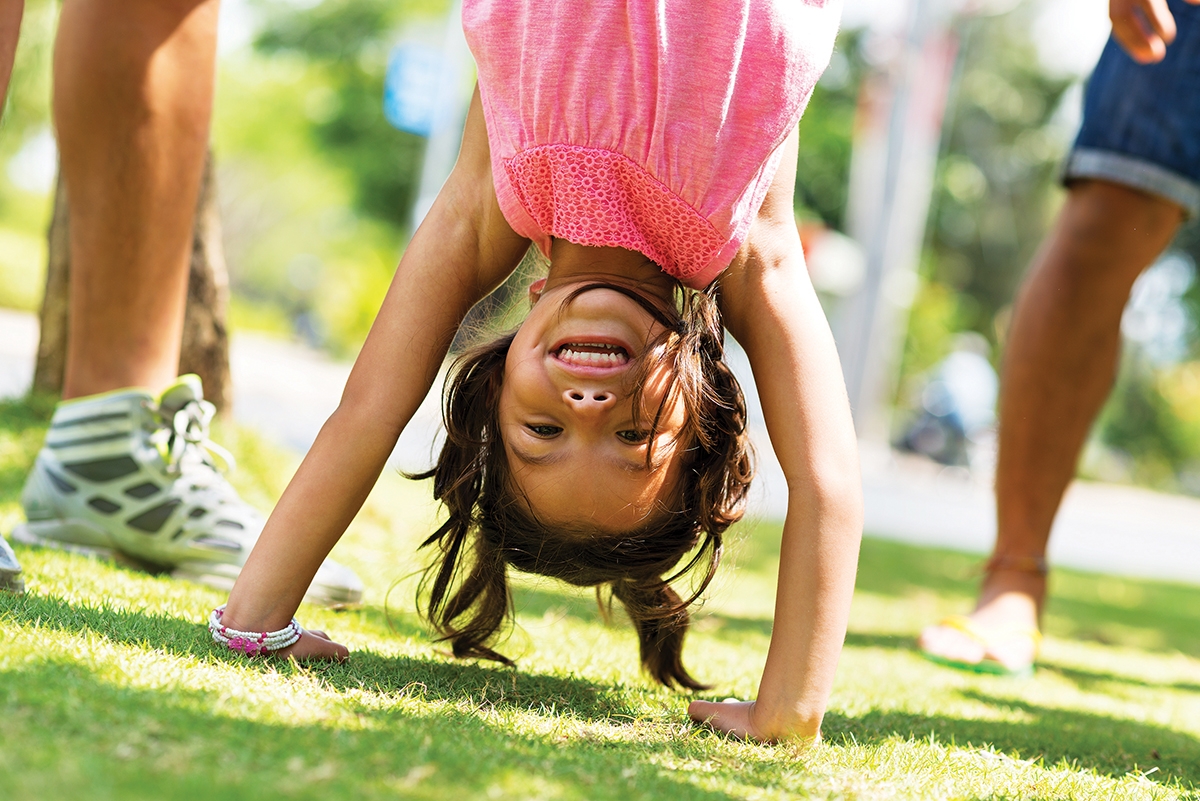 Slather on your sunscreen, break out your sunglasses, and grab those flip-flops. The days are sunnier and the temperatures are rising, so now you and your family are finally able to get outside. After months of cold and rain, you finally get the opportunity to enjoy your yard.
When I wrote this, the weather was still chilly and wet, and the dreary weather made it seem like spring was never going to get here. To predict when it would finally warm up, I opened up the Old Farmer's Almanac, the oldest continuously published almanac in the country. Believe it or not, this resource has been helping farmers since 1792! It also claims to have an 80% accuracy rate ... not bad for a weather forecast that's made 18 months in advance.
So what is the Triangle forecast? The prediction is that April and May will be warmer than normal – a good sign that you can count on some great days to get outside. The Old Farmer's Almanac also predicts that our summer won't be as unbearably hot as usual – also good news for outdoor activities.
As far as rain, the Almanac foresees higher than normal rainfall for the spring. In fact – sorry to be the bearer of bad news – but its forecast for May is seven inches more rain than average. That's great for lawns and gardens, and maybe even your water bill, but it could hamper some outdoor spring plans. Of course, it's best to keep an eye on shorter term forecasts when making plans.
Rain increases breeding opportunities for mosquitoes, so pay extra attention to water accumulation in your yard this season. Don't forget to "tip and toss" anywhere where water accumulates. It's best to do this within two to three days after a rainfall. Despite the wetter spring, the Old Farmer's Almanac forecasts that September and October will be drier than normal, with near-normal temperatures ... at least we have that to look forward to.
So now that we're confident better weather awaits, we should plan on taking advantage of more "play time." After seven years in a business where my primary mission is making outside fun again, I come loaded with ideas that will provide fun for the whole family – and you don't even have to leave the comfort of your own backyard.
– Take Me Out to the Ballgame: Baseball season is in full swing. Not able to make it to a Carolina Mudcats or Durham Bulls game? Why not turn your backyard into your very own ballfield? Whether it's a game of wiffleball, catch, softball, or a good ol' game of baseball, root for the home team – literally!
– Be Your Own Personal Picasso: A fun craft can make your outdoor space even prettier. Whether it's a handmade birdhouse, wind chime, or garden stone, a cute DIY project is a great way to let your creativity – and yard – shine.
– Lawn Games: Host a backyard somersault or cartwheel contest, or challenge your kids to a potato sack race. Badminton, croquet, corn hole, and bocce ball are perfect for the competitive people in your life. Turn the fun into a tournament by extending one game into a day-long affair. Prizes or small trophies will motivate everyone to play their best.
– Pack a Picnic: With all the playtime you and your family are enjoying, surely you'll need to recharge for lunch. Make your family's favorite sandwiches and pour some ice-cold lemonade for a quick, easy meal. Lay down a blanket, get comfortable, and leisurely enjoy a good ol' fashioned picnic together.
– Slip-N-Slide into Summer: Stay cool on a hot June day by setting up some water activities. Young ones will love to splash in the kiddie pool while a Slip-N-Slide guarantees a day full of water fun for the older kids. Setting up the sprinkler is not only fun for kids to jump through, but pets too!
– BBQ Boss: With extra summer daylight, you'll be able to man the grill and cookout for your friends and family while it's still light out. Hot dogs and hamburgers are warm weather dinner staples that will be sure to please. Lettuce, onions, relish, ketchup, and mustard are classic condiments. Serve up side dishes like fruit, chips and dip, mac and cheese, and potato salad to complete your backyard meal.
I know this is going to be a great time to play outside here in the Triangle, but as I unfortunately shared earlier, The Old Farmer's Almanac forecasts more rain. If that's indeed the case, here are a few suggestions for great indoor family fun.
– Create A Treasure Hunt: This is a really fun, yet easy, activity to help the whole family pass the time on those rainy days. The only thing you have to do is create a treasure list of things to find, and then the fun can begin.
– Throw a Tie-Dye Party: Tie-dye shirts are almost as American as apple pie. It's impossible to be sad while making or wearing your own colorful creation.
– Bake Up Some Sweet Treats: Most kids love to bake, and all kids love to eat sweets. If you don't have your own favorite recipes, just search online for ones that sound good – be sure to stock up on the ingredients ahead of time so you don't have to venture out in the rain.
Whether you're spending time inside on a rainy day or outside on a beautiful sunny one, I truly wish you a great spring.
Margarita Cohen
The owner of Mosquito Joe of Raleigh, Durham, and Chapel Hill, making "Outside Fun Again" with mosquito control treatments for residential and commercial customers. For more information or to schedule an appointment for treatment, call or visit their website.
Margarita Cohen is the owner of Mosquito Joe of Raleigh, Durham, and Chapel Hill, making "Outside Fun Again" with mosquito control treatments for residential and commercial customers. For more information, or to schedule a treatment, call or visit their website.