Outdoor Oasis
Top Trends To Create The Perfect Outdoor Living Space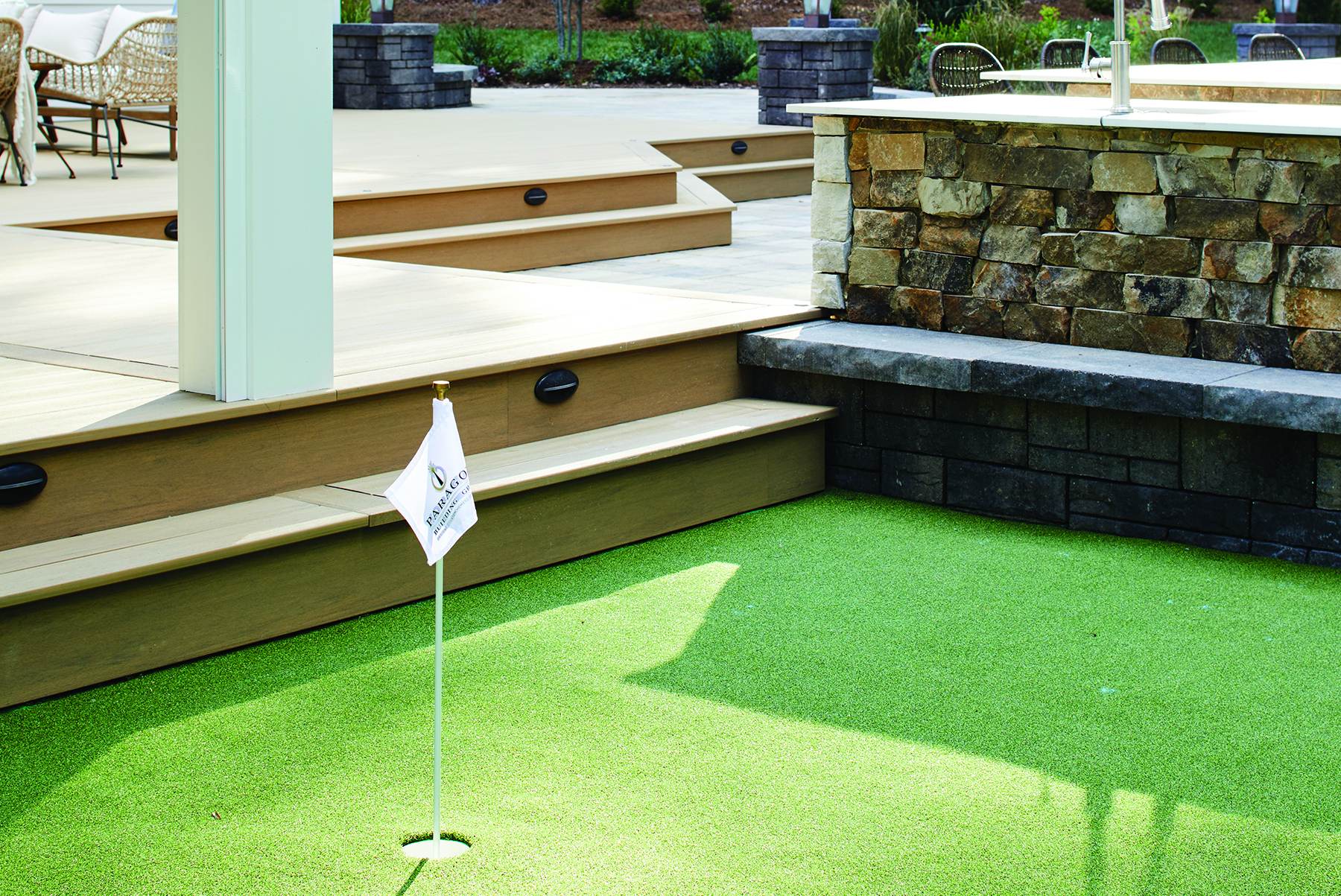 In the world of real estate, we often ask new buyer clients to create a list of their wants and needs for their new home. And these days, we often see outdoor living spaces on their list as a "need." For some, they simply want a little yard space to garden. Others need that space for their pets or a children's play area. Many look for space to entertain or enjoy recreational activities. Regardless of their "why," outdoor living spaces have become an increasingly popular item on people's real estate wish list that can make or break their decision to buy a home. And in 2023, following are the outdoor living trends expected to top many buyers list.
Merging Indoors and Outdoors
I talked to Scott Bartos, the lead designer for Paragon Building Group, and Halle Tischler of Wildflower Landscape Design & Drafting, and both named indoor-to-outdoor living as a big trend for 2023. According to Tischler, clients are looking to bring the outdoors in with the use of folding glass doors and extra-luxe, comfortable outdoor furniture. For his clients, Scott says many want screened-in porches that offer the opportunity to close them off for colder months. Personally, I'm seeing today's homebuyers include Phantom screens, fireplaces, and heaters on their outdoor living wish lists in order to allow them to maximize use and enjoyment of their outdoor spaces.
Resort-Style
Speaking of maximizing outdoor spaces … Tischler also pointed to resort-style backyards as a trend that exploded during the pandemic as people spent more time at home, and continues to be popular today. According to her, pool installations skyrocketed in 2020 and brought with them features such as outdoor kitchens and even pizza ovens. Yet as the world has returned to something resembling normal, people continue to spend more time at home. And so creating an outdoor living space with touches of luxury, comfort, and convenience remains highly sought-after. These days you may even find backyard spaces with your own personal putting green!
Return to Nature
You don't need a luxury-sized budget to incorporate another big trend for outdoor spaces. From trending colors to plant life, a return to more nature-inspired elements is increasingly popular right now.
According to Tischler, Garden Media Group's color for 2023 is terra cotta/baked earth. Consider adding terra cotta planters and pots that can be easily transported inside or out throughout the year. We are also seeing a return to these more natural color tones with Sherwin Williams' color of the year, Redend Point, and Behr's color of the year, Blank Canvas. Natural stone accents –think pathways or landscape borders – will also be an easy way to incorporate this trend into any outdoor space. Tischler also recommended pulling in more of those natural elements by using greenery to soften harsher outdoor elements like fences or landscape walls.
Plant Smarter, Not Harder
For anyone who loves the idea of pretty landscaping but lacks a necessary green thumb, you're in luck. Expect native and drought-tolerant plant species to be popular this spring and summer. Find some great resources on these plant and flower types on the North Carolina Botanical Garden's website (ncbg.unc.edu). A few species that you might look for during your next trip to the nursery include butterfly milkweed, purple coneflower, black-eyed Susan, eastern prickly-pear, downy phlox, and narrowleaf silkgrass.
Like Tischler said, using native and drought-tolerant plants will use less water and irrigation for your landscape and cut down on a chore at the same time.
Creating a Backyard Oasis
More and more we find people are looking for ways to enjoy time spent in their own homes. Why go anywhere else when you can find your escape right in your own backyard? From more luxury-style elements to even the most simple touches, people want to maximize the time they spend outdoors. In a recent poll on my social media platform, a number of my past and current clients listed outdoor lighting as high on their list of wants for an outdoor space.
So from outdoor kitchens with pizza ovens to simple market lights, the trend for outdoor spaces in 2023 seems to be finding ways to spend more time enjoying the outdoors.
Alicia Arritt
A real estate agent and marketing director with the Morgan Womble Group at Compass. For more information, follow her on Instagram @themillennialrelestateagent and @morganwomblegroup.