Outdoor Living
Create The Perfect Outside Area To Eat, Work, And Play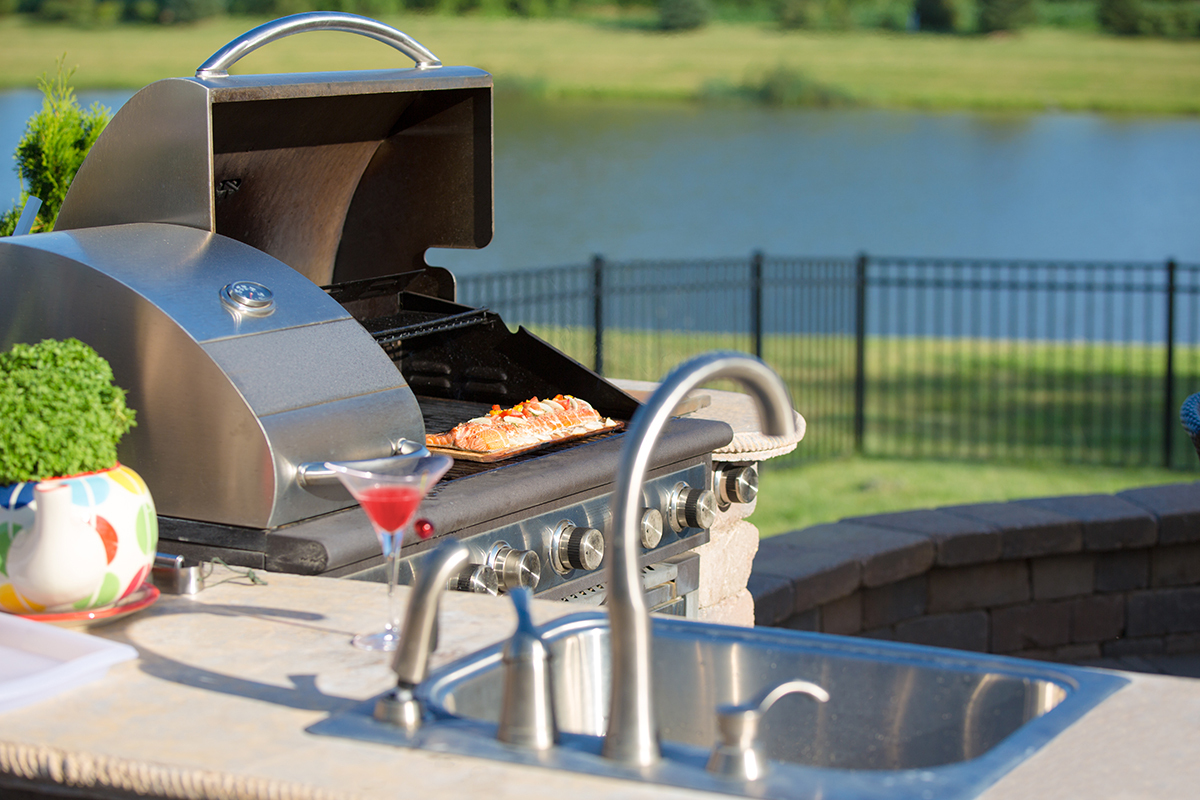 Outdoor spaces have become an extension of our homes, especially over this past year. Homeowners have found creative, functional ways to utilize space and bring conveniences such as smart technology and indoor "activities" to the outside. As we approach the second half of 2021 and embrace our time outside, consider these outdoor trends that have gained popularity and changed the way we think about being outside our homes.
OUTDOOR TECHNOLOGY: Whether streaming movies or incorporating televisions, music, and lighting, more and more households are bringing interior technology to the exterior. Outdoor movie nights, offices, and wi-fi accessibility have all been on the rise thanks to technology and connectivity devices.
MULTIPURPOSE FURNITURE: Furniture has evolved to accommodate everyday living and offers versatility for hosting a social gathering. Therefore, it is common nowadays to see furniture with hidden features such as beverage compartments and convertible capabilities such as movable or stackable tables.
OUTDOOR KITCHENS: Since more meals have been prepared at home over the past year, the kitchen "duties" are being taken outside now more than ever. Outdoor kitchens can include cooking vessels such as grills or pizza ovens and appliances such as refrigerators, prep spaces, and sinks. Regardless of the complexity, available seating should always be available nearby.
PRIVACY AND PROTECTIVE STRUCTURES: As more time is spent outside, the desire to add privacy and protection to outdoor living areas has increased too. Natural borders such as bushes, trees, and other greenery can be added to create a more private area, or coverings, curtains, or makeshift walls can also help protect your outdoor oasis from the elements. Even adding a simple tilted umbrella is a great way to acquire some protection and privacy, while serving double duty and providing some much needed shade on a hot summer day.
PRODUCTS TO EXTEND OUTDOOR LIVING USAGE: With our pleasant climate here in North Carolina, we are fortunate to be able to enjoy our outdoor living spaces not just in summer, but throughout the year, while still remaining comfortable. Fire pits, fans, and outdoor heaters can be great additions and allow extended use of these areas. Other products such as rugs, blankets, and lighting can also contribute to the comfort and adaptability of a space as temperatures change.
EDIBLE GARDENS: Whether it has become a hobby due to the recent time spent at home or you have been avidly gardening for years, edible gardens offer homeowners a great opportunity to be outside, grow nutritious food, and contribute to their overall health. These gardens can have a focus such as herbs or ingredients for favorite recipes you can prepare at home too.
SOCIAL FRONT YARDS: While the back-yard has traditionally been the outdoor hangout space at home, front yards have also taken on that role, as homeowners recently had the desire to socialize from a distance with neighbors and friends. What was once a space to just offer curb appeal has now evolved into an informal place to enjoy spending outdoor time with others. Front yard furniture tends to be more simplistic such as a bench, a swing, or a few chairs.
TRANSITIONAL SPACE: As family dynamics change and children outgrow outdoor play structures and toys, outdoor spaces can be "repurposed" and transitioned into something new. There may suddenly be a great spot for a raised vegetable garden or maybe a fire pit – the outside options are endless!
Sommer Donahoe
Realtor with Southern Lux Living, serving buyers and sellers throughout the Triangle.