Outdoor Decor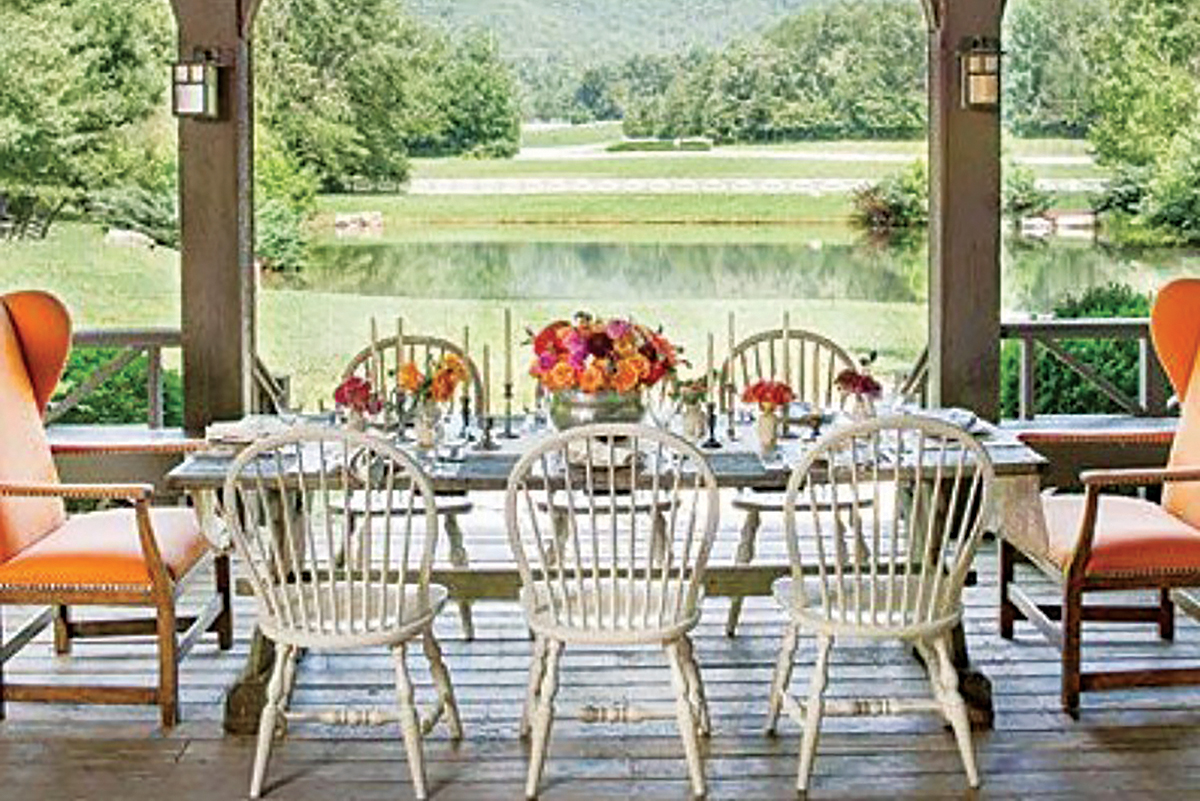 Outdoor spaces have become an extension of indoor spaces. While providing a relaxing, comfortable atmosphere for enjoying warm summer days and cool autumn nights, they also add square footage to large and small houses alike. Just like indoor spaces, outdoor spaces offer the perfect canvas for added decorating personality.

How you decorate your outdoor spaces ultimately depends on the location of them relative to the inside of your home. If your deck, patio, or screened porch is a focal point and can be seen from inside, then the décor of it should be an extension of your indoor décor. For example, you may have sliding or French doors that lead to your outdoor space from the living room; therefore, you can clearly see it from inside. This would not be a great place to establish a beach theme if you live in the mountains in a log home. It needs to flow as if it were the same room; therefore, making the spaces look bigger.

When decorating your outdoor space, the first decision is to decide how you want to use the area. Will it be for outdoor entertaining and dining? If so, think dining table with grill area and bar that can serve as a buffet area as well. Will it be a space to escape from everyday life? Then think comfy sofa, or even a daybed that can double as seating; or maybe a swing is more your style. It could be a combination of both if the space is large enough. Deciding on what you want and floor planning the space is crucial to getting the best results.

Screened porches are the ultimate in outdoor spaces. They offer shade and protection from the elements and pesky bugs, while simultaneously letting you enjoy the outdoor breeze and sounds of nature. When decorating this retreat space, treat it as if it were indoors. Drapes made of outdoor fabric add height and warmth to the space. Outdoor rugs can ground it, especially if the space is large and you have set up a living and dining area on the porch. Lighting can set different moods, while plants can make it feel warm and inviting. The furniture should have the same style and coloring as your indoor space. If you are not sure if it works or not, think about taking an indoor chair into the outside space. Does that chair look aesthetically pleasing with the furniture that you have on the screened porch? If not, you may need to rethink your choices.

The same rules apply if you have a deck or patio off of your living space. You need to think of this area as an open floor plan with no ceiling. Floor plan the space the same way you would a screened porch, once you decide on its use. If you need shade, consider adding a retractable awning. A large moving umbrella also works well for protection from the sun. Shade needs to be a priority, or you will find the space will not be used to its fullest capacity due to the southern heat. Outdoor fans come in different aesthetic styles and will help keep you cool, as well as keep some of the bugs at bay. For plants on a deck, think about a tall tree that can be strung with lights for additional lighting at night.

You may have a fantastic outdoor view, and that view may be awesome from your indoor space as well. The last thing you want to do is obstruct it. When constructing a screened porch, consider incorporating larger and taller windows. Not only will this help with the scenic view, but it will also allow for more light, as screened porches tend to make the inside area a bit darker. For a deck, you must have railings for safety purposes. But think about glass panels that will not hinder the view at all. Also, cable rails are so thin, they will not obstruct your line of sight. If you have a dining table in your outdoor space, consider using benches instead of chairs, as the height of their backs could obstruct the view as well. For variety and added interest, a combination of chairs and benches look great too, if the layout allows.

Maybe you do not have a porch, deck, or patio. If so, no need to fret … if you have a backyard with trees, you still have decorating options for your outdoor enjoyment. Set up an outdoor table under the trees with a grill to the side. Hang lanterns from the tree and burn citronella candles for lighting and bug control in one. Decorate the area with flowers. A stone path leading from your home to the area will make it feel like part of the house.

If your outdoor space can't be seen from the inside of your home at all, this gives you more freedom to go a little wild with the décor. Perhaps brighter colors or a little bit of a theme is what you desire; both are great, but still try to maintain a balance with the indoor décor. If your inside is warm in color tones, add cushions in a neutral warm hue to outdoor furniture, but toss in a handful of colorful pillows for extra pop and personality. Maybe you long for a beach house – add a few nautical decorations. Throw a few beach accessories in with other traditional accessories for a happy medium.

Whatever your style or budget, an outdoor space is an extension of your indoor space. If well thought out and planned, you will certainly find that this outdoor square footage may become your favorite new spot to enjoy your morning coffee, entertain family and friends, simply escape from the daily grind, or create magical memories with loved ones. So go ahead – get decorating, and make your outdoor living space a reflection of your home and of you.
Rhonda Benvie Plummer
The owner of Help Me Rhonda Interiors and Open Door Furniture & Accents, a furniture and accessories store, in Raleigh. Visit www.helpmerhondainteriors.com or www.opendoorfurnitureandaccents.com, or call 919-263-9054.