Our Heritage Revisited
The Eateries Of Wake Forest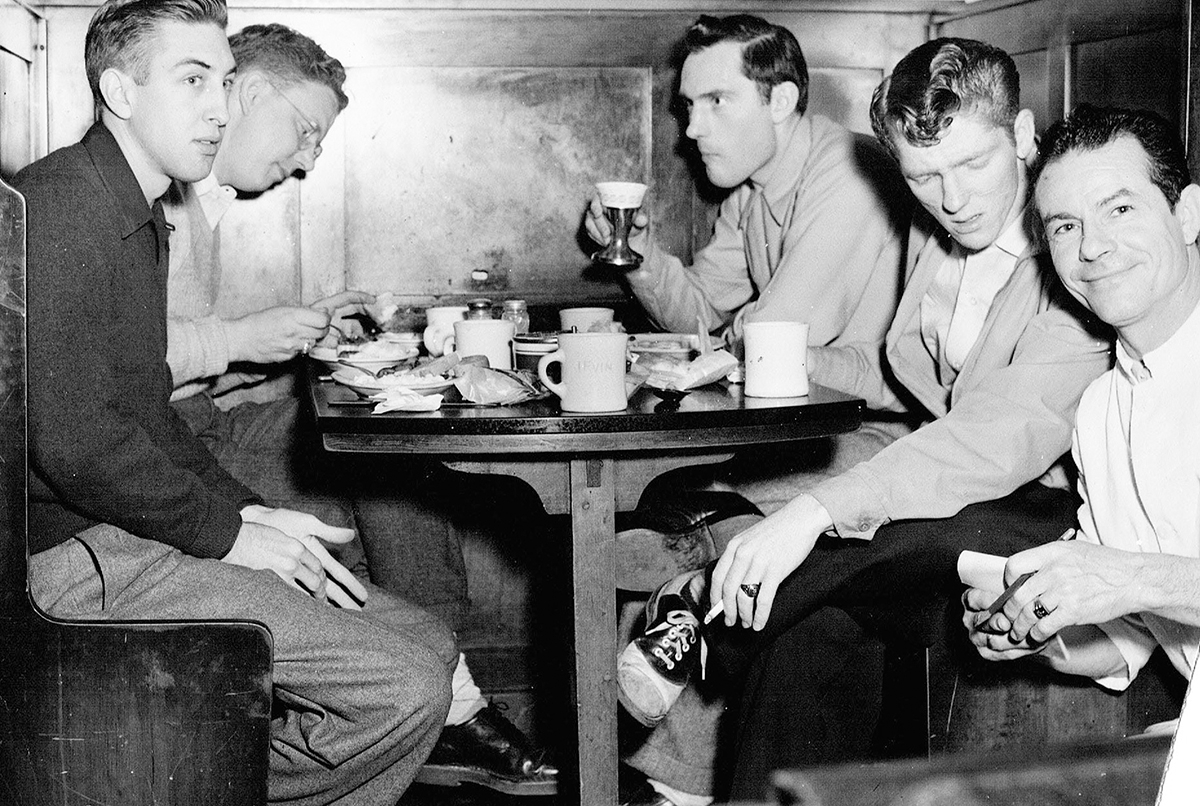 According to the January 1916 edition of The Wake Forest Student, "The distinct need of Wake Forest is a mess hall." So stated Mr. J. H. Burnett, manager of the Murfreesboro College for Women in Tennessee, upon his visit to Wake Forest in November of 1915. "It is significant," he remarked, "that Wake Forest is one of the few colleges in Christendom without any central and official eating-place."
To the dismay of Mr. Burnett, Wake Forest never did have a school-owned "mess-hall," but finding good and copious places to eat wasn't difficult. Boarding houses scattered within an easy stroll of the campus accounted for most of the student eateries for several decades. Asking alumni to name them brought in a flood of responses: Mrs. Newsome's, College Hall, Mrs. Stroud's, Wooten's Hometel, Miss Eva's, Mrs. Overby's, Miss Jo's. Even a couple of fraternities ran boarding houses. Fancy fare it wasn't, but the food was plentiful, home cooked, usually locally or homegrown, and served family style three times a day. Any student could work for an hour in the Hometel's kitchen garden or dining room in exchange for a meal there, while the athletes' almighty appetites were assuaged by Mrs. Stroud at the Colonial Club. Even the College Birthplace was once a boarding house run by Mrs. Overby and situated just west of the campus. The only cafeteria the college ever saw in Wake Forest was built by Miss Jo Williams. Located on the site of the school's tennis courts across from the Baptist Church, Miss Jo's provided nearly 3,000 meals a day for 10 years.
Of course, the need for relaxation and fun frequently led students "uptown"for a meal at Dick Frye's or The Hen House, maybe followed by a game of pool at Shorty's. The drug stores – Hardwicks and Holdings – served sandwiches, sodas, and shakes. And next to the Forest Theatre, farther up the street, was the College Soda Shop where "Smut" Smith not only jerked sodas but sometimes "cut a rug," and bottomless copper mugs of root beer could be imbibed all afternoon or evening for a nickel. If deep, dark, frothy root beer wasn't enough to satisfy the "medicinal" needs of the all-American college student, he could possibly be found south of town at Forest Heights or Benny's, where the liquid refreshment glowed amber and put him, oh so drowsily, in mind of the color of that pretty Meredith girl's hair … "Oh, to sleep, perchance to dream …" But he always tried to make it back to Miss Jo's in time for breakfast.
Speical thanks to Jennifer Smart and Beverly Whisnant.
Amy Pierce
Lives in Wake Forest's Mill Village, where she is a writer, minister, and spiritual counselor.