Our Heritage Revisited
The Falls, Wake County's Brigadoon: You Can't Hardly Get There From Here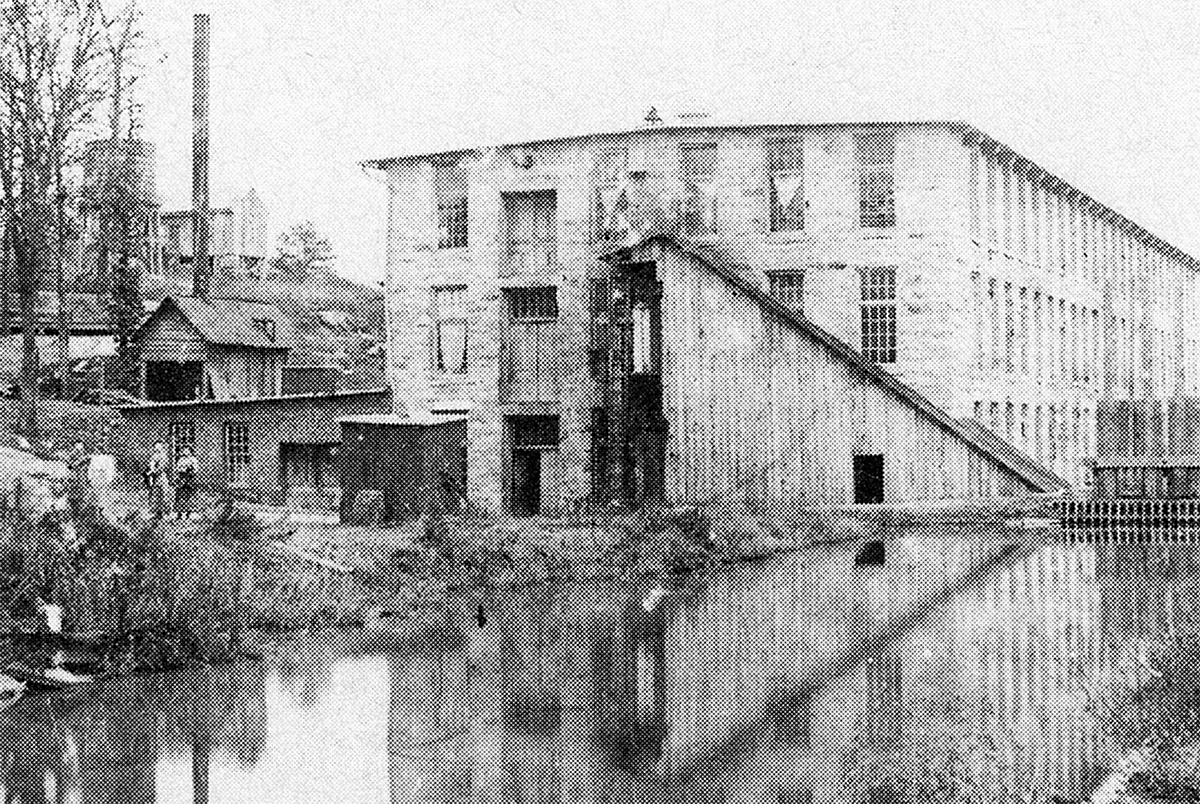 The ways of time are often difficult for us to comprehend and accept, especially when in the name of progress, we turn beauty into sorrow. In northwestern Wake county, just southwest of Wake Forest, there yet remains, albeit barely, one of the most beautiful spots in the Old North State. To those folks who grew up there, and to those still living there, it was a bit like Brigadoon, the fictional enchanted Scottish Village that appeared out of the mists once every 100 years. Its residents slept through the lapse, though, so every 100-year dawn in Brigadoon was simply the next morning to those blessed to live in paradise. Wake County's Brigadoon sat alongside and upon hills cradling the Neuse River ("Wee Quo Whom" to the Occaneechi who named it). Not so long ago it was a region of fishers, farmers, and the faithful. Some of the faithful still reside there; the farmers and fishers, though, have 'bout disappeared.
To our nation's first people, as well as to those who long ago forced their leave-taking and those who came after, the area was a benison. In good times and bad, it was land, water, and community, 'twas Wakan Tanka and God that sustained all whoever dwelt in this place. The area and its community are still known as The Falls, but you can't hardly get there from here. In the haunting words of Joni Mitchell, "They paved paradise."
During the last quarter of the 20th century, it was in this place, this para-dise, where a spade dipped into Earth yielded a shovel-full of arrowheads; where strangers crossing the river bridge would be so mesmerized by natural beauty that they had to stop and get out of their cars; that the government, after 40-plus years of dallying with the idea, dammed the Neuse for flood control and, in the process, seemed to damn the people by stealing, some said, their land and way of life. Though there have been at least two other dams at The Falls since the 1880s, negative impact on the surrounding land and community was little to none. Not this time, though … not by a long shot.
Dams existed at The Falls to harness river power for a mill industry. For over 200 years – under numerous mill owners, several suffering bankruptcies and receiverships – the "mills at the Great Falls" consisted of a grist mill, sawmill, two tanneries, a paper mill, and possibly other manufacturing industries. Well known for its stationery and newsprint, Josephus Daniels, late editor/publisher of Raleigh's News & Observer, considered the rag paper made at The Falls the finest quality newsprint that man has ever made. The mills, of course, led to the defining character of The Falls Community as a Wake County mill village.
Villagers and folk from nearby communities, including The Harricane, worked in the mills until the doors closed in 1959. Though the work was welcome, the days were long and hard, so play was eagerly anticipated. It was common for 20th century mills to sponsor community baseball teams. "The Falls team was so good they were often written about in the N&O," says longtime resident Linwood Barham. "We played hard and we played to win. Children learned to play with corn cobs and tobacco sticks, not bats and balls, because that's what they had." A close-knit community proud of its semi-pro team, villagers often traveled to watch match-ups against other mill team opponents.
At The Falls could be found boarding houses and taverns, cotton fields and a dairy farm (complete with a cow hospital), several churches (baptisms were held in the river), and general stores (Fonville's was known for selling "everything but the casket"), a fire department and post office, and those Brigadoon-like vistas to die for. Until the late '70s, many folks still farmed; most all had vegetable gardens. Though times were often hard, these folks took care of each other, weathering together the 1918 flu epidemic, both World Wars, and the Great Depression. Nothing was ever so hard to bear, though, as coming home to find pink ribbons around so many houses, ribbons representing property acquisition lines established by the Army Corps of Engineers as a result of the government's decision to dam the river and create Falls Lake as a drinking water source for Raleigh.
The decision, along with an ever-encroaching, northern-moving capital city, simply undermined and broke apart the community. "No one knows where it begins and ends anymore," says Barbara Barham. Raleigh eventually over-took The Falls, and the city now abuts Wake Forest. Roads at The Falls have been rerouted and renamed. Its fire department is now under threat by the capital. "They say it's no longer needed," says former fire chief Johnny Ray. "We're fighting that." The beautiful mill still remains alongside the river though, as River Mill Condominiums.
Although it is true that, as Chaucer wrote, time and tide wait for no man, perhaps there will come a day one cool spring morning when our Brigadoon will rise out of mists spiraling upward from the river; perhaps in that mo-mentary lifting of the veils you will be there as witness. If so say a prayer of blessing for all that was – and will never be again.
Thanks to Barbara and Linwood Barham, Gabriel Lauro, Deana Vassar, Tom Wright at River Mill Condominiums, and Ed Morris of the Wake Forest Historical Museum. For additional photographs, visit www.fallscommunity.org.
Amy Pierce
Lives in Wake Forest's Mill Village, where she is a writer, minister, and spiritual counselor.