Our Heritage Revisited
WHERE HISTORY AND MEMORY LIE IN REPOSE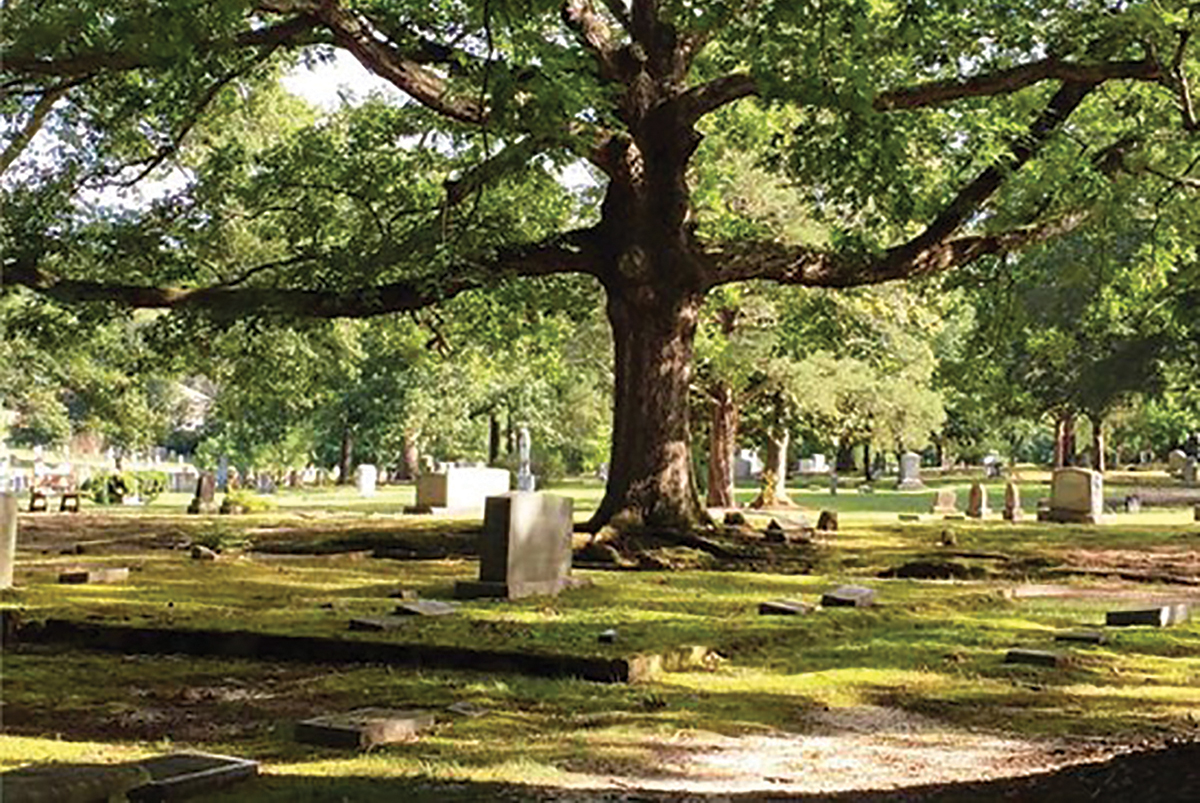 The Wake Forest Cemetery sits atop a little hill just north of downtown. Within its boundaries and beneath its 29 different tree species, both history and memory lie in repose. If one has eyes to see and ears to hear, and possibly a well-informed guide, its meandering, gravel-lined paths will lead one into and through the still-alive history of Wake Forest.
Established soon after the 1834 birth of Wake Forest College, the little cemetery was laid out and developed by the students of the two Literary Societies. The earliest marked gravesite is that of Charles R. Merriam (1837), brother of Sarah Merriam Wait, wife of Samuel Wait, the college's first president.
Just beyond its property boundary was the segregated African American Cemetery, now called The Mangum Cemetery. Until recent years, the two were separated by wire fencing. Containing slave graves as well as those of free people of color, the Mangum Cemetery joins with the Olive Branch Baptist Church cemetery to the north and extends across Taylor Street to the east, where it is now referred to as the Alston Cemetery. A walk among the graves here reveals familiar Wake Forest names; Young, Gill, Massenburg, Jefferys, Alston, Jones, Lewis. Both Mangum and Alston are now part of the Wake Forest Cemetery.
"Shaded by hemlock and elm, oak and cedar, maple and walnut are the graves of four Wake Forest College presidents, more than thirty-five faculty, numerous students, administrators, staff, and their families. If you know much at all about Wake Forest history, you'll recognize the names of Wait, Taylor, Poteat and Wingate, the four presidents whose graves are here, along with that of Dr. Charles Brewer, who later became president of Meredith College. Other well-known names include Paschal, Isbell, Royall, Gulley, Lake, Earnshaw, Crittenden, Timberlake… Together, they and others form the ever-entwined roots of a nationally known university and the town that nurtured it, and their combined service to Wake Forest totals more than one thousand years.
"At rest, too, in the little cemetery are soldiers and students whose family plots had been desecrated during the War Between the States. Knowing that the college would take care of their sons, families re-quested their burial be here. The combined cemeteries hold, as well, unmarked graves from this era, both soldier and slave." So states Allen H. Patterson, Jr. in The Wake Forest Cemetery: Fifty-Two Stones, One Thousand Years of Service.
Moving forward through the years, we find representation of other wars and events, and engraved upon time are names that matter just as much as the more recognized ones, representing the never-ordinary lives of the less well-known citizen. Whatever names these stones hold, each life counted, each life contributed to the Wake Forest we have come to know and love, as well as to the wider world.
"Fortunately, there have been few major changes to the Wake Forest Cemetery, still a sanctuary, a living classroom of nature, horticulture, and history, burial place, historic site, and arboretum – all keys to its continuation as one of Wake Forest's treasures." Strolling beneath the canopy that embraces the little cemetery on the hill, when you see the two stones representing each literary society standing in the northeast corner, along with the other sites honoring lives well-lived and loved, may you be reminded that, as Thornton Wilder wrote: "All that we know about those we have loved and lost is that they would wish us to remember them with a more intensified realization of their reality. What is essential does not die but clarifies. The highest tribute to the dead is not grief but gratitude." The living history of the town of Wake Forest is reflected in this place, assuring that neither time, nor we, will forget, surely something to be grateful for.
Thanks to Allen H. Patterson, Jr., for permission to quote liberally from his book, The Wake Forest Cemetery: Fifty-Two Stones, One Thousand Years of Service (published 2002 by Allen H. Patterson). Thanks also to Susan Brinkley.
Photo by Betty Pearce.
Amy Pierce
Lives in Wake Forest's Mill Village, where she is a writer, minister, and spiritual counselor.