Our Heritage
Baptist Hollow - The Cradle Of College Sports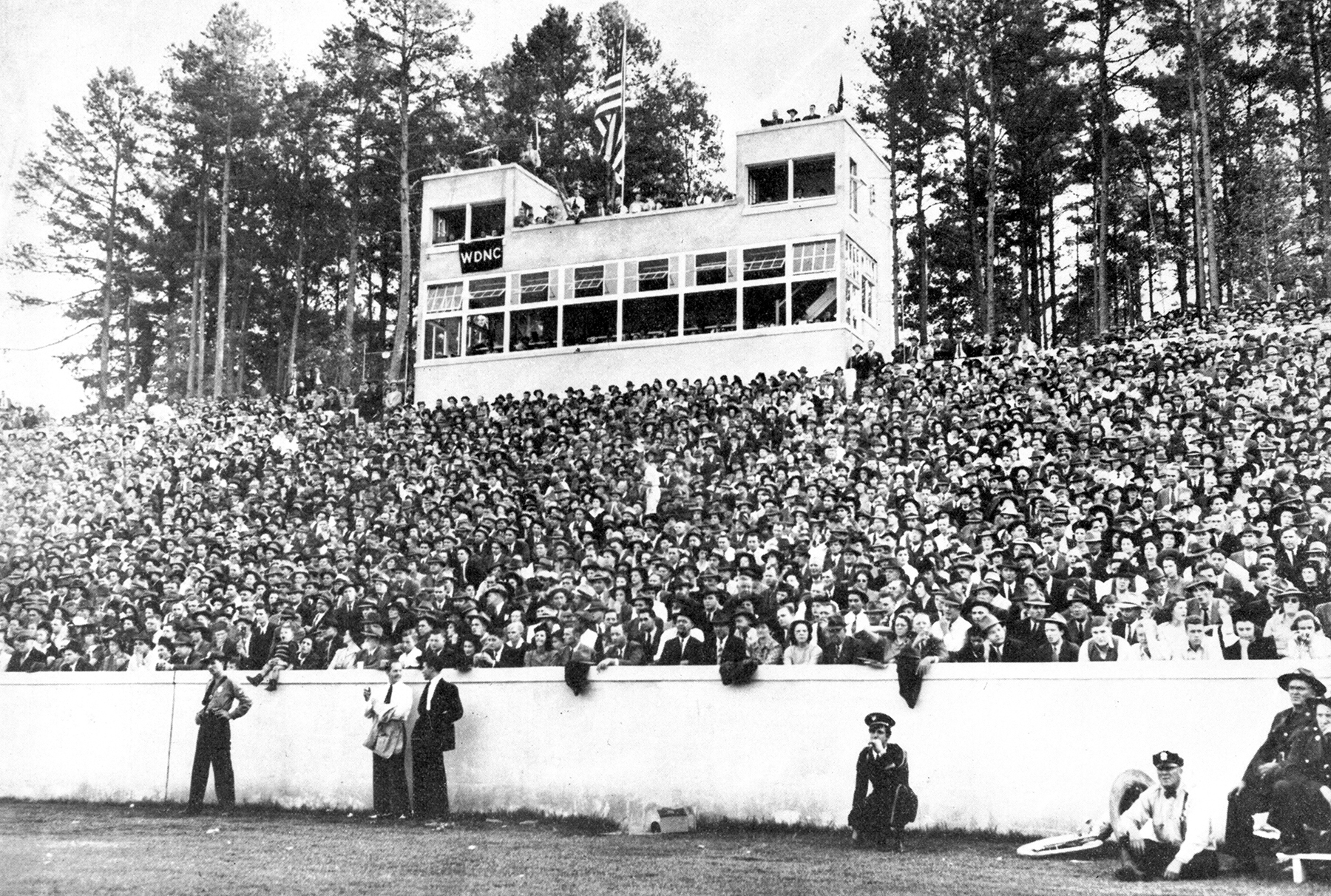 If you lived in Wake Forest – aka Baptist Hollow – in the first half of the 20th century, you lived in the cradle of college sports in North Carolina. You may have had a favorite school, and chances were very good that it was Wake Forest College. College sports in North Carolina began with Wake Forest College. In 1888, Wake Forest and The University of North Carolina met in the very first collegiate football game in our state. In 1891, Wake Forest and what is now NC State University played the very first college baseball game. And in 1906, Wake Forest and Trinity College, now Duke University, met for the first college basketball game. By the way, Wake Forest College was the winner of all three of those early contests. It was football that captured the crowds and attention, and it is football that will be the focus of this article.
From the 1920s to the 1970s, the "Big Four" – Wake Forest, NC State, Carolina, and Duke – dominated col-lege sports in the Tar Heel State. A victory over any one of those rivals was as good as any winning season. In 1921, the Wake Forest "Baptists," as the teams had been known since the early 1900s, were transformed to the "Demon Deacons" after a 46 - 3 routing of Trinity (Duke). Trinity had been ranked number one nationally and was undefeated for three seasons. The headline in the next morning's newspaper boasted that "The Baptists Played Like Demon Deacons," and thus, a new and enduring mascot was born. In 1936, Wake Forest College joined the Southern Conference, and the following year, the legendary Douglas Clyde "Peahead" Walker was hired as head coach. Peahead, as he was known by everyone, was the winningest coach in school history. Walker coached Wake Forest football until 1951. With winning records in nine of those seasons, he likely would have stayed at Wake Forest for many more victorious seasons, except for a dispute with the College's president over a $500 a year pay raise. While Walker was coach, there were so many folks wanting to see Wake Forest on the gridiron on a Saturday afternoon that the college built a new stadium. When Groves Stadium opened in 1939, it was the largest football stadium in the entire state. Named for Wake Forest College alum and textile executive Henry Groves, the facility seated 20,000 fans. Today, that stadium, now totally renovated, is Wake Forest High School's Trentini Stadium.
1944 was the school's top season, with eight wins and only one loss to rival Duke. In January of 1945, Wake Forest was invited to play in the very first Gator Bowl game in Jacksonville, Florida. The Deacons won that game 26 – 14, defeating South Carolina. The Peahead Walker years would brag of two All-Americans – Bill George in 1949 and the following year, Jim Staton. Bob Bartholomew in 1955 and Bill Barnes in 1956 rounded out the All-Americans while the College was in our town. Not long after relocating, the most famous of Wake Forest's football standouts, Brian Piccolo, was named All-American in 1964. Piccolo went on to play professional football and is now best known for the movie about his life and career, Brian's Song. Over the decades, Wake Forest has proudly boasted an impressive lineup of All-Americans.
In 1953, Wake Forest College became a founding member of the Atlantic Coast Conference. In only three short years, the college would move from its home of 122 years to a new home in Winston-Salem. Sports continued to play an important role in college life in Winston-Salem, but the excitement of Saturday games in our town waned. Fans began to search for other local schools for their sports loyalties. Local media outlets rarely reported on the results of Wake
Forest University games, unless they played one of the three remaining Triangle areas universities from the former "Big Four." Not so much this past football season … Wake Forest University now has a new "winningest" coach in Dave Clawson. Former local fans seem to have been resurrected from football obscurity. With 10 wins and only two losses in the regular season, there is now a new "best season ever" for Wake Forest University. And the now much-expanded Atlantic Coast Conference has a new Atlantic Division champion. And while Wake Forest wasn't able to capture the ACC Championship win in December in Charlotte, losing to ACC newcomer Pitt, there's no doubt that their exciting 2021 football season was one for the record books.
Ed Morris
Executive director of the Wake Forest Historical Museum & Wake Forest College Birthplace.