Our Heritage
May 21, 1956: The Day The College Moved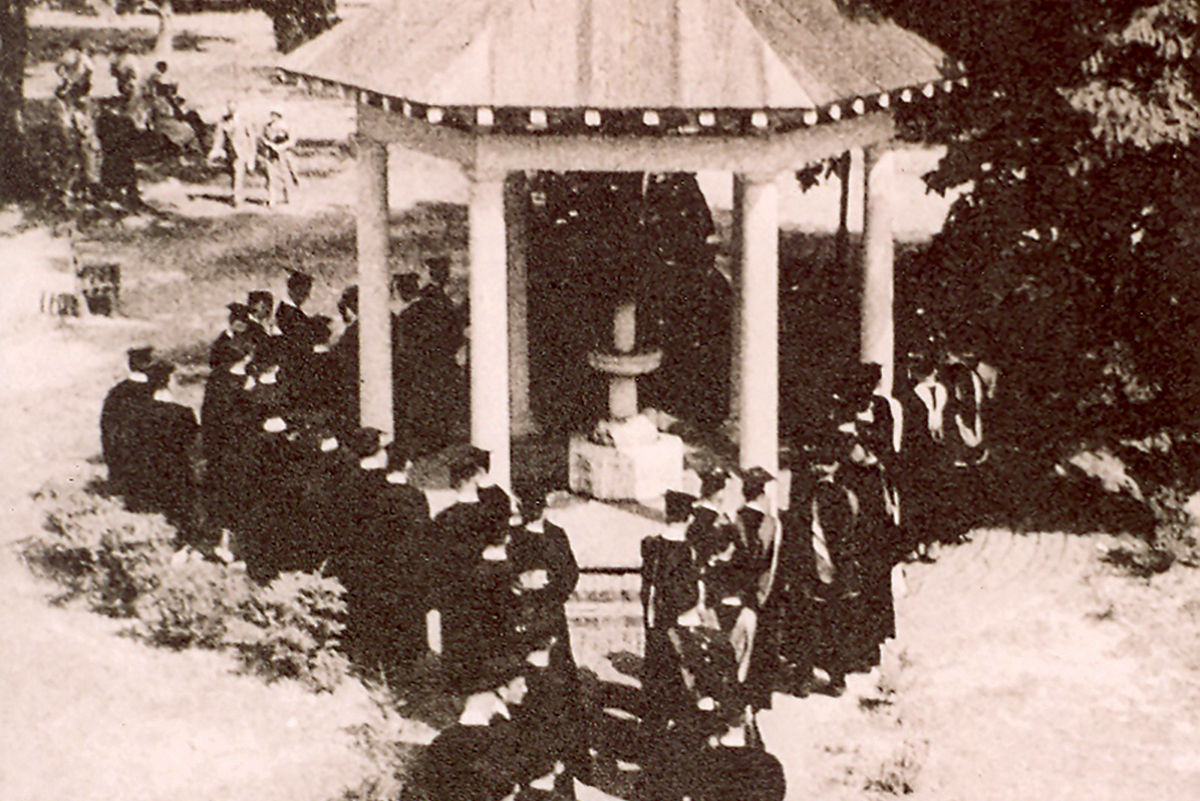 On February 3, 1834, on an unusually warm winter morning, Samuel Wait sat down with 16 students in the former home of Dr. Calvin Jones. On that morning, what is now Wake Forest University in Winston-Salem, North Carolina was born. For the next 122 years, Wake Forest College would be the sun that the surrounding community we know as Wake Forest would revolve around. That all came to an almost complete stop on Monday, May 21, 1956. Graduation exercises were taking place in what is now known as Binkley Chapel on the campus of Southeastern Baptist Theological Seminary (SEBTS). As Dr. Hubert McNeill Poteat gave the final commencement address inside the chapel, outside on the campus grounds rolled up a fleet of moving vans. They had been summoned from nearly every part of North Carolina, and some from other states as well. When the newly-graduated Wake Forest College alumni processed from the chapel with degree under arm, they came face-to-face with the trucks and movers who had arrived to pack up Wake Forest College and move it 100 miles west to Winston-Salem. It would be a sparkling new, much-larger campus built on a large portion of the estate of the late tobacco magnate Richard Joshua Reynolds. The estate was called Reynolda, and the family of R.J. Reynolds likely thought when their generous gift of a perpetual endowment was offered to Wake Forest College nearly a decade earlier that the college's name would be changed to Reynolda as well. The trustees of Wake Forest College had accepted the Reynolds' money, but they explicitly spelled out in their acceptance letter that the name Wake Forest would never change.
The emotions of those final graduates from the 122-year-old college ran high. Many tears were shed by both those graduating and the folks who called Wake Forest home. As Margaret Johnston Wineinger stated "They just sat on the ground and bawled." The acceptance of the Reynolds' endowment and the move made a lot of sense for Wake Forest College. For the first time in its long history, the college would have a real, stable endowment. It would also be in an area of the state where it did not have to compete with North Carolina State University, UNC, and Duke for students and funding. In those days, nearly all the students in those four schools were from North Carolina. Wake Forest College would be in one of the state's largest cities, rather than a very small town. It would be in the western Piedmont where it would stand nearly alone among major North Carolina institutions of higher education. For the first time in 15 years, it would be in the same city with its medical school that had moved to Winston-Salem in 1941 to be aligned with the North Carolina Baptist Hospital.
The loss of the College was compared to dropping an atomic bomb. Every part of life for nearly everyone in town was touched in one way or another. For Wake Forest Baptist Church, which sat on the campus for nearly as long as the college had existed, it was a major blow. At once, the church lost its pastor, organist, choir director, most of its Sunday school teachers, and many of its deacons. Within a month, nearly 100 families that were members of the church had left to follow the College to Winston-Salem. The loss of the College hit Downtown perhaps the hardest of all – soda shops, pool rooms, two movie theaters, department stores, men's clothing stores, and all but a couple of restaurants were forced to close. Among those that survived was Shorty's – famous for its hot dogs and pool room and as a hangout for such notables as Arnold Palmer and Carroll O'Connor, aka Archie Bunker. Shorty's is rumored to have "diversified" its menu to survive – but only if they knew you and only in the back room where you may have been able to purchase some local spirits. Both movie theaters which once had the top new releases every week could not make it and had to close their doors. Nearly every business was in some way adversely affected.
Wake Forest was said to be like a ghost town, with empty boarding houses and closed store fronts – but not for long. Town Commissioners and the Chamber of Commerce soon went to work. A committee was formed to recruit business and industry. Shortly, Athey came to town and became one of the largest producers of street sweepers in the country. Schrader, a manufacturer of valves for industrial use in products produced worldwide, also arrived. Weavex and Burlington built textile plants, and the town slowly began to recover from the loss of it namesake College. It still took over 40 years before the town's population would exceed what it had been when the college was here. But today it continues to survive and thrive. We know Wake Forest today as a prosperous and growing community that still cherishes its ties to an institution 100 miles west with the same name.
Ed Morris
Executive director of the Wake Forest Historical Museum & Wake Forest College Birthplace.